Did you know power saws are capable of cutting materials of all sorts and sizes? That includes wood, metal, plastic, and even hard materials, such as ceramic and concrete. The question is how to choose the right saw for your needs? That is where our website can help!
If you need information about various types of power saws, their features, advantages, and disadvantages, you've come to the right place! Our website offers in-depth articles, guides, and reviews of cutting tools needed for various projects. Your exact choice of a saw will depend on a lot of factors, including the materials you plan to cut, budget, and other features. You should also consider whether you want a handheld portable tool that you can move around, or you prefer a stationary tool that can pack some extra power.
Types of Power Saws and Their Uses
Before you choose a power saw, you should get to know more about their various types and uses. Here is an overview of different cutting tools available on the market.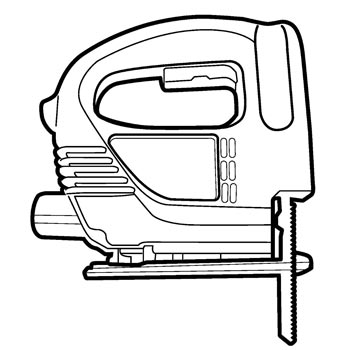 If you are looking for a handheld saw that could pack a lot of power, jigsaw might be the right tool for you. Jigsaw is suitable for various materials and applications, especially areas that are difficult to reach.
Jigsaws have a reciprocating blade that is powered by an electric motor. The number of teeth can vary, but the blade has a thin structure overall. As the blade gets thicker, its versatility increases. The manufacturers use a slotted enclosure or a screw to hold the blades into the jigsaw. While this adds to the stability, the operators are the one who will need to control the tool.
What Is It Used for?
The thin blade makes jigsaw perfect for intricate cuts, especially if you need to make delicate curves. If your jigsaw has a thick blade, you will be able to use it on metal, ceramic tiles, countertops, and even concrete. Jigsaws are also used in woodworking as long as you match the thickness of the blade and the piece you are cutting.
The price of jigsaw varies and depends on its purpose. Jigsaws made for newcomers, and home DIYers are quite affordable. However, expensive variants are available for more advanced users.
Who Can Use It?
Considering that jigsaw can make delicate cuts, you may need certain experience to become experts at operating this unit. With practice, you will learn to keep your hand steady, which enables optimal blade control while cutting. The good news is that this power tool is simple to operate, which means you can focus on practicing. You can even grab a piece of scrap wood and put in some effort until you start making cuts that meet your expectation. Once that happens, you can proceed to cutting the desired pieces.
Scroll saw is a power tool primarily used in woodworking for delicate and detailed curves and projects. The saw utilizes electricity to operate, but it can also be pedal-driven. The reciprocating blade is removable, which allows moving it to the hole cut out to match the inside shapes of the scroll saw. That is how you can perform intricate cuts.
You will find this power tool comes in different throat sizes that can vary from modest 12 inches to large 30 inches. That facilitates customization to suit the applications you need to cut perfectly. As for the blade, you will notice that it is, in most cases, five inches long.
As with most of the other saw types, the price varies greatly depending on the quality of the material, durability, and included features.
What Is It Used for?
Scroll saws primarily specialize in performing intricate and delicate cuts in the woodworking industry. While they are not as versatile as some other types, they can do an excellent job when you need to do some detailed cutting. The great thing about this tool is that you can also make curves when cutting. That is enabled by the fact that the blade moves relatively slow.
Who Can Use It?
Scroll saw is compact-sized, and it has a learning curve when it comes figuring out how to control and contain it. If you are a beginner, you may find this cutting tool a bit tricky to use. It will take some practice until you learn how to use this saw to its full potential. If you are a newbie, be particularly careful as finger injuries are not uncommon with this tool. However, as soon as you learn to operate it properly, you can see that it can do an amazing job of making intricate cuts.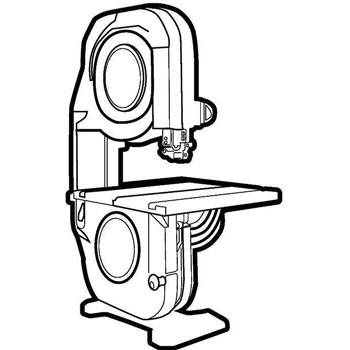 If versatility is your game, the band saw is your game. This power tool can cut different types of materials thanks to its interchangeable blade feature. The blade is usually long, and you manually feed the piece you are cutting into it. However, the size of the machine and, therefore, blade length may vary on the applications you want to cut.
Electricity is used to power a band saw, and it can achieve a high level of accuracy in both straight and curved cuts. The blade has two wheels, which is how it manages to have solid strength but remain versatile.
What Is It Used for?
Thanks to its amazing versatility, it can be used in both metalworking and woodworking industry. It can also effortlessly cut through plastic. Depending on the blade you use, it can also cut logs and other thick wood pieces. You will, however, need a band saw of suitable stability for thick materials, and the cost may vary accordingly.
Who Can Use It?
Each power tool you never used before will require a bit of practice in learning how it works. The same applies to a band saw. The good news is that you have total control of operating the tool, which will come in handy as soon as you master using it.
The trickiest thing about a band saw is that the cutting piece is fed manually into the saw. That enables a high level of accuracy but also demands practice to perform a decent cut. The fact that these tools are incredibly versatile is why it can be a valuable asset to become an expert operator. That will enable you to cut materials of various types and thickness efficiently, which can be useful for both DIYers and professional workshop owners.
Do you plan on cutting porcelain or ceramic tile? If the answer is yes, you should consider purchasing a tile saw.
A tile saw is manual or powered and equipped with a blade that facilitates specific cuts that will meet your expectation. Due to the fact that tile is a hard material, there is a necessity to use a cooling agent. Therefore, water prevents the blade from leaving scorching or burn marks while operating. If you are looking to cut especially hard surfaces, such as porcelain tile, consider going with a diamond blade as it is the sturdiest one out there.
What Is It Used for?
As the name suggests, this power tool is suitable for cutting tile materials. The list includes, but is not limited to porcelain, ceramic, clay, and stone tiles. That makes it ideal for flooring, kitchen, and bathroom improvement projects. With some customization and the right blade, a tile saw can even cut brick or glass. The tool is suitable for both curved and straight cuts.
Who Can Use It?
It is not that difficult to learn how to operate a tile saw. However, if you are only entering the power cutting world, make sure to practice first before trying to cut the desired materials. As the saw can cut various applications, it is suitable for both homeowners and workshops.
If you are a total newbie, consider asking someone experienced in operating tile saws to show you how to use it properly.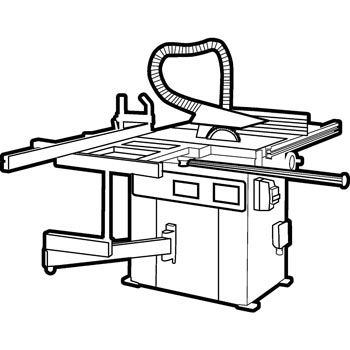 Table saw belongs to the category of versatile cutting tools. Although it is primarily used in the woodworking industry, the tool is suitable for straight cutting and ripping. A table saw is a tabletop unit where your task is to put the piece you want to cut on the working surface. After that, you should push the piece through the saw's blade to perform the cut.
From the middle of the tool, the blade expands upward. While they might not be that detailed and accurate, table saws can do an excellent job in the swift cutting of a wood piece to the desired size.
Table saws utilize an electric motor and come in various types and sizes. You can use a relatively small and portable version for small projects. However, stationary variants can be quite large, which means you will need to secure plenty of space for them.
What Is It Used for?
These tools are efficient, powerful, and suitable for large applications in the woodworking industry. That includes MDF, plywood, and other wood materials with a large diameter. You can make straight and long cuts or rip the wood. If you switch the blade, you may also be capable of cutting plastic, glass, and even metal. If you want to improve the accuracy of the tool, you can even consider using a circular blade.
Who Can Use It?
Although it depends on its power and size, newbies shouldn't have a problem in learning how to use this saw. However, the powerful stationary models do pack a lot of power, so make sure to be careful if you do not have enough experience.
As table saws vary in terms of size and power, pick the right model based on your plans with it. If you want to use it for small home improvement or job site projects, a portable model can do the job. However, if you plan to rip and cut wood daily in a workshop, a stationary cabinet model is a better choice.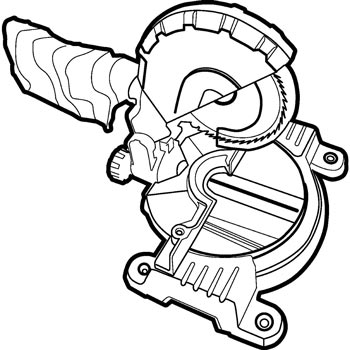 Miter saw it is a power tool specializing in making curved cuts. If the right angles are what you are looking for, a miter saw can make that possible. The manufacturers mount a circular blade onto a miter saw. You place the desired material on the working surface and cut it by pulling down the blade upon it. That facilitates not only great accuracy but also makes the cutting process safe for the operator.
The circular blades on miter saws are 10 or 12 inches long (rarely longer), and the preferred material is carbon steel. Additionally, many companies coat the blade for extended longevity. As for the number of teeth, it may vary depending on your needs.
The cost of miter saws varies significantly. The model you select will depend on how often you use it and which materials you plan to cut.
What Is It Used for?
Miter saws are ideal for making cuts at just the desired angle. It is easy to dial the tool to the degree you need and perform the cut by pulling down the blade.
As long as the material you have to cut requires cutting at a precise angle, a miter saw can do a good job. That makes the list of suitable applications long, including but not limited to trim or molding to fit at a corner, as well as plastic and metal. On the other hand, do not expect to make straight cuts or rip wood with this tool.
Who Can Use It?
A miter saw is suitable for small home improvement projects, as well as professional workshops. The fact that you need to adjust the ideal angle will require a bit of exercise. While the tool is pretty safe since it pulls down on the material, you still need to be careful when operating, especially due to the spinning blade.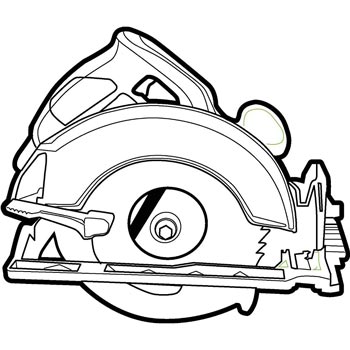 A circular saw is a fairly versatile tool as it can cut wood, plastic, metal, and masonry. This is a handheld tool that is quite lightweight so that you can move it around easily. You place the material on a surface and then manually push the blade through it.
The blade featured on a circular saw is round, and it rotates during the cutting process. Its crucial advantage is accessibility as you can take it with you on various job sites. When the time comes for some accurate cutting, the tool will be up to the challenge. Circular saws operate on electricity.
What Is It Used for?
You can cut a wide variety of applications with a circular saw. It is suitable for the woodworking industry and masonry, as well as cutting plastic and metal. The thickness of the materials it can cut depends on its strength and stability. The tool can make crosscuts and rip cuts, which makes it quite versatile. Many professionals and DIYers out there use it as their preferred carpenter tool.
Who Can Use It?
A circular saw is one of those easy to learn and hard to master tools. Even a newbie can get ahold of how this saw works in a couple of steps. One thing to keep in mind is that you should be extremely cautious when cutting with this tool. The exposed blade may lead to injuries if you are not careful.
That being said, this saw is suitable for both amateurs and professionals. Many construction and other job site workers use it as it is convenient for taking from one spot to another.
Jump to: Track Saw
Although it can be tough to pronounce, a reciprocating saw is a handy tool that can be useful for various materials. You can consider this tool for all projects where quickness and power matter more than accuracy.
The reciprocating saw has a blade with a curved tip and a handle for maneuvering the tool. Thanks to the specific blade, it can cut into various materials with huge strength. The principle of push and pull is used during the cutting process, which means the operator is in total control. Reciprocating saws may operate on both electricity and batteries. Most of them have multiple settings for adjusting the speed. The fact that reciprocating saws come at a budget-friendly price makes this tool suitable for homeowners. Even if you probably won't use it that frequently
What Is It Used for?
Due to the specifics of this saw, it is suitable when you need to cut applications quickly without worrying about the accuracy of the cut. Professionals and homeowners use it when they need to demolish something. Apart from that, emergency rescue operators often utilize this tool in tricky situations. Some other uses include window fitting and tree trimming.
Who Can Use It?
Although it is quite powerful, a reciprocating saw is easy to operate. The characteristic that makes it particularly suitable for newbies is that it is not used for accurate cuts. Therefore, you can master using the tool effortlessly. The only thing to keep in mind is that the exposed blade may cause injuries if you are not careful.
The fact that reciprocating saws come at a budget-friendly price makes this tool suitable for homeowners. Even if you probably won't use it that frequently, it will still be a smart investment and a great time saver.
If you are looking for a heavy-duty power tool suitable for exceptionally hard surfaces, perhaps a chop saw would be a good choice. There are two different versions of this tool – one of them is handheld and portable while the other one is walk-behind and stationary.
They operate utilizing electricity or driven by engines. The choice depends on the applications you plan to cut and their size. Keep in mind that engine-driven units are more expensive than the ones operating on electricity.
The saw features an abrasive blade that may remind some people of a grinding wheel. The blade varies in size from 14 to 16 inches, which makes them suitable for fairly large cutting pieces. The operators will need to manually move the tool through the cutting piece to ensure optimal guidance.
What Is It Used for?
A chop saw is a tool that can do an excellent job of cutting hard materials. That allows the tool to have great versatility. As a result, the range of applications and materials it can cut is extensive. It includes asphalt, tile, steel pipe, rebar, and concrete.
You can use chop saws to make straight cuts through particularly hard materials, as well as to make joint cuts.
Who Can Use It?
The saw required you to manually guide it through the material, which may be something that might take some getting used to if you are a newbie. Each power tool comes with an instruction manual, which you may want to check out before using the unit for the first time. It might be surprising how powerful and heavy this so can be.
Fortunately, it shouldn't take a lot of time to learn how it operates. Although it is more common in professional workshops, some models can be used for individual projects.
Wrap Up
As you can see, there are various types of power saws available out there. The choice you make depends on your plans for the tool. If you are looking for a versatile tool capable of handling various applications, you should consider purchasing circular or band saw. On the other hand, if you need a heavy-duty saw capable of cutting hard materials, such as ceramic or concrete, chop and tile saws can do a great job.
Those that do not care about accuracy, but about doing the job quickly might want to keep in mind the reciprocating saw. If you prefer angled cuts, miter saws are perfect for you while scroll saws can make those intricate and delicate cuts. Finally, jigsaw and other types of portable saws allow hands-on approach and are perfect for job site workers as you can easily move them from one place to another.