Have you ever been frustrated trying to make angled trim and molding cuts by hand or with a circular saw? It certainly can make for an aggravating and time-consuming woodworking project. It does not have to be that way at all through. Professional and amateur woodworkers alike have found that a miter saw makes doing angled bevel cuts in wood so much simpler. The best miter saw is definitely a must-have for any woodworker in order to do quick and easy angled cuts on trim and molding pieces.
We are here to help simplify your search for the perfect miter saw for your needs. It all starts with some miter saw reviews. These will introduce you to what we feel are the best available miter saw models. Then, we will follow that up with a handy miter saw buying guide. Included in that will also be some important information on the types and different uses for miter saws. Below you will find that we've investigated miter saws in 2 sections; Compound Miter Saws and Sliding Compound Miter Saws.
Once you finish reading this article, you will have all the information you need to make a great miter saw purchasing decision.
Sliding Compound Miter Saws
1. Bosch CM10GD 15-Amp Dual Bevel Axial-Glide Compact Miter Saw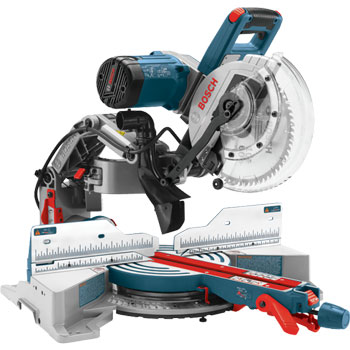 This 10" sliding compound miter saw from Bosch features their exclusive 'Axial-Glide System'. It's a precision cutting system that allows the saw's user the ability to make extremely smooth and accurate wood trim piece and molding cuts. It also has a powerful 15-amp motor that produces 4800 RPMs of wood cutting strength.
With it doing both miter and beveled woodcuts could not be simpler. It makes miter cuts 52-degrees right and left plus beveled cuts at both 47-degrees right and left. There is no sliding the wood around like you have to with regular compound miter saws. This saw's cutting ability is further enhanced by the two tall sliding 4-1/4" fences that are built into it.
At 69 pounds it's not the most portable of miter saws but the ease at which finished carpentry jobs go with it that becomes somewhat of a moot point. It comes with a just OK one-year warranty from the manufacturer.
Read the full review → Bosch CM10GD
2. Delta 26-2250 12″ Dual Bevel Sliding Cruzer Miter Saw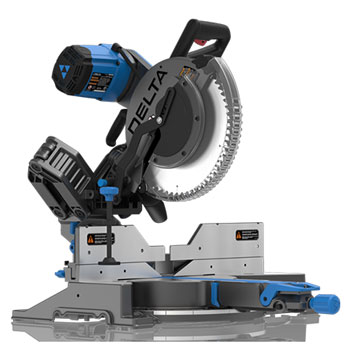 Here is a nice sliding compound miter saw from Delta that checks many boxes for both professional and home use. Its larger size 12" saw blade gives it an industry best 18" crosscut ability. That makes it perfect for doing flooring, furniture making, and many other jobs besides just trim carpentry.
Its dual-bevel design allows 47-degree bevel cuts to both the left and right so you don't have to move your material much when cutting. It also allows for up to 50-degree left miter stops and up to 60-degree right miter stops. Miter positioning is controlled by an easy to use front access lever.
The Delta 26-2250 also has a well-designed saw arm that features proprietary 'Cruzer' technology for smooth and accurate cutting. This saw also features a military-grade aluminum fence and a powerful 15-amp electric that produces 4000 RPMs. Delta backs this product up with an outstanding 5-year warranty.
Read the full review → Delta 26-2250
3. DEWALT DWS779 12″ Sliding Compound Miter Saw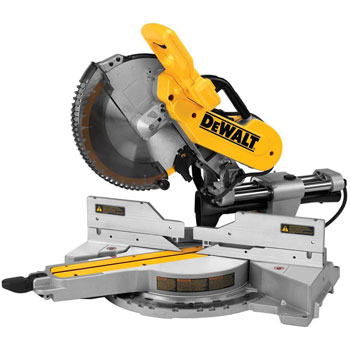 Here is another very good double-bevel sliding compound miter saw from the reputable power tool manufacturer Dewalt. It cuts through wood quickly and smoothly thanks to its 15-amp motor that generates 3800 RPMs of cutting power.
This miter saws signature feature is its exclusive sliding back fence design. It allows anyone who uses it to cut up to 2"x16" lumber at 90-degrees and 2"x12" lumber at 45-degrees. The Dewalt DWS779 can also handle 60-degree right bevel cuts and 50-degree left bevel cuts. Popular positive miter stops are easily set with its push-button front access handle.
It also features the 'Cutline' blade alignment system that enhances fast and accurate cutting. This compound miter saw also has one of the best dust collection systems in the industry. Even when cutting softer woods and other high dust causing materials, it still collects over 75-percent of those particles. Dewalt offers a limited 3-year warranty on this sliding compound miter saw too.
Read the full review → Dewalt DWS779
4. Makita LS1018 10-Inch Dual Slide Compound Miter Saw
Makita has designed one of the easiest to use 10" sliding compound miter saws. It's well thought out design allows for beveled and miter cuts to be made by any user without moving your material much at all. The saw arm, miter settings, and other components are all within easy reach when standing in front of it.
It features a 13-amp direct-drive motor that generates over 4300 RPMs of cutting. Direct drive motors are known to be relatively maintenance-free and last longer than normal electric motors. The Makita LS1018 offers a ton of angle cutting diversity with its multiple miters and dual-bevel cut settings.
It also is a miter saw that is durable but light in weight. This durability is due to such features as its precision aluminum metal base. There is also a motor life-extending soft start-up switch and electric blade brake for safety. The 30-day money back guarantee that comes with it is a nice bonus but its 1-year warranty could use improvement.
5. Homecraft H26-260L 10-Inch Compound Miter Saw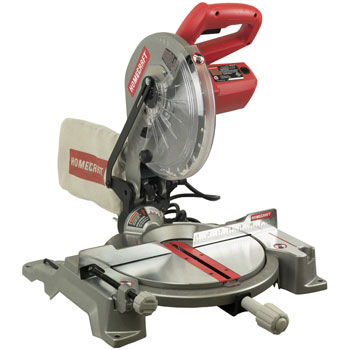 Homecraft is not a household name when it comes to power tools but don't underestimate this miter saw model. It offers a nice combination of both cutting accuracy and affordability to those who purchase it. This Homecraft 10" compound miter saw is perfect for craftsperson's who like portable trim carpentry cutting power.
Its portability stems from the fact that it weighs only 25 pounds. That makes it easy to transport to multiple job sites during a workweek. Don't mistake that for meaning this is not a powerful miter saw product either. It features a nice 14-amp motor that produces over 5500 RPMs of cutting power. This miter saw makes beveled cuts from 0° – 47° and cuts up to 2"x6" lumber at full bevel.
It's a miter saw that is designed to work with almost every prebuilt portable miter stand that's made also. Homecraft backs up this model compound miter saw with a very decent 3-year warranty.
6. DEWALT DW715 15-Amp 12-Inch Single-Bevel Compound Miter Saw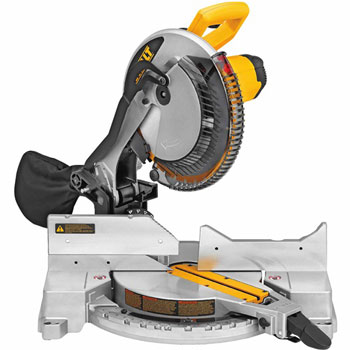 Here is a very interesting and efficient 12" compound miter saw design from Dewalt. It's a sliding compound miter saw that allows a variety of wood cutting options for those that use it. It features a powerful 15-amp motor that delivers a consistent 4000 RPMs of cutting power.
It offers an amazing array of precision cutting options too. There is also three hardened steel bevel stops set at 0°, 33.9°, and 45° on both sides of the blade. Miter cuts with it can be set anywhere left or right at 0°-50° for up to 4"x4" lumber. Its signature feature is its tall sliding fence. That fence supports nested crown molding sizes up to 5-1/4″ in width and base molding sizes up to 6-1/2″ wide.
Included in the package are an 80-tooth carbide blade, a dust bag, and a properly sized blade changing wrench. Dewalt also offers those that purchase it a 90-day money-back guarantee. It's further backed up by a three-year limited warranty and a one-year free service offer.
Best Compound Miter Saw Reviews
1. Delta S26-262L 10″ Shop Master Miter Saw with Laser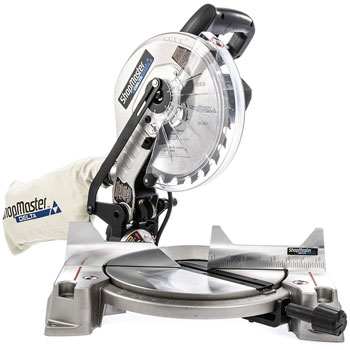 This affordable 10" compound miter saw from them definitely belongs on our list of the best ones. The S26-262 makes doing miter and beveled angle cuts in any wood pieces up to 2"x6" (at full bevel) in size very precise and simple. This saw sets up quickly to do left facing bevel cuts anywhere from 0°- 47°.
It all starts with its powerful 15 amp electric motor that spins this saw's blade at a very generous 5500 RPMs. The motor also features an electric brake which stops the blade from spinning within a few seconds of releasing the saw's trigger. That adds significantly to safety when using this miter saw.
The DELTA S26-262L miter saw is perfect for handypersons or professionals who like to use their miter saws at several different locations during a week. That's because it weighs only 25 pounds which is fairly light for a well-powered miter saw. Delta backs this miter saw up with a nice 3-year warranty too.
Read the full review → Delta S26-262L
2. Genesis GMS1015LC 10-Inch Compound Miter Saw with Laser Guide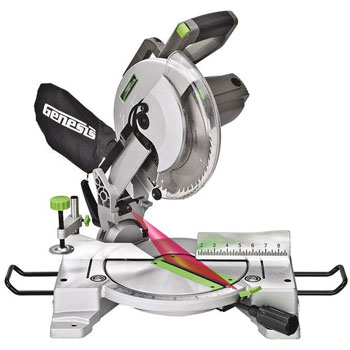 Don't underestimate this well-designed 10" compound miter saw from Genesis Tools. It's powerful and accurate when someone uses it to cut even the hardest trim wood. This miter saw features 9 preset miter angle stops and has a laser guide for extremely precise wood cutting.
The Genesis GMS1015LC miter saw is equipped with a full 15-amp motor. That is 1-amp more than most standard size miter saws in its class. That may not seem like much to most people. In reality, that extra amp of power makes a difference when cutting through rigid materials like wood. This helps it generate some 4600 RPMs of fast wood cutting power.
Other nice features include its safety-enhancing electric blade brake and an arbor lock for quick blade changes. This tile saw comes with included carbide-tipped blade, dust bag, and blade change wrenches. Genesis backs it up with a more than adequate two-year parts and labor warranty.
Read the full review → Genesis GMS1015C
3. Bosch GCM12SD 12 in. Corded Dual-Bevel Sliding Glide Miter Saw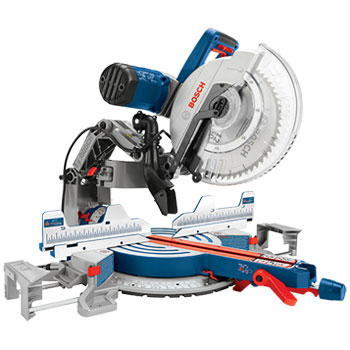 Superior quality power tools like this 12" compound miter saw from Bosch are the very reason why this tool manufacturer is so popular. This compound miter saw has a 3 HP, 15-amp motor that generates 3600 RPMs of cutting power. It can handle horizontal cuts up to 14", vertical cuts up to 6 ½" and when beveled 45° it can still make 6 ½" long cuts.
This Bosch miter saw features a soft trigger and handle that makes for very comfortable nonstop use. There are also two built-in square lock fences. These add even more precision to the trim carpentry cutting process.
One nice safety feature it has is its up-front bevel lock. That keeps the operator from needing to reach around the blade to make bevel adjustments. It also has what Bosch calls their exclusive 'guide operator' which gives the user precise control over the cutting process. This miter saw can be a workhorse for those that do trim carpentry.
Read the full review → Bosch Power Tools GCM12SD
4. Makita LS1040 10-Inch Compound Miter Saw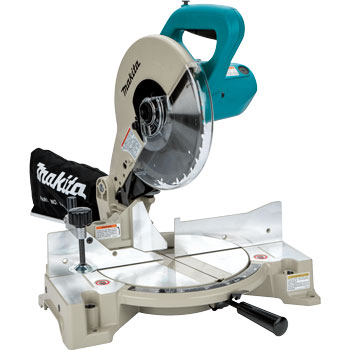 This 10" compound miter saw from Makita has much to offer those that buy it. Trim carpentry cuts are made accurately and made in a snap when it. Its highlight feature is its powerful 15-amp 'direct drive' motor. That nicely propels its saw blade at a highly respectable 4600 RPMs for fast and accurate woodcuts.
It features 9-positive miter stops and can make beveled cuts up to 45°. Other nice features on this miter saw include its dual-post compound pivoting arm. There is also a fairly lightweight yet solid sturdy metal base. Because of its light 27-pound weight, it's a favorite of cabinet makers, carpenters, and floor installers.
Included in its kit are a 40-tooth saw blade, quick blade change wrench, dust bag, and triangular rule. Makita offers a 30-day money-back guarantee with this product no questions asked. The one-year warranty that comes with it is less than what you would expect compared to the industry standard.
Read the full review → Makita LS1040
5. Hitachi C10FCG 10″ Single Bevel Compound Miter Saw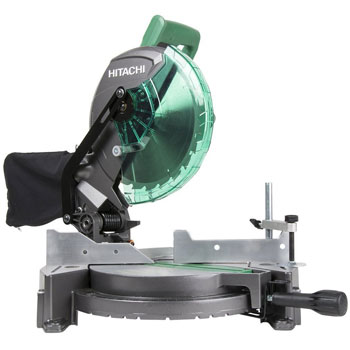 Are you looking for a compound miter saw that is fairly powerful, portable and affordable? Well, this 10" miter saw from Hitachi has got all of that covered in a big way. It's powered by a 15-amp, 2.5 HP motor. That combined with its 15-amp rating translates into over 5000 RPMs of trim wood cutting power.
It also has 7 built-in positive miter stops and can make 0-45 degree left bevel cuts too. The Hitachi C10FCG is one tough miter saw also thanks to its sturdy aluminum durable plastic construction. At less than 25-pounds, it makes a perfect saw for those that work at multiple job sites during a workweek.
Its oversized base with included clamps allows you to fasten it securely to tables or benches in temporary locations. It comes complete with a 25-tooth smooth cutting blade and a quick attach/detach dust collection bag. Hitachi backs this product up with a very generous 5-year warranty.
Miter Saw Buying Guide
Even the best table saw will not give you the precision angle cutting ability of a miter saw. That's why they are so popular among trim carpenters, woodworkers and other professionals who need to make accurate cuts. Not all miter saws are right for everyone either. A person who likes to make picture frames at home does not need the same quality miter saw as a trim carpenter.
So how do you choose a miter saw model that's right for you? You certainly have to factor in the following miter saw characteristics when shopping for a new one.
10 Factors To Consider When Shopping For The Best Miter Saw
Power

You want your new miter to cut smooth and fast. The power of its motor is what gives you the ability to do that. It stands to reason that the faster your miter saw blade turns the faster and smoother it will cut.
Miter saw power is determined by the amperage of the saw when 120 volts is applied to the motor. The higher the amperage the faster the saw blade spins in most cases. Typical miter saw amperages are 13, 14 and 15 amps. All professional model miter saws will have at least 14 amps of power to turn the saw blade.

Blade size

Typical blade sizes on miter saws are 8", 10" and 12". 10" and 12" blade sizes are by far the most popular. The bigger the blade the thicker the piece of wood you can cut with your miter saw. Bigger blades also allow you to cut thicker material too. If you have ever read our circular saw reviews, you will see that some of those blades will fit miter saws too.

Number of positive stops

It was mentioned that using a miter saw makes cutting angles in wood fast and simple. One of the reasons for this is because of the positive miter stops built into it. Different model miter saws have a different number of positive stops in them. If you make many miter cuts that are standard sizes (0-degrees, 22.5-degrees, 33.9-degrees, 45-degrees, and 49 degrees) you will really want a miter saw with many quick finding positive stops.

Single-bevel or dual-bevel

Many standard miter saws only make beveled cuts to the left of the blade. These are called single-bevel miter saws. If you want to make beveled cuts both to the right and left of the saw blade you will need a dual-bevel miter saw. This is a feature you want if you make bevel cuts in wood quite often with your miter saw.

Slide capability

A large majority of professional use miter saws have a sliding feature. It allows the user to pull the saw arm further forward or push it back further. This feature just adds another dimension to the accuracy and ease of cutting with a miter saw. If you are a professional woodworker you will definitely want a miter saw model that has a slide.

Fence

A fence is a metal piece that rests on its side and runs perpendicular to the saw blade on the miter saw. The main purpose of a fence is to help cradle the wood piece you are cutting and to keep it square as it's being cut too. If you cut many crown moldings or other trim pieces you will want a taller size fence on your miter saw.

Optional Laser Sight

Some miter saws you are looking at probably have an optional laser sight package. You may want to strongly consider purchasing this bonus component. That's because laser sights provide a super-accurate cutline without you having to take the time to mark your word. These devices are typically very easy to install and will definitely help you cut faster and more accurately.

Weight

If you will take your miter saw to many different locations, you better take a close look at weight. The lighter a miter saw is the more portable that model miter saw will be. Be careful though not to choose a miter saw that's so light it's underpowered for what you do with it. You also have to make sure it's still able to handle the types of beveled and miter cuts you do.

Durability

You definitely want your miter saw to hold up well under some extreme cutting conditions. That means the more durable your new miter saw is the better. Make sure its main components are made of indestructible plastics or lightweight metals.

Warranty

Miter saws run anywhere from less than $200 to more than a $1000. That means they are certainly not what you would call a disposable tool item. Since that's the case, you should get one that has a good warranty that covers it.
How can you tell if a warranty for a miter saw is a good one or not? A good warranty will cover a miter saw for a period of at least several years. It will also cover all of the components on a miter saw model including the motor.
Many people also strongly consider the warranty when trying to decide between two very similar models of miter saws.
The Different Types of Miter Saws

There are many different types of miter saws in the power tool marketplace. In order to make a sound miter saw purchasing decision, you will have to know what these are. Some miter saws may have just a single type of the characteristics below. Others will feature multiple types of characteristics that we will discuss here.
These are the main types of miter saws:
Stationary Compound Miter Saw

Many people will look at a chop saw compared to a miter saw. That's because a stationary compound miter saw looks much like a chop saw. A stationary compound miter saw arm does not move forward and backward. The saw arm will only lower to make a cut and then rise back up into a locked position.
Pros:

Least expensive
Great for home handymen
Makes all the basic bevel and miter cuts
Has a bigger cutting arch – great for making corner joint moldings

Cons:

Limited cutting width (about 6")

Sliding Compound Miter Saw

Unlike a stationary compound miter saw, a sliding compound miter saw arm moves not just up and down but backward and forward too. It is able to do this because the base of the arm is on a rail. This feature allows the user to cut wider pieces of wood.
Pros:

Great for professional trim carpenters
Makes all the basic bevel and miter cuts
The ability to cut wider pieces of wood
Allows for maximum precision when cutting

Cons:

Higher price
Offers less of a cutting arch

Double-Bevel Sliding Compound Miter Saws

This saw is exactly the same as a sliding compound saw except for one critical feature. That is it will make bevel cuts to the right and left of the saw blade. This means you will have to move your wood material less frequently to make a cut.
Pros:

Great for professional trim carpenters
Makes all the basic bevel and miter cuts
Less movement of material
Allows for bevel cuts to be made on both sides of the saw blade
Saves time when cutting

Cons:

Highest price
Offers a more limited cutting arch
Sliding vs. Stationary Compound Miter Saws
You have seen some of the pros and cons above associated with both sliding compound miter saws and stationary compound miter saws. So which one should you choose? That is a tough question to answer because people don't always have the same needs for their miter saw.
Remember, the big difference between these two types of miter saws (and really about the only one) is that a stationary miter saw arm only moves up and down. Whereas a sliding miter saw arm moves not only up and down but it also slides forward and backward on a rail.
Both types of miter saws will make all of the normal, bevel and miter cuts that most people use miter saws for. They are both very precise and accurate when it comes to making beveled and miter cuts too.
Preference by use
Some say that stationary miter saws are used mainly by handymen but that's not true. Many professionals use stationary miter saws too. This is especially true if that person does a lot of cuts involving corning joint moldings. That's because these types of cuts need the wider cutting arch that a stationary miter saw provides its user. Stationary miter saws are also preferred by those that cut longer pieces of wood.
The biggest advantage one gets from a sliding compound miter saw is that it can cut thicker pieces of wood than a stationary miter saw can. For instance, a sliding miter saw with a 12" blade can cut wood up to 16" in width. A stationary miter saw with the same size blade cannot cut a piece of wood that is over 7" to 8" wide. A sliding miter saw is also easier to use on heavy-duty and larger size jobs.
So it comes down to personal preference and what types of cutting you do when buying a new miter saw.
Single-Bevel Vs Double Bevel (Dual-Bevel Miter Saw)
Here is another topic that is often debated among those who are about to purchase a new miter saw. Is it better to get a single bevel or dual-bevel miter saw model?
As you now know. A single bevel miter saw does an excellent job of making sophisticated bevel cuts in wood. So much so, that when it comes down to a miter saw vs circular saw to make bevel cuts; those who work with wood often will choose the miter saw every single time.
The only problem with a single-bevel miter saw is it only makes bevel cuts on one side. That is to the left side of the saw blade. This is not a big deal for most people. That's because to make a bevel cut in the opposite direction the wood simply needs to be turned around. So unless you are doing many bevel cuts at one time there really is no big disadvantage using a single-bevel miter saw.
Ease of Use
On the other hand, dual-bevel miter saws are definitely easier to use for making bevel cuts. This is because they are able to make bevel cuts both to the right and to the left of the blade. That means you do not have to flip over a piece of wood to make an opposite bevel cut. If you are making many bevel cuts all at once this will save you much time and effort.
So which of these types of miter saws is right for your needs? Again it comes down to personal preference and to budget concerns also. Dual-bevel miter saws are a little bit easier to use and will do the job of bevel cutting faster. They will also set you back a little further expense wise. The bottom line is both single-bevel and dual-bevel miter saws do a great job at making bevel cuts in wood.
Learn more: What Is a Double-Bevel Miter Saw?
How Does a Miter Saw Work?
If you have ever worked with wood and tried to make angle cuts and bevels, you know how difficult that is. In our chop saw buying guide we talked about how difficult it is to make bevel cuts with those saws. It's also difficult to do with table saws and circular saws. That's why someone invented the miter saw. It's the perfect device for cutting a variety of specialty angles in wood.
You might be wondering what the difference between miter saw and table saw are? The answer lies in the ease in which a miter saw makes bevel and miter cuts.
3 Easy & Simple Steps on How to Use a Miter Saw
So how exactly do you use a one?
Step 1: Place your wood on the miter saw base. Push it snuggly up against the fence if you are using one.
Step 2: If you are going to make a straight cut just line up the blade in the right position.
If you are going to make a miter cut grab the miter handle and depress the button. Move it to the proper miter angle setting using the built-in miter scale.
If you are going to make a bevel cut, use the arbor on the saw arm to set the proper angle. This will tilt the blade to the correct bevel cutting position.
Step 3: Turn on the machine. Next, pull down the saw arm and make the cut.
Once you get used to using a miter saw it really is that easy.
Check out the link, to learn how to use a miter saw correctly!
What Materials Can You Cut With a Miter Saw?
Can you use a miter saw to cut more than just wood? The answer to this question is yes. Miter saws can be used to cut such materials as hard, flat plastics and softer metals like aluminum and stainless steel.
Make sure if you want to cut materials other than wood, you have the proper blade to do it with. Normal wood cutting miter saw blades will get ruined if you try and cut metals or non-wooden materials with them. The manufacturer's website or user's manual will have more information on how to cut non-wooden materials.
List & Functions of Miter Saw Parts
Here are the main components of a miter saw and what they are used for:
Anatomy of a Miter Saw
Motor

Of course, the electric motor is the heart and soul of any compound miter saw. The more powerful your miter saw's motor is the faster it spins the blade. The saw's horsepower and amperage ratings determine how powerful each particular model is. Miter saw motors are attached to the saw arm which keeps them out of the way as you work.

Blade/Blade Guard

The blade is what spins and does the cutting of the material. It consists of several razor-sharp teeth that will easily cut through even the hardest wood. As a general rule the more teeth a miter saw blade has the smoother and faster it will cut. The best blades are made out of such materials as tungsten or carbide.
There is also a guard that covers the blade even as you are making cuts. This is an important safety feature which should never be removed for any reason. The blade guard will automatically retract as you make your cuts so there is no reason to remove it. (Learn how to operate your miter saw safely)

Arm and Handle/Slide

The motor and saw blade are attached to what is known as the saw arm. This spring-activated arm actually swings up and down to engage and disengage the blade with the material you are cutting. There is a handle attached to one end to make the arm easy to pull up and down.
Many miter saws also have a slide built into the back of the saw arm. This allows the arm not only up and down movement but also forward and backward movements too. It helps the cutting process go smoother and be more accurate.
The saw arm also contains a lever that allows it to pivot at an angle. This is how you make the angled bevel cuts that miter saws are so popular to use for.

Fence

A fence is a flat piece of material that rests on its side and runs perpendicular to the arm. Its main purpose is to help cradle wood and keep it square as it's being cut. Any fence acts an additional cutting safety feature too.
The taller the fence the bigger the piece of material it can support. Most fences can be removed if necessary so you can work with bigger pieces of wood.

Base

The base acts as the support system for the saw superstructure. It also provides a place to support your material as you cut it. Most bases are made out of a sturdy yet somewhat lighter metal like aluminum.
Many bases are also made in a way that they can easily be attached to most models of portable saw stands. This allows those that work at multiple job sites to have their miter saw setup and ready to use quickly.

Miter Adjustment Handle

When making a bevel cut in wood, you have to angle the saw blade. Miter cuts are done by aiming a straight saw blade to cut at an angle. The miter adjustment handle is what you use to set the angle that you want to cut your wood at. Most are made to move by simply pushing a lever on it and then setting it according to a built-in miter scale.

Dust Collection Port

Flying sawdust can be a big problem both health and safety-wise at any job site. That's why almost every model has a dust collection port. There is a quick-release bag attached to this port for easy dumping of the sawdust that's collected. These dust collection ports also make clean up easier after you are done using the saw.
FAQs & Answers
Here are some of the most common questions we get about miter saws and their uses:
I am a big fan of cordless tools. Is it possible to buy a cordless, battery-powered miter saw?
Answer: The answer here is yes with a catch. A cordless miter saw will give you all the lightweight portable you want. The catch is that cordless miter saws currently are somewhat underpowered. You also will need several charged batteries if you are doing big projects that require much cutting.
Is it necessary that I spend the money on a sliding compound miter saw with dual-bevel capability?
Answer: This is not an easy question to answer because you have to decide on a few things. If you are just making a few angled woodcuts on home projects each month, you probably don't need a fancy sliding compound miter saw. On the other hand, to make these cuts faster and easier a sliding miter saw is best. Of course, it depends on your spending budget too. As a general rule, get the ideal tool possible for the money you are willing to spend.
Do you push or pull a sliding compound miter saw through the material as you are cutting?
Answer: Compound miter saws are one of the safest power cutting tools you can use. One of the reasons for that is they provide such a stable cutting platform. Another reason is your hands stay far away from the blade as you 'PUSH' through the material you are cutting. So you definitely want to use a pushing motion towards the blade when you are making a miter saw cut.
Read our detail comparison to understand the differences between types of saws for wood.
A Few Final Thoughts
Without a doubt, if you do woodworking at some point you are going to need to make angled or beveled cuts. There is no faster and more accurate way to do those angled cuts than with a miter saw. That's why they are so popular among trim carpenters, furniture makers, and wood floor installers. The only problem is there are so many miter saws in the market place to choose from. We hope this guide is exactly what you need to enable you to find the best miter saw for you.
Keep in mind that any of the models that we did miter saw reviews on you can never go wrong purchasing. The buying guide and other information we supplied should be referred to often as you are shopping for your new tool. That's because this information will definitely help you find the perfect one for your needs.