Intro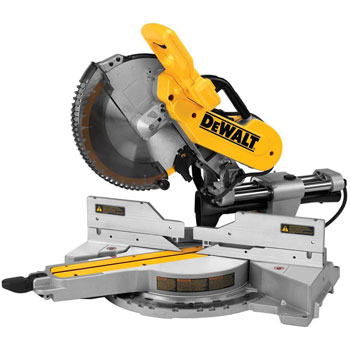 Dewalt has designed a compound miter saw with 12-inch blade and sliding capability. This manageable power tool can work for both the professional as well as the individual that only plans to use the miter saw a few times per year. The corded compound miter saw has a 15-amp motor with 800 RPM. With a carbide blade, back fence design, blade wrench, dust collector and a Cutline Blade Positioning System; this compound miter saw is contending to provide the most precise and accurate cuts.
A three-year warranty included, the Dewalt Sliding Compound Miter Saw is able to perform miters 60 degrees to the right and 50 degrees to the left. Weighing at 56 pounds, Dewalt did not spare on any user-friendly features such as including ease of use with a linear ball bearing and dual horizontal steel rails. With so many different brands to select, the Dewalt brand has brought about a saw that includes several attractive features.
Pros
Precise Cuts

The most important aspect of the Delta Sliding Compound Miter Saw is that it will provide an accurate cut. The back fence design assists in a way that users can cut up 2×16 dimensional lumber at a 90-degree angle and 2×12 at a 45-degree angle. Coming from a durable, compact saw, it delivers accurately with ease of use. Dewalt's Cutline Blade Positioning System is what gives the user the guidance to produce accurate and visible cuts. The Cutline Blade Positioning System essentially gives adjustment-free outline indication. The miter saw is true to cut and easily adjustable. The 15-amp motor is another reason the Dewalt miter saw performs so well. It gives extended power and durability with the 800 RPM.

Smart Features

Compound miter saws will include some of the same features. When looking for an option that works for you, the best thing to do is always compare several saws that are similar. There will always be similarities in varying brands, however, Dewalt is improving on some of the similar features so buyers can determine what means the most to them. Dewalt has taken time to perfect their clamping system with the dual horizontal steel rails, making the clamps more innovative. Another feature that may get overlooked is the fence. On many miter saws, the fence feature seems like the forgotten one with no extra frills. For the Dewalt Sliding Compound Miter Saw, it has a tall, sliding fence that can support crown molding up to 7-1/2" nested. One last smart feature may seem simple, but in many miter saws this one is not given enough attention. The dust collector on this Dewalt Sliding Compound Miter Saw is one of the most efficient. It captures over 75% of the dust generated.
Cons
Inaccuracies

While the Dewalt brand is well-known for its tools overall, regarding miter saws, there has been some mixed reviews. One thing to be aware of with this saw is that for the professional, the miter positive stops are slightly off. The good thing about this one caveat is that if the user is performing small jobs that are not determined off its exact accuracy, the stops will not interfere with getting the job done. However, for the professional that is prone to precision, this will throw the project off. Regarding the stops, the saw tends to bottom out if the depth stop is not used. This should be kept in mind on projects so there are no interruptions causing the cut to be slightly off.

Design Flaws

There is no storage for the clamp on this Dewalt model. Unlike other pieces of this tool, the clamp comes with no storage. It would be an ease of use factor for the user if it could lock to the back, however, due to design, this is not possible. Users should be careful when dealing with any power tool and this Dewalt model is no exception. The plastic cam part of this saw is exposed and users should be careful when storing as to not break it off. This is a heavier saw that is not mobile-friendly. Even though the saw comes with a handle, users may want to consider placing on a stand with wheels so it can be easily transported. The last thing users should note, the blade is decent for lumber jobs but may want to replace if there is any trim work intended for this Dewalt.
Read on to find out what you need to look out for when buying a miter saw.
Final Thoughts
Dewalt has created a miter saw with a few features that makes it a convenient and easy choice for users. With its Cutline Blade Positioning System, the cut lines are more visible and made to give the user the best guidance when in use. The extended power and durability of this tool from the 15-amp motor allows the user to really perform some precise cuts. Like any power tool, it has its drawbacks. In particular the non-soft start and a few design flaws regarding dust collection and storage. At this price point, the Dewalt Sliding Compound Miter Saw is a solid purchase and with its three-year warranty, users have the confidence in knowing they are receiving a quality tool.