Did you know how versatile band saws can be? These tools can be the perfect option for cutting metal, wood, plastic, and even meat! You can use them in your workshop, but many of them serve for commercial purposes. The question that remains is what is the best band saw out there?
That is the question we will try to answer in our band saw reviews, but we won't stop there! You will also have the chance of reading the most detailed buying guide available online. We carefully analyzed various types and features of band saws so that we can assist you in choosing the right model. By the end of this guide, you should have all relevant information on these saws, which will make it possible to make a smart decision when purchasing.
Best Band Saws
1. Grizzly G0555LX Deluxe Band Saw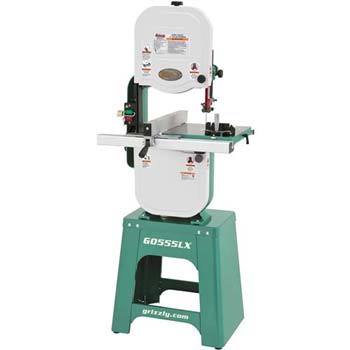 It is always nice to see a band saw with top-quality construction, and Grizzly designed a unit that meets the expectations of even the most demanding user. The top-quality cast iron frame and wheels secure maximum durability, while the sturdy stand delivers the necessary stability.
The strength of the motor is set at 1HP, and the band saw can make up to 1725RPM. The cutting capacity is set at 13 ½ inches. The product is a bit heavier with 247 pounds of total weight, but that was required to ensure that it is stable.
The table size is 14 x 14 x 1 ½ inches, and the height from the ground is 43 inches. The product comes with an aluminum fence, as well as a miter gauge. You can tilt the table 10 degrees to the left, and 45 degrees to the right side. Overall, it seems that G0555LX is a good value for the money.
Read the full review → Grizzly G0555LX
2. Makita XBP02Z LXT Lithium-Ion Cordless Portable Band Saw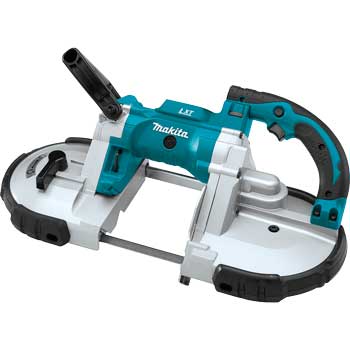 The manufacturer allows you to purchase only a bare tool or the complete kit. Whatever you decide, you will be getting a portable band saw with a cutting capacity set at max 4 ¾ inches. This band saw can develop speed up to 530 ft./min, which comes in handy when you are in a rush and need to cut something. There is a dial that adjusts the speed so that you would have full control over the product.
The unit features a rubber bumper, which adds to the durability and the soft-grip handle secures optimal comfort when working. While talking about comfort, there is a trigger to turn the saw on, but there is no button to keep it running without the trigger. The saw features a LED light to achieve better precision. If you are not using the saw, you can take advantage of the tool hook to secure it. It operates on batteries, but keep in mind they are sold separately.
Read the full review → Makita XBP02Z
3. JET JWBS-14DXPRO Deluxe Pro Corded Band Saw Kit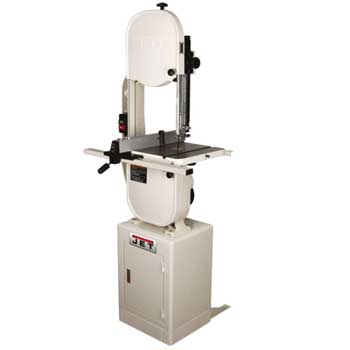 The first thing you notice about this unit is its cast-iron frame, which contributes to longevity and overall sturdiness of the unit. The table's size is set at 15 x 15 inches with the ability to tilt right (45 degrees) and left (10 degrees). Thanks to these features, you can handle difficult re-sawing tasks effortlessly.
When it comes to cutting capacity, the unit is limited at 13.5 inches of width and 12 inches of height. The motor features 1 ¼ HP with two different blade speeds set at 1500 and 3000 SFPM. The blade guard is integrated and retractable.
It would be great if the saw came with miter gauge and fence as that would improve user safety, but that is certainly not a deal-breaker. Also, the default blade delivered is of limited quality, and buying another one will allow you to see the full potential of this saw.
Read the full review → JET JWBS-14DXPRO
4. DEWALT DWM120K 5-Inch Deep Cut Portable Band Saw Kit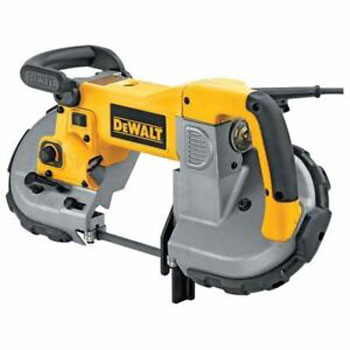 You can consider this model if you are looking for a portable band saw. Despite the fact of being a handheld product, the item still features a strong 10-amp motor that renders it suitable for thick and hard applications. You can make deep cuts of up to 5-inch depth on round materials and 5 x 4 ¾ inches on rectangular workpieces. Users also have the option to choose their desired speed anywhere from 100 to 350 SFM. That adds to the versatility of this lightweight tool that weighs only 15 pounds.
This unit comes with a LED Light to enable high precision while cutting even if you are in a dark space. The product comes with an ergonomic handle for added control, and the dual roller bearings boost overall durability. One of the downsides is the case, but that is not something that should stop you from considering this sturdy saw.
Read the full review → DEWALT DWM120K
5. Milwaukee 2429-21XC M12 Cordless Sub-Compact Band Saw Kit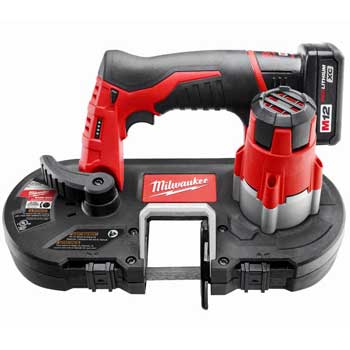 If you are looking for a tool that can make single-handed cuts, this might be the one. It is a portable band saw capable of providing up to 280 SFPM so that you can deal with various applications. According to the manufacturer, a full battery secures about 150 cuts. The cutting capacity is set at 1 5/8 inches and working with the unit is comfortable. You will be making precise cuts without a lot of effort thanks to the LED light included.
As for additional features, adjustable blade tracking is a notable one. The product weight 12.4 pounds and, unlike some similar products, it comes with a battery, charger, and a case. The company obviously focused on portability and simple operation, which subsequently means they sacrificed a bit of power. The durability is more than decent, although the saw was made in China. However, if you are looking for a cordless saw for some quick work, you should consider this tool.
Read the full review → Milwaukee 2429-21XC M12
6. DEWALT DCS370B 18-Volt Cordless Band Saw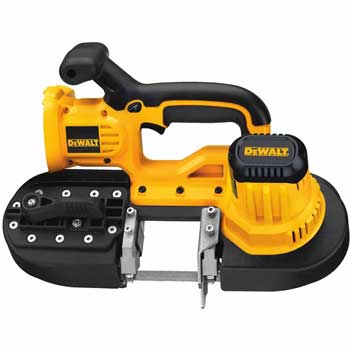 Another cordless unit from the same manufacturer with some key specifications altered. For starters, with only 7.75 pounds, this tool is one of the lightest we have seen. The length of the blade is 32 7/8 inches, and it has a 2 ½ inches of maximum capacity. In other words, this is the tool you can move around easily, and it can do an excellent job for small cuts and projects.
As we are used to from portable band saw, the ergonomics is admirable, and you will feel comfortable while working. The blade tracking is optimized thanks to the adjusting feature and changing the blades is quick and effortless. The tool may be useful for plumbers, electricians, and others who are dealing with compact-sized metal materials. Keep in mind that you need to buy a charger and battery separately. Once you are done with using the unit, hang it by utilizing the hook on the front.
7. Shop Fox W1706 14″ Band Saw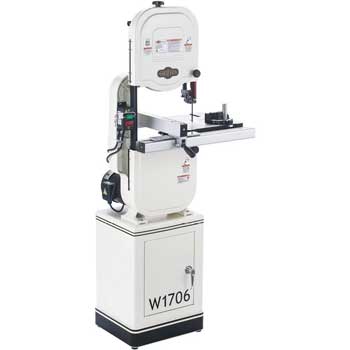 An intriguing color choice with the white color dominating makes the design of this band saw sleek and modern. Aside from aesthetic value, there is obvious functionality, too. For starters, both table and frame are made of cast iron to secure the unit will last for years to come. Moreover, even the blade wheels are designed of cast iron while the unit features a fence made of aluminum and ball bearing blade guides.
The product comes with a motor packing solid 1 HP power while the blade has two variable speeds with the higher setting being 3,200 FPM. The acceptable blade width is from 1/8 to ¾ inches while the cutting height is set at six inches and throat at 13 ½ inches. The height of the table is 43 inches, and that implies even tall people shouldn't have a problem working on this unit. A miter gauge is included, but it will take a bit of practice to make cross-cuts with ideal angles.
8. WEN 3970 Metal-Cutting Band Saw with Stand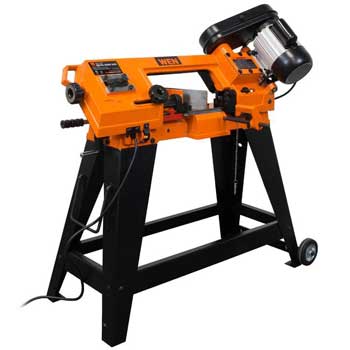 This band saw is designed for cutting metal, including steel, copper, aluminum, bras, etc. It can be used to cut materials of 4 x 6 inches in size and 4 ½ inches in diameter. The unit features three different blade speeds with the maximum set at 200 ft. per min. The saw can operate in vertical and horizontal positions, and a collapsible stand is included.
The blade has ball bearing guides, and you can adjust the settings by using tension and tilt knobs. The beveling wise is a smart addition, and it can assist in cutting up to 60 degrees. The band saw will turn off automatically after completing the cut. One of the drawbacks is that it is not great at making square cuts, but it is still great for doing the job when you need quick cutting. The manufacturer provides a 2-year warranty for this model.
9. WEN 3939 2.8-Amp 9″ Benchtop Band Saw
This tool comes in two different sizes so that you can choose the right fit for you. We focused on the 9" benchtop model which can make 3 5/8-inch deep and 9-inch wide cuts. The motor can rotate the blade at a speed of 2460 feet per minute. Although the default included blade is 3/8 inches, it can fit narrower blades of up to 1/8 inches, too.
The unit comes with a table that is of moderate size with its measurements being 12 x 12 inches. The tilting option allows beveling up to 45 degrees. As for additional features, dust port, miter gauge, and a fence are all included. The blade guard is adjustable, but the tool can be a bit tricky to adjust until you get used to working with it. Although it is a stationary band saw with a table included, it weighs only 44 pounds and has a small footprint. It may not be a premium saw, but it is still an excellent choice for those entering the world of cutting.
10. SKIL 3386-01 2.5-Amp 9-Inch Band Saw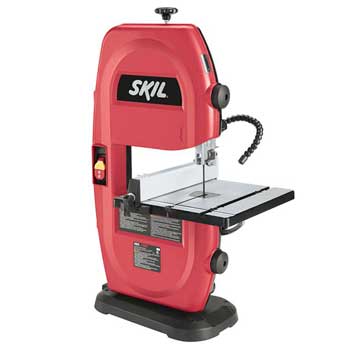 When deciding on a band saw, you need to consider your budget and needs. If you want an entry-level band saw with a table, this unit can be a good choice. Despite it technically being stationary, you can move it around as it only weighs 36 pounds. The capacity of cutting is maximum 3 ½ inches while the cutting throat is 9 inches. The unit accommodates blades of up to 3/8 inches to enable both intricate and quick cuts. As for the table, its measurements are 12 x 11 ¾ inches.
The band saw also comes with a light for the easier operation, a rip fence, and a miter gauge. With the rack and pinion adjustment included, you can easily find the ideal angle for cutting, and the unit also has a dust port to minimize residue. The upper guide is a bit flimsy, but that merely means you need to be more careful when dealing with it.
11. Laguna Tools MBand 1412-175 Vertical Band Saw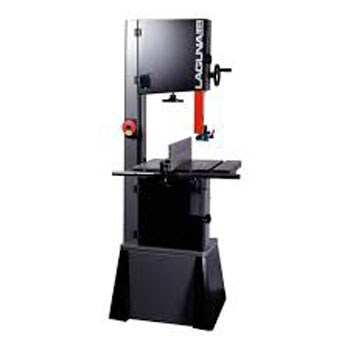 This fairly new model from a reputable company comes with a large table measuring 21 ½ x 16 inches. It has the ability to tilt to the left for up to seven degrees and to the right for maximum 45 degrees. The unit is equipped with a strong motor packing one ¾ HP. Blade width varies from 1/8 inches to ¾ inches, and the replacement of the blades is a straightforward process. Furthermore, you shouldn't have any problems with the overall set up of the tool as the manual explains everything well.
The table height is set at 38 inches, and there is a dust port that collects any residue. The quick-release tension helps during the cutting process, as well as ceramic guides which have considerable longevity. The throat capacity is 13 5/8 inches with the option of 12-inch re-sawing. The rip fence is made of aluminum, and the tires are made of durable polyurethane.
Read the full review → Laguna Tools MBand 1412-175
Band Saw Buying Guide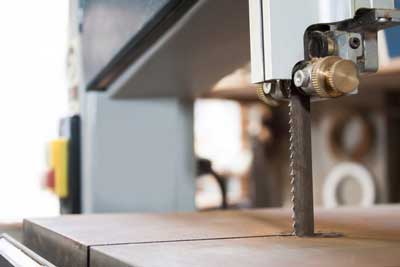 A band saw is a type of saw featuring a toothed blade between at least two wheels. The blade rotates over the pulleys and performs the cutting. The saw is used in various industries, primarily in metalworking, woodworking, and lumbering. You can often find it in professional workshops, but thanks to its various sizes, there are also units suitable for home use.
This buying guide will help to answer a bunch of questions related to band saws you might have. It will assist you in discovering whether this tool is a good fit for you and how to choose the ideal unit.
What to Consider When Buying a Band Saw?
Picking the best band saw is not a simple task because there is a wide selection of these tools available on the market.
Types of Band Saws According to Materials you Consider
The primary thing you want to consider are the different types of saws on the market.
That is something you should decide based on how you intend to use the machine. There are three common band saw types available out there:
Metal Band Saw
Wood Band Saw
Meat Band Saw
Metal Band Saw

Are you looking for a tool that can cut through different kinds of metal? If the answer is yes, this is the machine you need. It is suitable for metals and materials of various thickness and is considered very versatile. It does require a bit of extra effort to ensure proper maintenance, but it will compensate that with amazing features. Those include brushes to keep metal chips for getting into the blade and a coolant that ensures your blades are cool and lubricated at all times.

Wood Band Saw

The greatest thing about this tool is that it is a common pick of both DIY enthusiasts and professionals. Carpentry is its primary industry, but the versatility of a wood band saw is incredible. You can often find them in workshops, but large units can even have the power to rip lumber. If you often work with wood, this saw will ensure that the waste of usable timber is kept to a minimum.
Here are some wood band saws that you can pick:

Head saw – you can make the initial log cut with this tool as it has the potential for a deep impact.
Resaws – cut the stock to make it smaller with this fairly large band saw.
Double-cut – it features teeth for cutting on both sides. An excellent choice to ensure stuck-free cutting process.

Meat Band Saw

As the name suggests, this saw serves for dealing with different types of meat. Most of them can handle carving and cutting since stainless steel is the primary material used in the manufacturing process. Their big advantage is simple cleaning and maintaining.

Although you most often see them at a butcher, there are enthusiasts who have this tool at home. A meat band saw is extremely helpful to cut through thick bones effortlessly, but it can also be dangerous for the operator. In fact, this is a band saw that most often causes injuries.
List of the Most Important Band Saw Features and Specifications
Frame

The frame is a vital part of the construction because many other components are attached to it. The most frequent choices you will encounter are cast iron, welded steel, and die-cast. While cast iron is the strongest and sturdiest materials, other types can also be suitable for some not too heavy applications. The crucial thing to ensure is that the frame you selected is stable.

Motor

It is the point where you should ask yourself the question – which materials do you want to cut? Extra horsepower of the motor will come in handy for re-sawing and metal cutting. The standard motor power is considered to be around 1HP, but there are portable and other saws not as strong, but still capable of doing a solid job at standard cutting tasks.

Blade

It is a component that will perform the actual cutting, which makes it an integral part of any band saw. There is a wide selection of blades available out there, but the general rule of thumb is that curved cutting requires relatively small width of the blade. You should also consider the tooth pattern – the usual tooth design can make intricate cuts, but hook tooth design is what you need for aggressive cutting.
Additional Features to Consider When Purchasing a Band Saw
Here is a list of some other things to consider when purchasing a band saw:
Wheels – aims for cast iron or aluminum wheels whenever possible as it increases the stability of the tool.
Blade tension indicator – a useful feature to ensure the tension is right.
Bevel capacity – can the table tilt to perform beveled cuts? The usual tilting options are up to 10 degrees to the left and 45 degrees to the right.
Brand – the fact that a reputable manufacturer makes your blade can contribute to its durability.
What Is the Best Band Saw for Home Use?


When purchasing a band saw to use for your DIY home projects, you should look for one with convenient features. Some of these can even be found in professional machines, such a blade system that is easily changeable, and the option to extract dust effortlessly.
There is no need to buy the most expensive tool out there if you will only use it for the home-based project. You can probably find a suitable item at an adequate and budget-friendly price. Consider what materials you need to cut and choose accordingly.
Area of Use
When it comes to the scroll saw vs. band saw dilemma, it once again depends on your preference. Ask yourself what projects you will use the tool and pick based on that. A band saw is excellent for repetitive work with consistent productivity and thick materials.
The biggest benefit of this tool is that it can make tight curves on items like puzzles, clocks, and various artwork. Therefore, if you plan to handle small and delicate pieces, you should definitely read our scroll saw reviews before purchasing this type of saw.
Different Types of Band Saws
Pros & Cons of Horizontal, Vertical, and Portable Band Saw
Horizontal Band Saw

If you are considering a horizontal band saw, you should know that newbies and experienced cutters can both use it. The way it works is that the piece you are cutting is stationary while your task is to move the blade through it. The goal is to cut as precise as possible, and a horizontal saw is great if you are mostly making straight lines. They are a perfect choice for people who perform cutting jobs on a regular basis.

This tool is an adequate option or people who are looking to reduce various applications to smaller sizes. The cut you make can be both thick or thin, and it only depends on your preference. Apart from finding them in workshops, you may also encounter larger horizontal saws at timber yards. One of the rare downsides of this saw type is that it doesn't have the power to deliver complex shapes or curved lines.

Pros

Fairly quiet – They do not make a lot of noise when operating. In fact, the industry considers horizontal band saws a quiet power tool, especially when compared to the others available out there. They also do not leave a lot of mess behind.
Versatility – the tool is suitable for efficiently cutting plastics and wood, but it also won't have a problem with metals and other thick applications. Its primary purpose is cutting straight lines in a quick and precise way.
Automation – with the right unit and settings, you may program a horizontal band saw to do the job automatically. That allows you to save some time and use it on other tasks at hand.

Cons

Certain cutting limitations – do not expect it to deliver complex shapes or curved lines. The tool compensates this by ensuring consistent results.
Take a lot of space – if you are placing a horizontal band saw in your workshop, make sure that there is enough room for it. The unit will return with considerable efficiency and versatility.

Vertical Band Saw

A vertical band saw is a stationary tool like its horizontal counterpart, but that is where the similarity ends. Unlike the horizontal units, vertical saws allow you to move around the item you are cutting.

The blade remains in a single position, and the user makes the cut by moving the cutting piece. Thanks to this working process, you have the option to make as detailed cuts as wanted. While vertical units can deliver straight lines, too, their obvious advantage lies in the fact that they can deliver complex shapes.

These band saws give you the option of cutting small pieces. Furthermore, they can also do the filing and polishing job, and the units are quite fast when operating. Some of the models even come with an integrated welder, which you can utilize to repair or make a new blade. You will often find vertical band saws in garages and workshops or DIY enthusiasts, but carpenters also decide to purchase this tool frequently.

Pros

Suitable for complicated cutting – if the result you are aiming for is a complex shape, this saw can do the job. They work by allowing you to move the workpiece around the blade, which makes them appropriate to use on small workpieces.
Filing and polishing – these come as extra features besides the basic cutting purpose.
Welder included – in most units, you will find an integrated welder providing the option to repair the unit's blade by using its tool.

Cons

Requires the operator to be careful – the fact that you are moving the piece you are cutting while the blade is working means that you need to be extremely careful when working with this saw. The results are, however, well worth it and nothing should go wrong as long as you pay attention while cutting.

Portable Band Saw

The specific characteristic of a portable band saw is that you can move it around as you see fit. Whether it is only around your store or to an entirely different location, transport is effortless. The next unique thing about this type of saw is that it is a handheld tool. That implies you need to be careful when using it, but it also means that you have big freedom when it comes to how you will cut the desired workpiece. Furthermore, this tool can make straight cuts, as well as complex and curved rips.

When using a portable band saw, it is vital to press it against the workpiece before you begin. If you want the best result, make sure not to move the saw while it is working. Although it may take a bit of time to get used to it, this saw is extremely versatile, and one can see it in both amateur workshops and professional companies.

Pros

Work on the go – if you have workshops in more than one location, this type of saw can be of great assistance.
Cutting extremely large materials – some workpieces cannot fit on a working table or you can't get them to your garage or workshop. A portable band saw can cut them effortlessly.
Very versatile – they are capable of delivering satisfying results when it comes to both straight and curved cuts.

Cons

Limited power – even the strongest battery cannot produce the amount of power that wall electricity can deliver. That means portable band saws are not as powerful as their stationary counterparts, but they are still capable of handling most projects.
The battery can run out – they can only work for a certain amount of time before they need recharging. However, you can easily overcome this by ensuring to charge the batteries prior to doing the work.
Band Saw Guide Blocks VS. Bearings


Band saw guides have a purpose of keeping the blade from deflecting when you are performing the cutting work. They enable you to stay precise and make clear cuts. When purchasing a band saw, you can choose between two different types of guides – blocks and roller bearings. It is hard to give a definite answer on which one is better as users may have to try both to identify a personal preference.
Guide blocks are generally more affordable than bearings, but they also require extra maintenance. The prevailing opinion is that narrower blades deliver better results in combination with blocks.
On the other hand, bearings might be a better choice for larger blades as they will last longer and you won't have to readjust them as often. They will also be quieter, at least at first until they wear out and start making noise.
Cordless VS. Corded Band Saw
There is no clear winner in this category as it all comes down to your preference. The biggest advantage of a cordless band saw or any wireless tool is mobility. You can take it from one part of the table to another effortlessly. A portable saw is easy to operate and move around, but since it runs on batteries, it only has limited power. Therefore, you shouldn't expect it to handle extremely challenging cuts, but rest assured it will meet your expectations with standard ones.
On the other hand, a corded saw means you will be getting a lot of power at all times. No battery can produce the same amount of power as wall electricity. It is what expands the types of materials that you can cut. The problem is the position of corded tools will depend on where your power outlet is and how your table is positioned compared to it.
Band Saw VS. Circular Saw
You can purchase a band saw at an affordable price, and it is a pretty versatile machine. Furthermore, you can use it on a broad range of materials, including thick metals, but also non-metals. A band saw is ideal for bundle and layer-cutting and heavy-duty projects. When compared to circular saws, their surface finishes might not be of the same quality, and they are not a great choice to cut miters.
Here is a quick overview of band saw advantages:
Suitable for thick metals and non-metals
Excellent for layer and bundle-cutting
Incredibly consistent and productive
On the other hand, a circular saw may be more suitable for beginners and DIY enthusiasts. It is very accurate with small metal sheets and wooden pieces. Moreover, you can do the job pretty quickly, especially if you handle miter cutting often.
Let's take a look at the circular saw advantages:
Adequate for DIY enthusiasts and those only entering the world of professional cutting
Suitable for relatively small materials
Can provide excellent results for miter cutting
If you own a shop, it would be ideal to have both of these tools. However, if the resources at the moment do not allow that and you must choose one of them, take a look at the above lists to help you decide.
For further information don't forget to read our best circular saw reviews!
What Are the Basic Parts of a Band Saw?
If you want to truly understand how the band saw works, you will need to inform yourself of its major parts. The initial component is the frame, which can be made of rugged steel or plastic. The plastic option is cheaper, but rugged steel is heavier and more durable.
Inside the frame, you will find the following items:
Pulleys – you might have an option to choose between two or three pulleys, although the former is a far more frequent alternative. There is a motor connection between one of the wheels and the motor, while the user can move the other one (or two) to adjust the tension of the blade. Alloy, casting iron, and aluminum are the options for making the pulleys. If it fits your budget, always go with a stronger material.
Motor – the usual strength of a band saw is around 1HP. It all depends on your demands, but the general rule is the higher the better, especially if you plan to rip hard and thick materials. When keeping in mind the power you need, always aim to take a bit more powerful saw to be on the safe side.
Table – it is the construction where you place the workpieces you plan to cut. Make sure that the table fits the size of the items you plan to cut. It may come with a 45-degree swivel option for crosscutting. One may consider a plyboard to boost the size of the table
Blades – there are several options to choose from, including standard, skip, and hook tooth. The standard tooth is the most frequent ones and can make a smooth and clean cut. Skip tooth blades can serve to cut plastics and soft materials while hook tooth aims at cutting hard applications successfully.
FAQ – Frequently Asked Questions
How Does a Band Saw Work?
Before you can start cutting, you should set up your machine. The process varies depending on the type you selected, but the important thing is to follow the manual. The very premise of the working process is simple – the saw comes with a blade that does the cutting, and it is your job to choose the right settings and maneuver the tool to make the desired cut.
The process is a bit more complicated in practice. Before you initiate cutting, make sure to tighten the blade and adjust the guide properly. Once you power up the saw, you can start cutting. Keep in mind that practice makes you a master of clean and perfect cuts, so give yourself some time to get comfortable with using a band saw.
What Materials Can a Band Saw Cut?
One of the biggest benefits of getting a band saw is that it delivers great versatility. The material you can cut, as well as the type of rips, may depend on the unit you select. Here is an overview of materials that a band saw can cut:
Metals – band saws are capable of cutting metals of various thickness ranging from thin applications up to thick ones.
Wood – depending on the size, it can cut everything from small wooden pieces up to huge pieces of timber. It also minimizes the wasted amount of usable timber during the cutting process.
Plastic – it is a pretty simple task for this power tool. However, the choice of the unit may depend on the type of cut you want to make.
Meat – although you need a specific band saw, there are units capable of cutting meats efficiently.
What Is a Band Saw Used for in Woodworking?
Woodworking is only one of the industries where band saws are often used. Apart from that, workers in lumbering and metalworking industries often utilize this powerful tool. Let's return to woodworking and mention several most frequent uses of band saws there:
Cut a thick board into multiple thinner pieces. You can also cut a sawing board along its width.
Elegantly re-cut a board's edge so that it looks more elegant and not like it just exited the mill.
Make veneer and create fresh design possibilities.
Design bent laminations as another way of expanding design opportunities.
Process small logs by utilizing the tool as a mini-mill.
Be sure to check out the band saw safety guide!
Conclusion
We reached the and of our band saw reviews and buying the guide. Do you already have the best band saw for your needs in mind? The guide should have provided all factors to take into considerations when buying. Take your time and choose the most suitable product based on your demands and expectations.
The important thing to keep in mind is that band saws are incredibly useful and versatile tools. They are suitable for DIY experts and workshop owners. Their usage is noticeable across various industries, including metalworking, woodworking, and even the meat industry. When choosing a band saw, do not forget to read the reviews again and learn more about the top products on the market.