Intro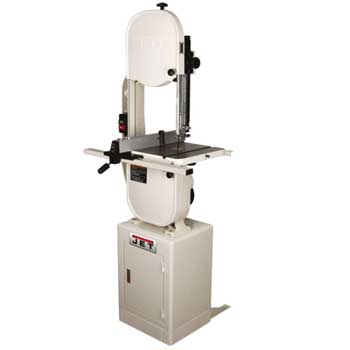 For the professional woodworker, there are several needs that should be met when purchasing the best band saw. Jet offers a band saw kit that can be assembled in a few steps and can handle small to large jobs. This band saw will complete many woodworking jobs and the task will go a lot smoother with the Jet 14-Inch Deluxe Pro Band Saw Kit. This corded, electric band saw comes with a stand and weighs 258 lbs. and is backed by a 5-year warranty. With a 115 voltage, it offers a high-powered performance with a cutting depth of 90 inches and a cutting capacity of SFPM 1500/3000.
The Jet Deluxe Pro Band Saw Kit is ideal for cutting larger pieces of word with a built-in 12-inch resaw capacity. The Jet Deluxe 2-speed poly-v belt drive system helps make the Jet band saw a powerful tool that provides seamless and precise cuts. Getting better control of your piece comes directly from Jet's band saw and their poly-v belt drive system. Jet Deluxe Pro Band Saw Kit is a complete tool that comes with the saw and a 15"x15" stand. This stand includes a storage shelf and an easily accessible door. Other notable features are:
Quick-release blade tension
Blade Guard
Cast Iron Frame
Ball Bearing Guide
Pro
Blade Tension

Jet Deluxe comes with a high-tension spring design that gives blade tensioning. This design allows you go create a clean and accurate cut. This design is convenient with its quick-release blade tension. The tension is also easy to adjust so the work will be easier to get through.

Blade Guard

Rack and pinion adjustments are done with Jet's blade guidepost. This built-in blade guard is a highlight of the Jet Deluxe as it is retractable. This guard can easily move up and down and handle up to 12"; making it perfect for a range of sizes to cut. The cutting capacity is 12" in height and 13.5" in width. This high capacity blade guard makes this band saw the go-to option for the professional woodworkers.

Cast Iron Frame

When Jet Deluxe Pro Band Saw Kit arrives, its cast-iron frame shows that it is a strong and durable band saw that can handle and last for years. Jet Deluxe cuts through the materials smoothly, with little effort. This frame design was not the original design from Jet, but it is a redesigned model that was created to better handle resawing jobs. The big change in this Jet Deluxe from the cast iron frame is that now it no longer requires the use of a riser block. The large cast-iron frame assists with the resaw application, so these riser blocks are no longer necessary.

Sturdy Table

To get the woodworking jobs done, a band saw kit with a table is the ideal route to go when looking to purchase a band saw. The Jet Deluxe Pro Band Saw Kit comes with a 15×15 inch work table. For more precise work, it does tilt 10 degrees left and 45 degrees right. It is giving the flexibility to work on a wide range of projects and still deliver precise cuts.

Ball Bearing Guide

Jet Deluxe Pro Band Saw comes with both an upper and lower ball bearing guide. For a saw of this size, having ball bearings that are located both upper and lower gives a more enhanced blade performance. This attention to detail makes the Jet Deluxe durable and gives the blade a longer life. The dual ball bearing guide gives the Jet Deluxe Pro Band Saw reduced friction on all your projects.
Con
Positioning of Handles and Guides

With every band saw, there will be certain aspects of the saw that is not perfect or ideal. One that could be slightly better is the position of the guides. The guides are located on the underside of the table. This means that making guide adjustments may be awkward for some woodworkers to reach.
Another positioning issue is with the tension release handles. They are located on the back of the saw. This could be a flaw for some but not a deal-breaker for many. With the tension release handles being located on the back it is easy to forget to take off the tensions when you are finished.

Tension Gauge and Blade

This is more so for those that are not seasoned woodworkers or those that may not be as familiar with a band saw of this size. On the Jet Deluxe Pro Band Saw Kit, it comes with the tension gauge set to work with the size of the blade that also comes with the kit. When working on different projects, you will ultimately end up switching up your blade size.
If you are unfamiliar with band saws, you must remember to adjust by going through a range of blade widths to properly accommodate the right size. This step is extremely important and Jet Deluxe did not create the easiest way to adjust the gauge to properly fit different blade sizes. If done improperly, a serious injury can occur.
Wrap Up
Jet Deluxe Pro Band Saw Kit is a complete saw kit that can handle a wide range of woodworking jobs. Jet has redesigned their band saw kit to have a 12-inch resaw capacity with precision. It is a strong and rigid tool with its upper and lower cast iron frame. This newly redesigned frame eliminates the need for riser blocks. In addition to the iron cast frames, added safety features such as the blade tracking window is another great feature so you can always be aware of the blade position to prevent any accidents. Plus, the dust port prevents big messes and keeps your working area clean.
In addition to added features, the blade tension and guard perform extremely well on both small and large projects. The high-tension spring design is another feature on this Jet Deluxe that gives an accurate and precise cut. A good blade guard is also critical since it guides your blade on those larger pieces easily. Jet Deluxe has features that are not only providing safety but also ease so you can go from small to large jobs seamlessly.