One of the most versatile building materials that any handyperson or building contractor can work with is tile. It handles both indoor and outdoor environments well and it can also be used to line both walls and floors. Tile is even highly decorative in nature too. There is just one problem with tile and that problem is it's extremely tough to cut and shape. So if you are going to work with tile, make sure you have the best tile saw you can find. We are here to show you how to choose the perfect tile saw for your tile cutting needs.
We will start by doing informational tile saw reviews on the top models available in the power tool marketplace. That will be followed by a comprehensive buying guide and some other useful information on tile saws. After reading, you'll know exactly how to search for a tile saw that perfectly fits your individual tile cutting requirements.
Best Tile Saws
Here are some reviews of the highest rated tile saws that you will come across in the power tool marketplace. They will be very similar to our chop saw reviews which many of you may be familiar with.
1. Pearl Abrasive VX10.2XLPRO 10-Inch Professional Wet Tile Saw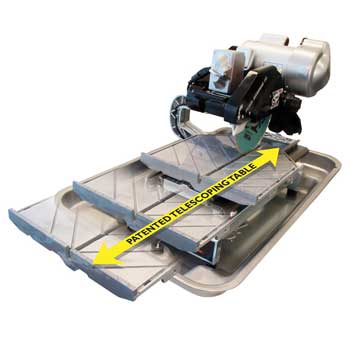 Here is a wet type 10" saw that will really make any tile laying job go much smoother. It features a 2-horsepower induction motor that is nicely fan-cooled. Therefore you can cut with it for long periods of time without overheating the motor. The Pearl tile saw will allow you to make rip cuts up to 24" long and diagonal cuts as long as 18".
One of the absolute best features of this model is its telescoping table. That will enable you to easily cut both small and large size tiles. It also helps greatly when it comes time to clean up the saw after you are finished using it.
This highly user-friendly saw has plenty of power to cut tile that's as thick as 3 ¼". It has a nice 2HP motor that turns the blade at a smooth cut enhancing 3450 RPMs. This durable all metal and stainless steel saw even comes with a miter block and a built-in water pump.
Read the full review → Pearl Abrasive VX10.2XLPRO
2. DEWALT D24000S Heavy-Duty 10-inch Wet Tile Saw with Stand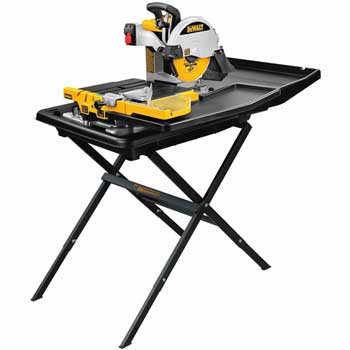 If you do much tile cutting where the type of job requires you to be very precise, then this DEWALT 10" wet tile saw may be just what you are looking for. This tool has a very efficient working 1 ½HP motor. It can be quickly set up to make straight, a 45-degree angle and 22.5-degree angle cuts. These cuts will be accurate to within 1/32nd of an inch. With it, you can do up to 25" rip cuts or cuts on a diagonal up to 18" long.
One of the most useful features on the DEWALT D24000S is its dual-channel water system that does an excellent job of keeping both the tile and saw blade cool as you are cutting tile. This makes for much more efficient and accurate tile cutting. There is a plunge-cutting feature on it also which will allow you to make quick cuts in tile for such things as electrical outlets.
DEWALT purposely designed this saw to be less than 70 pounds so that it remained a fairly easy saw to be transported and set up by a single user. It even comes with an included quick setup stand.
Read the full review → DEWALT D24000S
3. Porter Cable PCC780LA 20V MAX 7″ Sliding Table Top Wet Tile Saw
Here is a 7" machine that offers a good mix of portability and power. It's the perfect tool saw for those that cut tile in several different locations during a workweek. With its 20 volt power, you can use this wet style tile saw to conveniently make rip cuts in tile up to 17" long and diagonal cuts in tile up to 12 square inches.
One of its nicer features is the fact that this model is cordless. That means you can take it with you wherever it's needed inside or outside at a job site without much fuss. Being cordless also makes it a tool you can use at a location that does not have any electricity hooked up yet.
The Porter-Cable PCC780LA is durable and has a tough metal frame roll cage with a built-in carrying handle. This saw comes with a charger and battery and is also backed up by Porter Cable's generous 3-year cordless tool warranty.
Read the full review → Porter Cable PCC780LA
4. SKIL 3550-02 7-Inch Wet Tile Saw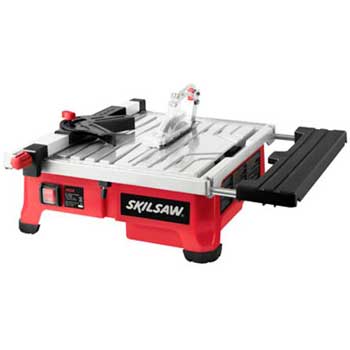 The reputable tool manufacturer Skil is practically a household name when it comes to affordable power tools that work well. This wet tile saw from them is no exception. Its 1 ¾HP motor spins its blade nicely at 3600 RPMs. That makes it so it can easily cut through tile up to ¾" thick with no problems at all. It includes a built-in sliding table extension that allows you to rest tiles that are up to 18 square inches. You can also set this machine to do straight cuts or 22.5 and 45-degree miter cuts.
Its standout feature is the way its water pumping action works. This saw from Skil uses what they call their 'Hydro Lock' water containment system. The water containment system is designed to keep the spray of water closer to the spinning saw blade. This makes tile cutting less messy and the saw is easier to clean up after using it.
Features such as its corrosion-resistant aluminum tabletop make it a durable product too. At right around 54 pounds it is fairly portable for one that makes the medium-duty tile cuts that it can.
5. DEWALT DWC860W 4-3/8-Inch Wet/Dry Masonry Saw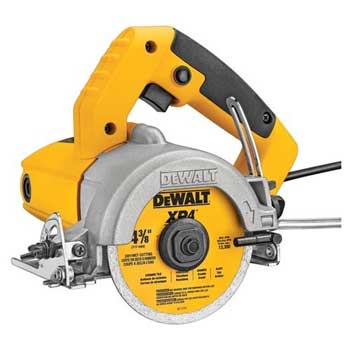 For the ultimate in portability, one would definitely have to rank this handheld unit from Dewalt very high on that list. It's a wet/dry tile saw that you can easily take with you to any job site where you have tile work to do. With its powerful 10.8 amp motor and its 13,000 RPM spinning diamond-tipped blade, you can easily cut through tile that is 1 ¼" thick or less.
It is one of the rare machines that are great for cutting through natural stone and brick. That makes this saw a perfect fit for landscapers, masons and those who work on kitchen countertops. It features a generous size power cord and 13' water feed line so you can work mostly unencumbered when cutting tile with it.
The blade on it can also be quickly locked into a 45-degree position to help you make angle cuts with it. It is compact, dust sealed for extended life and its activation trigger can conveniently be locked in place to reduce hand fatigue.
6. Makita 4100NHX1 4-3/8 Inch Masonry Saw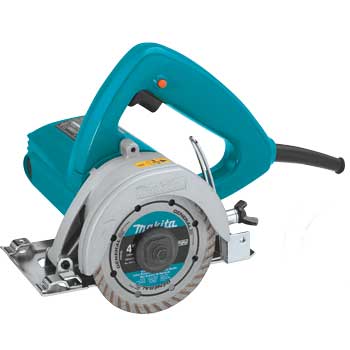 Power tool manufacturers don't get any more reputable than Makita and this 4 3/8" power tool from them is a very good one. It's a handheld dry tile saw that gives those who use it both power and portability. This saw features a 9.6 amp motor that generates 13,000 RPMs of tile, masonry and stone cutting power. It can handle cutting stone, masonry, and tile that are up to 1 3/8 inches of thickness.
The 4100NHX from Makita is surprisingly efficient at cutting tile for how lightweight and compact it is. It measures only 8 5/8" in length and weighs less than 7 pounds. That makes it one of the most portable tile cutting devices you will find in the power tool marketplace.
It even comes with two 4-inch diamond blades so it's ready for use within minutes of taking it out of the box. The blades can be changed very easily too because of its easy access flat-sided motor housing. For safety, its blade locks in place to prevent accidental trigger contact from starting the saw.
7. QEP 22650Q 650XT 3/4 HP 120-volt Wet Tile Saw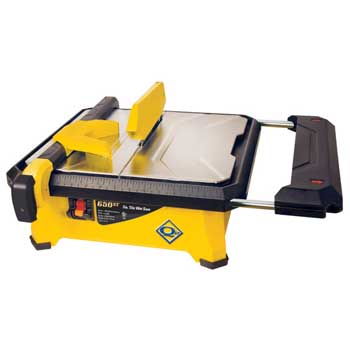 QEP is a power tool company that always does not get the credit they deserve for the quality of their power tools. This 7" wet tile saw, made by them is both portable and affordably priced. Just don't mistake that for meaning this machine does not perform extremely well. It has a 3/4HP motor that generates 3600 RPMs of cutting power that makes it simple to cut through tile, stone, granite, and masonry. Bricklayers, landscapers, tile workers, and countertop professionals will love having it available for their use.
It has a very flat table design that will allow those who use to cut a wide variety of tile sizes. The table features an 8" table extension for even more tile cutting convenience. The 650XT is sturdy and durable thanks to such characteristics as its steel construction and protective rubber footpads.
The QEP 22650Q is made to cut through tile, stone, masonry and other materials that are up to 1 ¼" thick. A user can also quickly adjust the fence to do 22.5 degrees or 45-degree miter cuts.
8. SKIL 3540-02 7-Inch Wet Tile Saw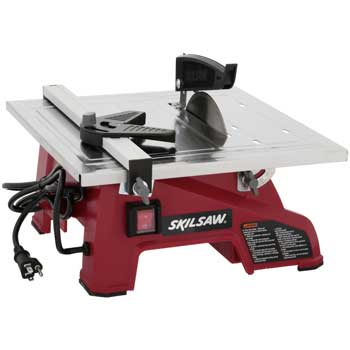 Here is another very good piece of machinery from the popular tool manufacturer Skil. This 7" wet cut tile saw is great for working with tile as big as 12 square inches. It can make rip cuts up to 7 ¾" long and it can also do diagonal cutting up to 7 ¼" in length. The SKIL 3540-02 makes tile cutting somewhat simple thanks to its 3/4HP motor that generates a more than adequate 3600 RPMs of tile cutting power. This unit is great for the home handyperson and those that do a lot of small to medium size tile cutting.
Advanced features on this reasonably priced machine include its friction-reducing water cooling reservoir that keeps the saw blade cool to allow for faster cutting. The SKIL 3540-02 also has an adjustable fence that can be set to do angled miter cuts that range from zero to 45 degrees.
Its stainless steel tabletop will resist corrosion even after years of use. At less than 20 pounds this Skil 3540 will also give its user some good portability without sacrificing too much power to achieve that. One 7" Diamond edge blade is included right in the package.
What Is a Tile Saw?
Anyone who has ever held a piece of tile in their hands may be surprised at how rigid and heavy they are. That's what makes them so difficult to cute and shape. That's where a tile saw comes into play. Tile saws come in different styles and sizes but they all have one purpose in mind; that's to simplify any tile laying job by making it easier to shape, cut and fit tiles when working with them.
What is a tile saw used for?
You can do a lot more with a tile saw than just cut tile. Many handymen and professionals use them for a variety of different cutting tasks. Brick masons and landscapers use them to cut thin concrete, stone, brick, and ceramic-based products too. That way they can neatly and easily fill gaps in brick walls, stone landscape beddings, and other places where a whole piece of brick, stone, or other material will not fit.
Tile saws are a favorite for those who install kitchen countertops too. It gives them the ability to make smooth and straight cuts in stone, ceramic, marble, and the other rigid materials that countertops are made of.
Tile Saw Buying Guide
Buying the right tile saw is not as straight-forward as you would think when you go to buy one. With all of the different choices in them, there are in the tool marketplace, you have to decide which characteristics of tile saws meet your requirements the best and base your tile saw search around that. This buying guide will go over the different characteristics of tile saws and also help answer some other questions you may have on them during your tile saw buying process.

6 Considerations When Buying a Tile Saw
What should you consider when you are looking to purchase a new tile saw? Here are vital characteristics of tile saws to pay close attention to when shopping for a new one:
Type

When most people think of a tile saw they think of one that closely resembles a table saw but there are actually several different types of tile saws to choose from. Here is an overview of them:

Tabletop model

This is what most people use to cut standard flat tiles of all different sizes. They provide a good support base for the tile as its being cut and they also have fences that help promote straight and accurate cutting. They come in everything from inexpensive models for homeowners to extremely fancy commercial-grade tile saws.

Handheld

These types of tile saws really were made for cutting tile that is thicker than most. They feature a higher RPM blade movement in order for them to be able to cut through thicker tile material. Because they are so powerful they can also be used to cut through stone, masonry, concrete, and other extremely hard substances.

Cordless

Cordless tools offer portability and convenience that is pretty much unmatched by other types of table saws. They also have the ability to be used at remote locations where no power is available. Many times their batteries are interchangeable with other power tools of the same brand so it adds even more to their convenience. Cordless tile saws are very useful when it comes to cutting small to medium size tile and tile that is less than 1" in thickness.

Power/RPM's

Whenever you are cutting material like tile that is thick and rigid, you need to be able to power through it quickly so your cut is smooth and the edges are not left rough. That's why you need a tile saw that has adequate power to do the job right. The power of a tile saw is usually stated in horsepower on models with a plug-in electric motor.

When looking at a tile saws power you have to look at more than just its horsepower too. You also have to look at the RPMs it can spin its blade at. That's because cordless models do not have electric motors that are rated in horsepower. In general, the higher RPM's a tile saw generates the more powerful that tile saw is.

You also have to be careful you do not overdo it when it comes to power. The normal thickness and smaller size tiles do not need a 2HP tile saw that operates at 13,000 RPM to make a cut. A lower-powered tile saw will cut average size and thickness tiles quite easily. Cutting big thick tiles, masonry and stone requires a lot of cutting power and high RPMs.

Blade size

Blade size is very important to consider when you are buying a tile saw. This is especially true when you are looking at table style models. That's because the size of the blade determines the thickness of the tile you can cut with it. As a general rule the bigger the tile saw blade the thicker the tile you can cut with it.

This does not apply to handheld tile saws as much because you can cut thicker tile with their smaller blades because of the way they are designed.

Durability

You want your new tile saw to work well for a long time, so you want it to be constructed out of durable materials to help with that. Look for tile saws that are constructed out of such things aluminum, stainless steel, and other corrosion-resistant type materials. Any plastic parts on them should be made out of super-strong polymer plastic material.

Portability/Weight

This is a huge consideration if you are a professional that does tile work at several locations during the week. You may want to consider finding a new tile saw that is lightweight and has other features built into it that make it easy to transport. You just have to make sure it still has enough power to make the tile cuts you require.

Warranty

Tile saws are certainly not disposable items by any means. That's why you want them to be protected by the most comprehensive warranty they can have. A warranty that covers every part for the longest time is a big bonus to have when buying any tile saw.
Here is a little information that you may or may not know about tile saws and their uses.
4 Most Important Tile Saw Features and Specifications
Among the many options in the market, there are some features that truly stand out. Below you'll find a few we find crucial while trying to decide.
Water jacket

You will rarely see any power type tile saw that does not have its blade cooled by a stream of water. This cooling stream also eliminates bothersome dust. That's why having a water jacket and water pumping system on a tile saw is so important. This is especially true if your tile saw is in constant use in order to keep its blade cool so from warping slightly and heating up. A slightly warped blade will impact the accuracy of your tile cuts.

Straight and diagonal cut capacity

This probably will not apply to you if you work with smaller size tile on a regular basis. On the other hand, if you work with larger size tile you will have to pay very close attention to these figures. That's because you will have to make sure the tile saw you buy has the capacity to do the necessary length straight and diagonal cuts you need to make. These dimensions are usually clearly stated on any tile saw package or on the description of the tile saw model found on the manufacturer's website.

Miter cut capability

Many home users and professionals who work with tile often need to make angled cuts in their tile for fit. These angled tile cuts are called miter cuts. It's a big advantage to have a tile saw that has built-in features that will help you quickly set up your miter cuts. At a minimum, if you do much tile work, you want to be able to have a tile saw that rapidly converts to doing 22.5-degree and 45-degree miter cuts.

Table size

We want to start off by saying that not every tile saw comes with a flat work surface to support your tile as you cut it. This is true of such tile saws as those that are handheld.

A tile saw with a flat table is nice because it helps support the weight of the tile which helps it to keep from breaking before it is cut all the way through. This helps ensure that your tile cutting is accurate and does not leave any rough edges.

Some model tile saws have tables or extensions that will telescope out to provide you with a bigger surface to support larger size tile as you cut them. These work great when you need to retain portability in your tile saw but still have a larger tabletop to support your tile as you work.
Understanding Your Tile Saw
How Exactly Does a Tile Saw Work?
All tile saws have special blades on them that are thicker than most table saw blades. They are also usually embellished with such aggressive cutting material at the tip as very small diamond particles. This is what enables them to cut smoothly and precisely through tile and other stone or naturally hard man-made or raw materials. These blades are spun at very high RPMs to ensure there is no lag in the tile cutting process. Also, they cut consistently each time the tile saw is used.
What Materials Can a Tile Saw Cut?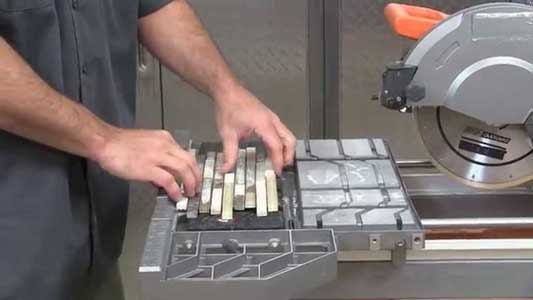 It's hard to give a straightforward answer here because of the different qualities and different types of tile saws.
More basic tabletop and cordless style tile saws are pretty much restricted to cutting only thinner and small to medium size tiles. They also can be used to cut thin glass and thin masonry materials. This has a lot more to do with their power than it does with how they are made.
Higher powered table type tile saws you can do much more with. This includes cutting thicker and larger size tile pieces, stone countertop material, some masonry products, and other ceramic materials.
Handheld tile saws tend to be much more powerful than other types of tile saws so they can be used in many different situations on many different types of material. This includes extremely thick and large size tile, landscaping stones, marble, porcelain, and thick glass if a special blade is placed on them.
What are the Basic Parts of a Tile Saw?
So you are interested in a little tile saw anatomy lesson? Well, here you go. These are the major parts found on any table style tile saw:
Motor
Of course, every tile saw needs a motor to spin its blade so it will cut the tile.
Water jacket
This is only built into wet style tile saws. It contains a water basin, water pump, and tubing that direct a fine spray of water on the saw blade and piece of tile being cut.
Fence
This is used to hold tile squarely and firmly during the cutting process to ensure accuracy in the cut.
Power switch
This turns on the tile saw motor so one can start the tile cutting process once they have their tile in position to be cut.
Saw blade
This is the sharpened edge blade (usually diamond-tipped) that does the actual cutting of the tile as it spins.
Miter cut device
This enables one to quickly set up their tile saw to do such angled miter cuts as 22.5 and 45 degrees.
Wet Tile Cutter Information
Here is some important information on why many tile saws use water during the tile cutting process that's done with them.
What is a Wet Tile Cutter?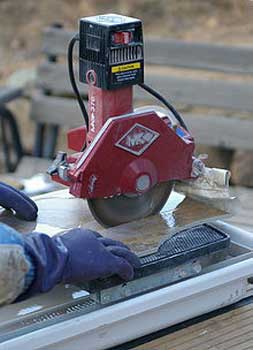 While shopping for a new tile saw many times you'll see 'wet' associated with many different models. A wet tile saw is one that has a water reservoir (often called a water jacket) and a pumping system. This is used to spray water on the blade in the cutting area. Consequently, it keeps the blade cool and cuts down on the dust generated by any tile cutting process.
It's a very critical process if you have a lot of cuts to make. This is because the blade will not warp as it heats and it will keep cutting accurately and quickly. Water will also help keep the blade from grabbing and becoming bogged down in the tile and cutting residue.
Advantages of Using Wet Cut Saw Tile Cutter
Let's start by saying that there are some misconceptions when it comes to wet cut style tile saws. Any wet cut tile saw can be used to make dry cuts if the operator chooses to do so.
A vast majority of tile saws are wet cut saws because of the advantages that cutting tile assisted by a carefully aimed stream of water at the blade offers. But some tile saws use no water at all in the tile cutting process. That's why they are obviously called dry tile saws.
Wet Tile Saw vs Dry Cut Tile Saw
Wet Tile Saws:
Uses water to cool the tile saw blade as it cuts
Tile cutting process goes faster and stays accurate
The water stream helps to eliminate dust being thrown into the air when the tiles are cut
Cleanup is easier and confined to a smaller area than with dry cutting
Tile saw blade does not wear out as fast
You can cut continuously for longer periods of time
Dry Cut Tile Saw:
Used for shortcutting durations
Quicker setup and take down than wet style tile saws
Use air to cool the saw blade
Great for tile shaping, detailing and finishing
No worries about water and electricity being used in close proximity to each other
Although dry cut tile saws have their purpose, you can clearly see why so many people choose to cut tile with wet style tile saws.
Tile Saw FAQs
Here are a few of the more common questions about tile saws that we get:
Q: Are tile saws safe to use?
A: A lot of credit goes to the different tile saw manufacturers and the safety features they have designed into their tile saws to help make them safe to use. With that being said, any power tool can be a dangerous thing if used improperly. Always read your user manual before operating your new tile saw and strictly adhere to any operational safety recommendations from the manufacturer.
Q: How long do tile saw blades usually last?
A: This is not an easy question to answer. The quality of a tile saw blade and the quality of the tile saw its used on are factors in this. So is the experience of the tile saw user.
A poor quality tile saw and blade accompanied by an inexperienced operator, a tile saw blade can wear out in less than 20-hours of use. On the other hand, an experienced tile saw operator working on a high-quality tile saw with a high-quality tile saw blade, can use a tile saw blade for hundreds of hours before it needs to be replaced.Tile saw blades also tend to last longer if they are used on a wet style tile saw.
Q: Can a tile saw cut through brick?
A: There are tile saw models that can actually cut through brick. It just depends on how thick the pieces of brick are. These include heavier duty table model tile saws and handheld type tile saws. Your best bet to cut through brick in a fast and efficient manner is using a handheld tile saw. That's because they can cut through thicker brick material and they are easy to move around while cutting brick.
Q: Can I use a top-rated reciprocating saw to cut through tile?
A: We would definitely advise against this. Reciprocating saws do a great job of going through wood and thin metals. However, they are just not made to simulate the blade rotation speed and saw blade cutting edge that the best model tile saws use to make cutting tile fast and simple.
Q: Is there a difference between tile saws that a professional would use and what a homeowner would want.
A: In many cases yes. Usually, tile professionals are willing to pay big money to have a top of the line tile saw. This is because it makes their jobs go faster and get done more efficiently. But there is no reason that a tile professional can't use a budget tile saw. Even more, a home handyperson can own a high-end model table saw.
Don't forget to check electric saw types and their uses.
Summing Up Our Thoughts
Without a doubt, it would be hard to do any tile-laying project without a tile saw. Tiles are just too hard and rigid to accurately cut any other way. Having the best tile saw to do the job will make any tile-laying project go much faster.  You definitely will be much more efficient when working too. Tile saws cut through tile quickly and leave smooth edges to work with. Wet tile saws will also help you cut tile longer. Also, there will be less of a mess to clean up afterward.
Any of the tile saws in our tile saw reviews will make a great addition to your power tool collection. If none of them suit your taste then be sure to read and follow the advice in the buying guide. If you do, you'll have no problem finding a tile saw that will make your next project go smoother.