There is a sense of pleasure and pride when you successfully cut a piece of wood or another material with your powerful cutting tool. If you are on the hunt for versatile tools that can handle different applications, you should make sure to read our circular saw reviews.
Do you want to know what is the best circular saw that money can buy out there? If you are planning on purchasing a power tool, you should aim for one that is the most suitable for your needs.
We perfectly understand if you are a newcomer to the world of cutting and you need professional guidance. After taking a look at our reviews, make sure to check our detailed guide on buying circular saws. You will find that we've investigated circular saws in 2 sections; Cordless Circular Saws and Corded Circular Saws.
We will answer all the questions that you wanted to ask about these tools and provide comprehensive information so that you can effortlessly pick the best option for you!
1. Makita XSH03T 18V LXT Cordless Circular Saw Kit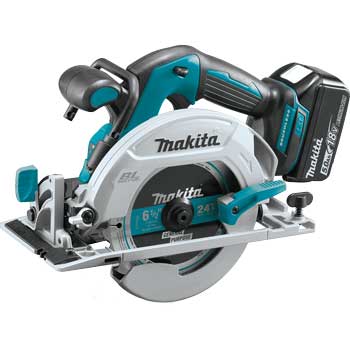 This Makita unit is cordless and operates on batteries. The first thing you notice, however, is that the unit looks compact. Once you start the unit, you will notice that the motor can deliver up to 5,000RPM. That enables efficient ripping and cutting, which is supported by automatic speed change during operation. The battery life could be better, but fortunately, the manufacturer claims it can completely charge in only 45 minutes.
The blade has a 13 ¾-inch diameter while its cutting capacity is set at 2 ¼ inches. That applies to 90-degree angles, but you have the option of bevel adjustment up to 50 degrees. The unit is suitable for severe job site conditions since it has improved water and dust resistance provided by the XPT – Extreme Protection Technology. The base is made of die-cast magnesium, and the model comes with a blade guard.
Read the full review → Makita XSH03T
2. DEWALT DCS577X1 FLEXVOLT 60V Worm Style Saw Kit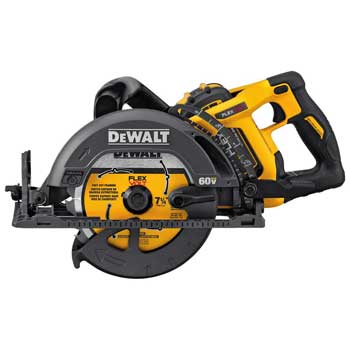 It is a cordless unit that can deliver a maximum 2400W of power at up to 5,800RPM. The unit offers you to make deep cuts of up to 2 7/16 inches at 90-degree angles. If you adjust the angle to 45 degrees, the maximum capacity decreases to 1 7/8 inches. The carbide-tipped blade has a diameter of 7 ½ inches while the show is made of durable magnesium. You will get a battery and a charger with the tool.
The manufacturer placed the blade on the left side of the tool and the handle on the rear. The idea of that was to help the users have an as clear line of sight as possible. The primary use of this tool is for woodworking. It can deal with plywood, OSB, hardwoods, flooring, and dimensional lumber. The tool weighs 10.9 pounds, which may be a bit more than you might have expected, but it is still quite lightweight, especially considering the power.
Read the full review → DEWALT DCS577X1
3. Makita XSR01PT 18V x2 Cordless Rear Handle 7-1/4″ Circular Saw Kit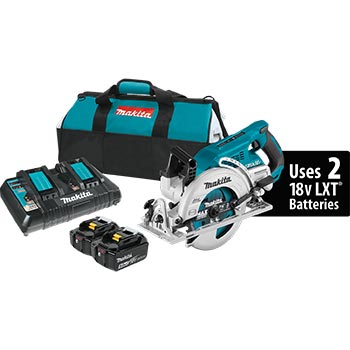 The Makita XSR01PT is a 7-1/4″ cordless circular saw that runs on the long-lasting 18V LXT Lithium-ion batteries from the company.
The XSR01PT's powerful brushless motor drives the blade at speeds up to 5,100 rpm, allowing you to make fast and precise cuts. This saw comes with automatic speed change technology for optimal speed and torque, allowing for improved performance and run-time.
It comes with two 5.0Ah 18V LXT Lithium-ion batteries which provide best-in-class performance. These power packs are energy efficient, charge faster and are compatible with other tools in the LXT lineup.
The XSR01PT has a large 2-9/16″ cutting capacity for straight cuts, can use an inbuilt tether notch and its retractable tool hook helps to secure the saw when not in use. If you need a safe and powerful circular saw for your contractor projects, the XSR01PT is an excellent option.
4. DEWALT DCS391B 20-Volt MAX Li-Ion Circular Saw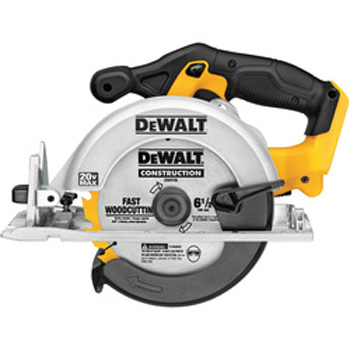 The saw features a distinctive black and yellow color combination characteristic for DeWalt. It is a cordless unit that operates on batteries and, like every similar unit, you cannot expect it to work endlessly. Fortunately, the charger can charge the tool quickly, and you can get back to cutting.
The model features a 6.5-inch blade that is carbide-tipped and quite durable. The motor can deliver up to 5,150RPM, and it has a modest 460 MWO of power. The cut depth at 90 degrees is 2 1/4inches. The unit has the bevel capacity of up to 50 degrees and a magnesium shoe for extended durability.
The tool manages to stay impressively lightweight with only 7.1 pounds in total weight. It comes with a 3-year limited warranty. However, keep in mind that it is suitable mostly for lightweight materials. The unit is, however, incredibly mobile and suitable for both at-home and job site use.
5. Milwaukee M18 2630-20 18 Volt Lithium-Ion Cordless Circular Saw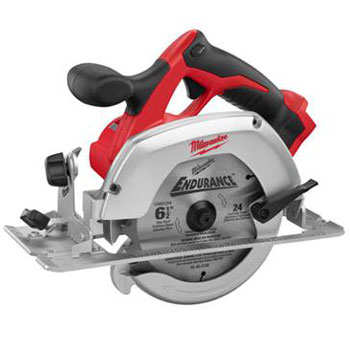 The manufacturer pinpoints that you should use this saw for woodcutting. The unit runs on batteries, which can power the motor to provide up to 3,500RPM. The tool weighs 8.5 pounds, making it fairly lightweight, and the charge time is set at 60 minutes.
The blade has a 6.5-inch diameter, and it is carbide-tipped. At the bottom and the top of the blade well, you will notice magnesium guards. That should protect the tool when you drop it while working, which is not uncommon at a job site. The company used aircraft aluminum to design a sturdy shoe. The bevel capacity goes up to generous 45 degrees. In that case, you can make a maximum of 1 ½-inch cuts.
While a light could add to the precision when cutting, the grip handle is soft and ensures optimal comfort while ensuring that you won't have any problems working even in slippery environments.
6. Ryobi One P505 18V Cordless 5 1/2″ 4,700 RPM Circular Saw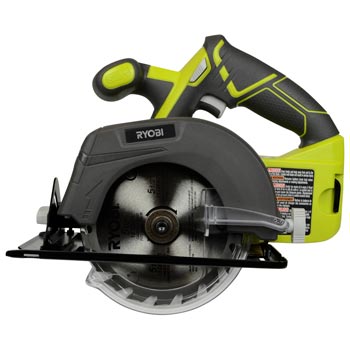 Ryobi is known for making durable tools for heavy-duty applications and the P505 does not disappoint. It boasts a powerful motor that drives the blade at speeds up to 4,700 rpm, allowing you the same level of cutting power of electric corded circular saws.
At 5.25 pounds, the P505 is one of the lightest circular saws designed for household woodcutting tasks. Whether you are a professional or DIYer, the excellent maneuverability and control of this lightweight and compact saw makes work easier, faster and fun. This saw comes with a rubberized grip and an extra handle for improved control and visibility.
The P505 can make bevel cuts up to 50 degrees and onboard wrench storage makes for fast blade swaps. This saw is designed for left-handed users, making it ideal for a variety of applications regardless of your dominant hand.
1. Makita SP6000J1 6-1/2-Inch Plunge Circular Saw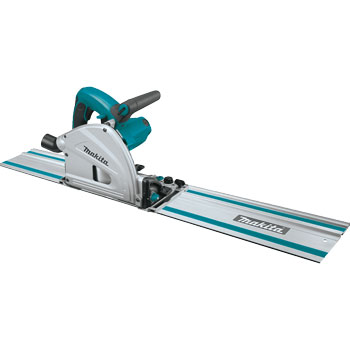 Ask any person with a bit of experience in cutting, and they will tell you a guide rail can help a lot with the precision. This Makita unit comes with that feature, but it also has other features worth mentioning. The unit operates on electricity and uses a motor with 12AMP of strength. The speed may vary from 2,000 to 5,200RPM, which positively affects the tool's versatility.
The default cutting capacity (90 degrees) is 2 3/16 inches. The unit has a bevel adjustment of -1 to 48 degrees and the cut depth of 1 9/16 inches in that case. The blade has 48 teeth and a 6 1/2-inch diameter.
A rubber grip handle makes operating the saw for a long time manageable while the depth stopper allows splinter-free cutting. The pinches and kickbacks may happen, but the good news is that they are extremely rare and you can avoid them by being extra careful.
Read the full review → Makita SP6000J1
2. Makita SP6000J 6-1/2-Inch Plunge Circular Saw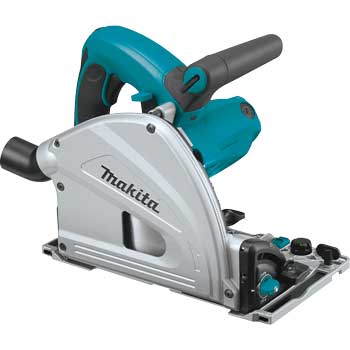 The blade diameter on this circular saw is 6 ½ inches. It's maximum cutting capacity is 2 3/16 inches at 90-degree angles and 1 9/16 inches if you adjust the angle to 45 degrees. The tool features a strong 12 AMPs motor that can deliver up to 5,200 rotations per minute. You can adjust the speed depending on the application you cut.
You can use this unit for various applications, such as remodeling, trim and finish work, and cutting sheet material. It features an attractive design with a gray and blue color combination. The handle is located at the top, and the rubberized grip secures optimal comfort. If you plan on working with the saw for a long time, the chances are you won't feel fatigue. The tool includes an electric safety brake. It may require a bit of effort to achieve the desired level of precision, but once you master its usage, you will have no problem to make precise cuts.
3. SKILSAW SPT77WML- Worm Drive Circular Saw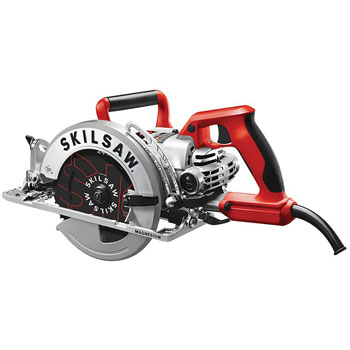 SKILSAW unit is quite lightweight as it weighs only 11.6 pounds. That makes it fairly easy to control and move around. However, the company also tried to provide as much power as possible. As a result, they included a 15AMP motor capable of achieving 5,300RPM. The additional copper surface ensures that the motor doesn't heat during usage.
The unit is suitable to use in the woodworking industry, including hard, soft, and engineered woods. The blade diameter is 7 ¼ inches, and the blade has 24 teeth. As for the cutting capacity, if you use the default 90-degree angle, you can go up to 2 3/8 inches deep. The tool has a bevel adjustment feature with up to 53-degree capacity.
As it is lightweight, the magnesium plate may bend if you are not careful. However, as soon as you master working with this saw, that should be a problem. The unit has a blade guard to protect the tool and the owner when not in use.
Read the full review → Skilsaw SPT77WML-01
4. Makita 5007MG Magnesium 7-1/4-Inch Circular Saw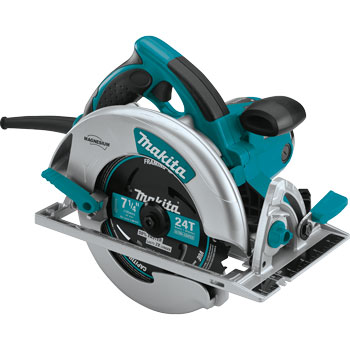 At first glance, this saw seems like an excellent deal in that price range. It may be most suitable for all those job site workers out there. The motor has impressive 15AMPs and the rotations per minute (RPMs) can achieve 5,800.
The blade has 7 ¼ inches in diameter, and it is carbide tipped. The maximum cutting capacity varies from 1 ¾ inch to 2 ½ inches, and it depends on the angle of the cut. The manufacturer coated the blade to ensure it remains cool during cutting.
The saw is lightweight and portable with its 10.1 pounds of weight. The tool comes with a rip fence for improved precision. You can also activate a couple of LED lights for extra precise cuts. One of the rare downsides is that the dust blower could do a better job, but you will quickly get used to it, so it shouldn't be a deal-breaker.
5. SKILSAW SOUTHPAW SPT67M8-01 Sidewinder Circular Saw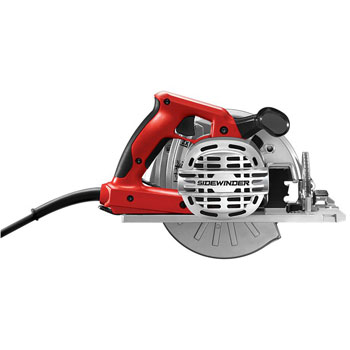 The last in the line of our saws is a sidewinder unit that has the blade on the left side. Thanks to that, operators with a dominant right hand should have a clear line of sight for improved accuracy. Although it is a corded unit, the cord is unusually long as its total length is 10 feet.
The blade has 7 1/-4 inches in diameter, and maximum cutting depth is 2 7/16 inches. The unit allows you to make angled cuts as the bevel adjustment has positive stops at 0 and 45 degrees, but it can go up to 56 degrees.
The saw is lightweight, which implies that the shoe is not that durable, but that is only a minor downside and this tool's positives seem more important.
As in other units made by this manufacturer, the motor has an increased copper surface for improved cooling. Add to that the power of 15AMPs and 5,300 RPM, and you get a versatile tool capable of cutting many types of materials.
6. Rockwell RK3440K Versacut 4.0 Amp Ultra-Compact Circular Saw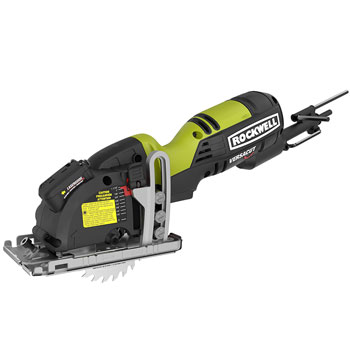 There is a reason why the manufacturer calls this unit ultra-compact, and it is both its weight and size. It is quite lightweight with only 3.4 pounds while its measurements are 17.5 x 8.7 x 4.6 inches.
The motor is in the rear side, and the ergonomic design should ensure that you don't have to deal with fatigue even when working for a long time. Although it is a compact unit, it includes a dust extraction system that should ensure optimal visibility by removing any residue from the cutline.
Although the laser guide is not perfectly accurate at all times, it still enables users to improve their precision and control while cutting. The motor of 4.0AMP is there to secure an adequate amount of power for various materials, such as plastic, metal, wood, flooring, tile, etc. The saw can deal with all these applications because you receive three different blades with it. Read the full review → Rockwell RK3440K
Circular Saw Buying Guide
It is not enough to set your mind on a particular type of saw as the chances are you will encounter various subcategories, as well as features that you should consider. It is the same with every category – even the best band saw for meat cutting won't do you any good in woodworking. That is why we intend to provide you with all the relevant information about circular saws in this guide. We want you to be sure of making the right decision once you pick the unit to purchase.

What to Consider If You Want to Buy the Best Circular Saw Possible?
We prepared a list of questions that you should ask when purchasing a circular saw. If you are ready, let's start with listing them immediately.
What Materials Do You Plan to Cut with It?

The first question is the one you should ask yourself. It is an excellent way to narrow your choice to particular saw types and units. For example, if you are a home DIYer, you do not need a particularly powerful tool. On the other hand, if you are a job site worker, a portable handheld circular saw is the right one for you. Make sure that your preferred unit can deal with the materials you plan to cut.

Does It Have the Necessary Safety Features?

The crucial feature that each safe circular blade should have is a blade cover. Some people also call it a guard, but its purpose is the same. Whenever the tool is not operating, this guard will protect you from accidentally hurting yourself on the sharp blade.
Another vital safety feature is an electric brake, which can stop the saw in a matter of seconds as soon as you release the trigger.

Is the Baseplate Sturdy?

The baseplate is also called a shoe. Regardless of how you call it, you want it to be sturdy because the chances are you will drop your saw at some points. That is what happens even to the most experienced operators. It is why you should go with cast aluminum or magnesium or stamped aluminum baseplate. That will ensure it doesn't bend when you accidentally drop your tool.

Does It Come from a Reputable Brand?

A reputable brand is the best guarantee that you will get an original and reliable product. DeWalt, Skilsaw, Makita, Rockwell, and Milwaukee, are only some of the reputable manufacturers in the saw market. You can also check the warranty for a particular item as that is a great indicator of the company's trust in it.
5 Most Important Circular Saw Features and Specifications
Let's take a look at the five crucial features of every circular saw out there regardless of its type:
Power

– it determines how powerful your saw is and, therefore, the thickness and hardness of the materials it can cut. If you are buying a cordless unit, keep in mind the number of volts will depict the potential power of the tool. When it comes to corded circular saws, pay attention to the amperage. The general rule is the higher, the better.

Cut depth

– this feature has all to do with the blade. In short, bigger blades will make deeper cuts. When you check out the product descriptions, you will notice that the cut depth is indicated as "blade capacity." In most cases, it will be around 7 ¼ inches, which should be enough for the majority of materials. Another thing to consider is that the bigger the blade is, the tougher it will be to control.

Brakes

– when you stop working with a circular saw, its blade will start spinning slower and slower until it completely stops. Since this could take forever, it is important for your tool to have brakes. The majority of electric brakes will be able of stopping the unit in a couple of seconds.

Blade replacement

– make sure that the manufacturer used shaft or single locks as that will make it simple to replace a blade whenever you need to do so.

Bevel capacity

– if you are looking for angled cuts, you want to ensure that your desired unit has a certain bevel capacity.
Difference Between Left and Right-Handed Circular Saws
While reading product descriptions or our reviews, you may encounter information that a particular model is right or left-handed. If you want to choose the most suitable model for your needs, it is vital to know the difference between the two.
The general rule of thumb is that those operators whose right hand is dominant should look for units with a blade on the left. At the same time, left-hand dominant people should look to primarily operate saws with the blade on the right side of the tool.
If you are wondering why this is important, the answer is convenience. Imagine that you are a right-hander who purchased a saw with the blade on the right. You will use both hands to operate the saw, but your dominant hand will go on the right and the non-dominant one on the left.
As you will see when you start operating, your hand and the blade will be in your line of sight. You might have to stand on your toes to have a clear line of sight, and that may affect precision. While it is not impossible to do the job this way, it is a big challenge.
That is why you should ensure to pick the right tool based on your dominant hand. Make sure to check out the photos and confirm that the blade and the motor are on the opposite side of the tool. According to our analysis of the market, the majority of sidewinder saws have a blade located on the right side of the unit. However, worm drive units have the blade placed on the left of the saw.
What Is a Compact Circular Saw?

A compact circular saw is also known as a mini-circular saw. The main idea of the manufacturers is to pack as much power and versatility as possible while keeping the tool lightweight and portable. In most cases, the tool is handheld and operates on batteries. You can move it around easily, and it offers plenty of conveniences while operating. It is also very mobile, which means you can move it from one location to another.
The compact design does mean that the manufacturers had to sacrifice some of the power. Compact circular saws might not be suitable for hard and large materials. However, they can still do a solid job in cutting workpieces like fiberboard, plywood, chipboard, and similar. That makes compact models perfect for small home improvement projects and DIY enthusiasts who occasionally need to use a handy and fairly powerful tool.
Pros
Lightweight and portable
Suitable for newcomers and use in home improvement projects
Cons
Not suitable for cutting large and thick materials
The battery operates for a limited time only before it needs recharging
Corded VS. Cordless Circular Saws
One of the crucial questions to ask yourself when buying a circular saw is whether you need a corded or cordless model. Their performance and other aspects can considerably vary, so let's take a look at the pros and cons of both types to help you choose.
Corded Circular Saw
Pros
As the word suggests, these types of saws use a cord and operate on electricity. The result is that they can pack more power than cordless models. That makes them suitable for cutting big pieces and hard materials. They are quite durable and sturdy, as well as large in size. The majority of corded models present a long-term investment as they can last for years to come. They are perfect for professional workshops and ambitious projects that involve cutting masonry, steel, and large wood materials.
Cons
Some of the advantages are also downsides of corded saws. The fact that they operate on electricity means that their position depends on the power outlet and the length of the cord. They are heavy, which means they are difficult to move around and transport. You also need to be careful not to trip on the cord, especially when the saw is running.
Cordless Circular Saw
Pros
Unlike the corded saws, cordless models do not require a power outlet and utilize a battery to run instead. The biggest advantage of these models is their portability and convenience. They are considerably lighter than corded units, which makes them suitable for job site operators. It is easy to move them around and transfer from one location to another. These handheld models can also be suitable for novice users that do not have experience in operating power tools.
Cons
Even the strongest battery cannot produce the power that electricity can. As a result, it is only natural that cordless saws lack a bit of power when compared to corded models. That might make them unsuitable for exceptionally hard and large materials. Additionally, the batteries only last a limited time before they need charging, and you need to pay attention that there is enough power left in the tank for everything that you planned to do.
At the end of the day, it is hard to make a definite decision on which type is better – cordless or corded saws. If the budget allows you, buy one model from each category. However, if you need to pick only one, consider how you will use it and for what before making the decision.
Different Types of Circular Saws

Although our reviews section selected only the best out there, you have thousands of available circular saws currently available on the market. The search for your preferred unit starts with getting to know different types. That way you can be certain you will pick the one that perfectly suits your needs. Let's take a look at the three most frequent types for amateur and professional use.
Sidewinder Circular Saw

The first one in the line of tools we are presenting is a sidewinder circular saw. You will find that some websites and manufacturers call it an in-line saw, but it is the same thing. It is actually the model that is most frequently purchased by the buyers. The creators place the motor on the saw's side, which enables to reduce the tool's overall size.
Additionally, this is something that enables the operator to rest the motor onto the larger piece of the workpiece instead of the part that they cut off.
Many operators out there like sidewinder saws because they are not as heavy as some other models. Due to the fact that their weight is acceptable, they are suitable for overhead material cutting. The fact that the manufacturers place the motor close to the blade also means that it can achieve an admirable number of rotations per minute. Therefore, this saw has a fairly impressive speed.
You will both cordless and corded sidewinder units. If you go with a cordless model, you will get a product that is additionally lightweight, but a corded unit might deliver extra speed. Regardless of which model you purchase, you will have to oil the saw on a regular basis to keep it in shape. This type of saw is best suitable for DIY projects and woodworking.

Pros

Easy to transport and fairly portable
Versatile and capable of cutting various materials

Cons

Not suitable for extra deep cuts

Worm Drive Circular Saw

The main difference between a worm drive saw, and previously mentioned sidewinder is the position of the motor. Unlike sidewinders, worm drive tools have the motor at the backside of the unit. If you compare it to the previous category, you will notice that it looks narrower but longer.
When it comes to how this motor operates, it utilizes two gears to transfer the power of cutting to the blade. These gears both have a 90-degree angle. Thanks to that, this saw can deliver extra torque, although the speed of the blade may be somewhat decreased.
How is that beneficial for the operator? The actual tool is longer, which makes it more suitable for wider cutting pieces. Additionally, plunge cutting should be a piece of cake with worm drive units. In fact, the majority of manufacturers focus on making this tool ideal for plunge cuts. Inserting oil is a mandatory thing, but this saw also required some additional maintenance compared to sidewinders.

Pros

It is suitable for plunge cutting and wider workpieces
The tool delivers extra torque

Cons

It does require a bit of effort to maintain the tool properly

Hypoid Circular Saw

If you only analyze the appearance of the two saw types, you discover that hypoid units are similar to worm drive models. Newcomers to the cutting industry even mix the two, but they are different in two things. The first is the gearbox, and the other is the transmission.
The hypoid saws received their name after the gear they utilize. It is a sort of a spiral bevel gear which doesn't have an axis that is in line with the meshing gear's axis. That hypoid gear affects the performance of the saw in multiple ways.
First, it enhances contact with the blade. That enables increased efficiency and power, but the benefits do not stop there. Thanks to that, the motors of hypoid circular saws are somewhat more compact in size. Even when operating, they do not make as much noise as some other models.
Additionally, they are the only type of circular saws that do not require adding oil to keep the motor running smoothly. It is because they use a sealed motor system.
Hypoid saws are relatively heavier when compared to other types of units. That makes them suitable for longer wood pieces, as well as for situations when you are cutting damp or wet wood.

Pros

Do not make as much noise as other models
Owners do not have to add oil to keep them running smoothly

Cons
Circular Saw Blades
Apart from the type of circular saw, you should also choose the right blade. Keep in mind that there are units out there who allow easy blade replacement. The common types include:
Ripping blades – if you are looking to rip wood or cut along the grain, you need a ripping blade. They make clean and smooth cuts thanks to their straight and large teeth.
Crosscut blades – unlike the previous ones, these cut perpendicular to the grain of the wood. They have alternating teeth and are mostly carbide-tipped.
Combination blades – these blades are capable of both crosscuts and rips, but they do not excel at either. The number of teeth can vary and directly affects the smoothness of the cut.
Masonry – these blades are specifically designed to deal with hard materials. That includes applications like natural stone and concrete. Instead of teeth, they feature a silicon carbide abrasive reinforced with fiberglass.
Metal cutting – the manufacturers plan them particularly for cutting metals. They are also abrasive and do not have teeth. Their advantage is that they can keep the blade cool while cutting. The metals these blades can cut include bronze, brass, and other non-ferrous and ferrous applications.
TCT blades – these are carbide-tipped and made of strong materials, such as titanium, silicon, and boron. They are exceptionally strong and suitable for hard materials. You can also choose tile cutters if you are planning to deal with ceramic tiles.
How a Circular Saw Works in 5 Steps
A circular saw is a power cutting tool that utilizes a blade to cut various materials. While it is not difficult to learn how to operate these units, you should still do everything in your power to stay safe. Before you turn on the saw, make sure that you selected a material suitable for that tool type. Now, follow these steps to start working with your saw:
Step 1. You want to place the workpiece on a stable surface. If you purchased a custom table for your saw, that's great. Alternatively, you can use a sawhorse. The idea is to ensure that the workpiece remains steady as you cut it.
Step 2. Grab a pencil, pen, or measuring tape, and identify where you want to cut the material. That will make the actual cutting more manageable as you will have a path to follow.
Step 3. The majority of saws allow you to adjust the depth of the cut. Make sure to set this to about a couple of inches deeper than the actual depth of the workpiece you are cutting.
Step 4. Do not forget the saw guard. Remove it when operating, but make sure to return it as soon as you are done. Remember – safety is your primary concern.
Step 5. Make sure that you have a clear line of sight. Start cutting and guide the saw by following the pattern you drew. Try to find a natural position for your body to ease the process.
What Materials Can a Circular Saw Cut?
Circular saws are considered extremely versatile tools as they often pack a lot of power, which makes them suitable to tackle all sorts of materials. They are capable of tackling wood of various thickness, as well as metals, plastic, and masonry. These tools are suitable for both home and professional use, but their effectiveness depends on the model.
If you choose a compact or mini circular saw, you should know that they have limited power. That makes them suitable for plywood, chipboard, and fiberboard, but you will have problems with harder materials.
Portable or handheld circular saws, which are the ones that are cordless, also have limited versatility. While they are more powerful than mini compact saws, you should still restrain yourself from tackling hard materials with a mobile saw. In that case, you may want to check out some table saw reviews and pick yourself a corded unit. A combination of admirable power and the sturdy table will secure that you can deal with all sorts of thick and hard cutting pieces.
When it comes to the type of cuts a circular saw can make, it is most suitable for crosscuts and ripping. You will find units that can handle both, as well those that offer the possibility of angled cuts. However, if you need to be precise in curved cutting, we suggest checking out the miter saw reviews instead as those units specialize in precise angles.
What Are the Basic Parts of a Circular Saw?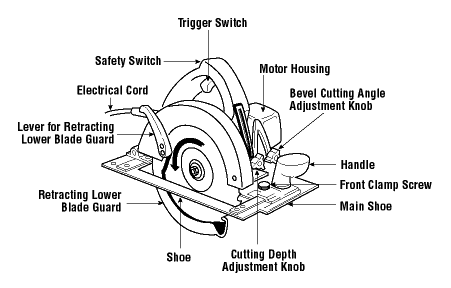 It is time to get to know the components of a circular saw. Here is an overview of all the parts you should know:
Plate – you will find it in the center of the tool, and it spreads on both sides to surround the saw. Thanks to this component, you can place the aw on an object while operating. That enables a solid level of sturdiness and precision.
Bevel adjustment – one can notice it on the front part of the tool, although it may be a bit to the side, too. It allows you to choose the right angle when cutting.
Blade – the crucial part of the saw and the one that does all the cutting. While blades can be removable and replaceable, each saw only fits a single blade size.
Handle – it is what enables the operator to be in control when using the saw. Ensuring an ergonomic design is something that the majority of manufacturers cares about nowadays.
Power switch – a button that you use to start the saw and stop once you are done operating.
Some other parts include a blade cover, bolt clamp, dust blower, and a cord in case you are dealing with a corded unit.
Frequently Asked Questions & Answers
What Is the Difference Between Circular Saw and Miter Saw?
The truth is that there is some overlapping between the two. The crucial difference between miter saw and a circular saw is that the former specializes in making angled cuts. That being said, most of the circular power tools also have the option of cutting curves. However, if you are looking for extremely precise cuts, you want to look for a suitable miter unit.
Do I Also Need a Jigsaw?
If you are wondering what you can expect from jigsaw compared to a circular saw, the answer is delicate and intricate cuts. Jigsaw is a lightweight handheld tool that doesn't feature a lot of power. However, it is incredibly versatile and has admirable precision. If you want to get into details and make fine curved cuts, that is the right tool for you.
Would It Be Better If I Buy Table Saw?
We cannot pronounce a definite winner of the table saw vs circular saw contest. If you compare the two cutting tools, you will find more similarities than differences. They both use a circular blade and a motor that rotates it at high speeds. A table saw will give you an extra dose of precision and consistency. However, some other circular saw models are more portable, which adds to its versatility.
What Is the Typical Length of a Cord in Circular Saws?
If you pick a corded unit, you will find that the length of the cord is around 6-7 inches. That is an important piece of information as you will need to plan the position of your saw accordingly. You can consider using an extension cord, but it is far safer to plug the tool directly into the socket.
Do you also want to know how to buy a track saw? Our helpful track saw buying guide will tell you what to look for when it comes to selecting the best one for your needs.
Wrap Up
If you carefully read our guide, we believe that you already have your favorite in the best circular saw category. As you could see, there are many units out there that can be a great choice. At the end of the day, it depends on your preference, as well as how and where you plan to use the tool.
In case you are still uncertain which is the perfect model for you, feel free to take another look at the circular saw reviews. Make sure to consider all the information mentioned in the buying guide. It will make the job of finding a unit that suits your needs more manageable.
Remember, circular saws are powerful and versatile tools that can deliver consistent results and last for years to come. They come in various types, and you can choose between cordless and corded units, but also consider other features, such as power, type, and placement of the blade, and bevel capacity.