Intro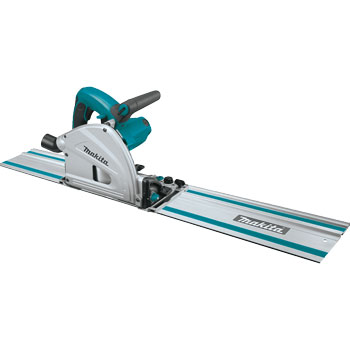 Makita may be a leading name in the cordless power tools industry, but the company also makes some of the best corded tools on the market.
The SP6000J1 plunge circular saw combines the superior engineering of the company with excellent performance and ergonomics. Its beastly 12 amp motor drives the 6-1/2″ blade to speeds up to 5,200 rpm for seamless cutting of a wide range of materials.
The SP6000J1 combines an electronic speed control with a variable speed feature for exceptional versatility and efficiency.
Its electronic speed control keeps the motor output constant for smooth, fast, and precise cutting. The variable speed setting adjusts the speed from 2000 to 5200 rpm, allowing you to apply the specific speed and torque required for different applications. This helps to optimize motor efficiency, improve blade life and boost overall utility of the machine.
This Makita circular saw has a large cutting capacity of 1-9/16″ at 45 degrees and 2-3/16″ at 90 degrees. The saw bevels and cuts close to the wall for improved flexibility. It comes with a 55″ guide rail, a stackable tool case and a hex wrench.
If you need a precise circular saw that delivers a superior performance in every application, the SP6000J1 is worth trying.
Pros
The SP6000J1 is a versatile saw with a powerful motor. It comes with all the excellent features you would expect in a Makita tool and more. Here are some of its outstanding qualities.
Powerful Motor

The performance of a corded saw depends on the capacity of its motor and the SP6000J1 comes with a powerful 12 amp dynamo. This high-speed motor spins the saw at speeds up to 5200 rpm, allowing it to deliver precise cuts at an exceptional pace.
With this motor, the saw slices through a variety of materials with ease, allowing you to work faster and more efficiently. Regardless of the job requirements or volume, this fast-action motor delivers enough cutting power to see you through your work in record time.
One feature that boosts the motor efficiency of this plunge circular saw is the Electronic Speed Control which delivers a constant output during operation. This means you can maintain a high level of precision without having to fiddle with the controls.

Versatility

In the hands of a skilled tradesman, this tool can achieve more than your ordinary plunge circular saw. Thanks to its close-to-wall cutting feature, you can adapt this tool to a wide range of applications.
This makes the SP6000J1 ideal for sheet metal cutting, trimming, remodeling, and finishing. You can use it for cabinetry, joinery, woodworking, flooring, and more.
Whether you are a general contractor, floor installer, or carpenter, you will find the convenience and flexibility of this saw a boon to your projects and productivity.

Variable Speed

The SP6000J1 features a variable speed control which matches motor output with the job requirements.
You can adjust the speed from 2000 rpm to 5200 rpm, so you need not operate the motor at full blast for small projects. This feature reduces the strain on the motor and blade and lets you get more life out of the saw.
There is an in-built torque limiter that protects the motor from burnout. And an electric brake provides more control over the saw's operations.

Ergonomic Design

To make consistently precise cuts, you need to be at ease with yourself and the machine. The design of the SP6000J1 emphasizes operator comfort with its large top handle. Its rubberized grip provides a firm but comfortable hold while reducing hand fatigue.
There is a plunge release lever that delivers a smooth and convenient operation and the easy-to-set depth control makes operation seamless. This plunge circular saw also has a lock-lever which ensures that the tool does not move off the anodized aluminum rail, improving precision and making your work easier.

Precision

The SP6000J1 excels at straight plunge cuts but can also make bevel cuts at 45 and 90 degrees. It has a depth stopper that prevents splinters during operation, leaving a smooth and professional finish on your projects. All these combined with the electronic controls and convenient handling makes this a precision tool for the experienced user.
Cons
Most users of the SP6000J1 love its power, versatility, and ease of handling. While there may be a few users with negative reports, the product receives overwhelmingly positive reviews on online platforms.
For more choices, check out our constantly updated list of the highly-rated circular saws.
Wrap Up
The Makita SP6000J1 plunge circular saw is a great tool with exceptional capabilities. Its high-performance 12 amp motor churns through hard and soft lumber with speed. The saw is perfect for a wide range of applications and materials and delivers powerful, smooth and precise cuts.
Using this saw is convenient thanks to its innovative features and ergonomics. This saw is a reliable tool for professionals and DIYers who love flexibility.