Are you on the hunt for a truly powerful tool? While all other saws are power cutting machines, it is chop saw that primarily focuses on power. We are talking about the type of tool you reach for when you need to cut through hard materials, such as concrete, steel, or metal. As you will see in our chop saw reviews, these machines have made a long way from being only able to make straight cuts. You will find models that add to precision, as well as lightweight and compact units perfect for home users.
We hope that our article will give you the answer on which is the best chop saw out there. If you want to ensure the model you choose perfectly suits your taste, we suggest reading our detailed buying guide. That way you will get to know various types of chop saws, and check what features you need to consider when purchasing them.
Best Chop Saws
1. Husqvarna 967181002 K760 II 14-inch Gas Cut-Off Saw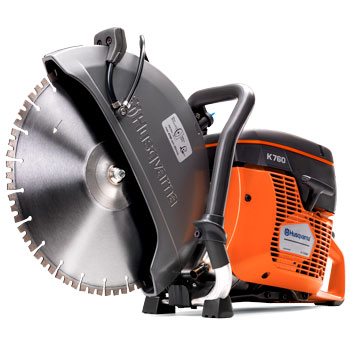 When it comes to power cutters, Husqvarna is one of the most reputable brands out there. The manufacturer claims that this model was made with great care about both power and performance. The first thing that you notice when you grab the saw is that it has an ergonomic design that makes it easy to control.
Although it is lightweight, the tool is durable and long-lasting. The specifications indicate that it is capable of cutting metal, wood, and even concrete. If you do not have experience with gas saws, you may have problems starting the unit for the first time. As soon as you figure out the process, the tool will show you what it is capable of.
Thanks to the design, you can cut close to the ground or walls. The motor packs 5HP and can provide up to 9,000 RPM. The manufacturer states that the model has low vibration.
Read the full review → Husqvarna K760
2. Makita LC1230 12-Inch Metal Cutting Chop Saw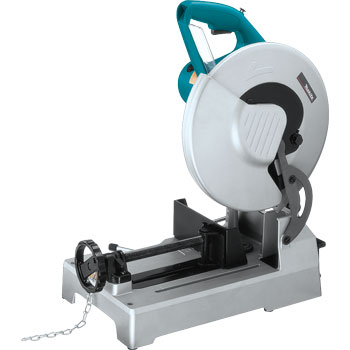 If safety means a lot to you, and it should, you will appreciate that Makita tried to make this unit as safe as possible. That is evident from the start as you will notice the lock-off button that keeps the tool from starting accidentally. The saw is suitable for cutting metal, and it allows you to make angled cuts. You can pick the desired angle of the guide plate up to 45 degrees.
The base of the unit is made of cast aluminum, and it is quite large, which enables plenty of surface for putting your workpiece. The blade has a carbide tip and a maximum depth of cut set at 4 ½ inches. The handle is in the shape of the letter "D," which should enable effortless gripping. You may need extra practice to cut stainless steel tubing, but this tool can still do a solid job in cutting various sorts of metal.
Read the full review → Makita LC1230
3. MK Morse CSM14MB 14-Inch Dry-Cut Metal Cutting Saw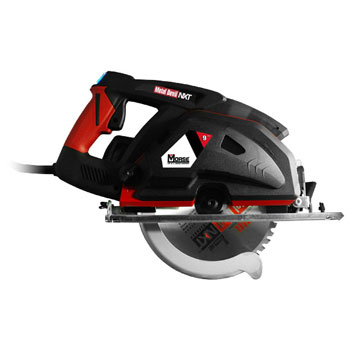 The manufacturer pinpoints that this saw can do an excellent job in dry-cutting metal. It will perform without any heat, sparks, or smell. Although there are two smaller models, the 14-inch one seems the most versatile for both home users and professionals.
The carbide-tipped blade has a total of 72 teeth. The unit also comes with a beveling vice, safety guard, and earplugs and safety goggles. The motor has 1,300 RPM, and it belongs to the category of high-torque, low-speed motors. When it comes to metal, rounded cuts have the cutting depth of 5 1/8 inches at 90 degrees and 4 1/8 inches at 45 degrees. As for square cuts, they vary from 4 ¼ inches to 3 ½ inches per side, while rectangular cuts are set at 3 ¾ inches x 7 ¼ inches at a 90-degree angle. They, however, reduce to 3 1/8 inches x 4 3/8 inches at a 45-degree angle.
It may take a while until you get used to how this tool work. However, as soon as you figure out the basics, you will be on your way to cutting steel and other metal successfully.
4. Evolution Power Tools EVOSAW380 15-Inch Steel Cutting Chop Saw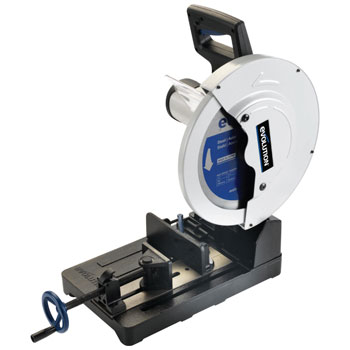 If you need to cut some steel or another type of metal, you can consider this model by Evolution Power Tools. The saw features a powerful 15AMP motor that can deliver 1800W of strength. The maximum no-load RPM is set at 1450 rotations per minute.
The base of the tool is made of cast aluminum, which makes this unit heavy-duty and capable of cutting industrial metal and steel. The sparks and heat generated while cutting are minimal, and the manufacturer claims that this is a cold cut unit. The tool comes with a collection tray that collects metal chips.
The 14-inch cutting blade that comes with the product can cut a mild steel plate of ½ inches of thickness rather quickly. The supplied blade is not of extraordinary quality, but you always have the option of replacing it with a more suitable one.
Read the full review → Evolution Power Tools EVOSAW380
5. Proxxon 37160 KGS 80 MICRO Chop Saw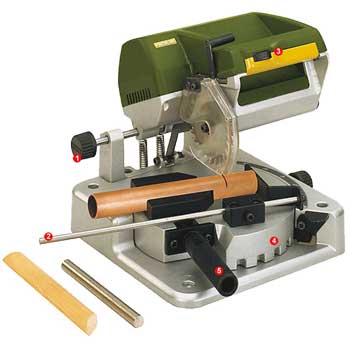 You can consider this saw if you are only entering the world of cutting. It is suitable for non-ferrous metals, wood, and plastics. Although you cannot expect it to deal with particularly hard or thick materials, it can do a good job when making dollhouses, building models, framing pictures, and other intricate tasks. A handy feature is the option of miter cutting that allows cutting in both directions and positive stops every 15 degrees.
The unit equips a 3 1/8-inch carbide-tipped blade with 24 teeth. Polycarbonate protection adds to user safety. When you start the unit, you will notice that it is reasonably quiet. The motor is not too powerful, which adds to the limited versatility, but 4,000 RPM means it can do a great job for DIY projects.
Ultimately, there is a reason why the manufacturer calls it a micro chop saw. It is a compact version of a chop saw that sacrifices a bit of power but decreases the price and size.
6. Evolution DISCCUT1 12-Inch Disc Cutter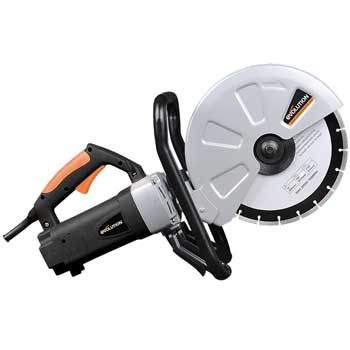 This unit was made for exceptionally hard and strong materials, such as brick, stone, paving, and concrete. It utilizes electricity to operate, and its motor delivers up to 1,800W of power, which equals up to 5,000 rotations per minute.
The tool is quite durable, but it is still fairly mobile, too, as it weighs only 21 pounds. The smart positioning of the handles adds to comfort when operating the unit. Thanks to the support handle on both the front and rear part of the unit; you can cut both vertically and horizontally. The manufacturers took care of safety by adding a safety guard.
The cutting capacity of this saw is set at a maximum of four inches. The blade has 12 inches in diameter, and you can easily replace it thanks to the spindle lock feature. Although it comes with a 3-years limited warranty, its durability could be better. However, the unit overcomes that by delivering solid results when dealing with hard materials.
7. DEWALT D28710 14-Inch Abrasive Chop Saw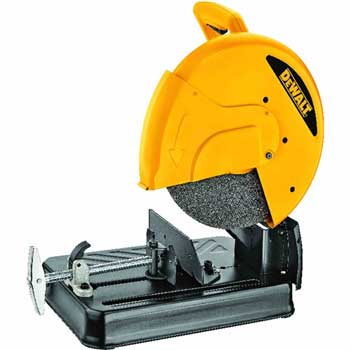 If you are looking for a potent saw, but you do not want to splash your cash on a power tool, consider checking out this DeWalt unit. It is capable of making rectangular cuts of 4 x 7 5/8 inches while round cuts are set at 5-inch maximum capacity. The model utilizes an abrasive disc to cut through the workpieces. It is easily changeable thanks to the spindle lock feature.
The motor of the saw packs 4HP of power, which results in 3,800 RPM. The motor comes with protection against overloading. The handle is shaped like a letter "D," which the manufacturer claims to provide an optimal grip. The fence that comes with the model can pivot for 45 degrees, which allows accurate cuts while retaining the desired speed.
Keep in mind that this unit belongs to affordable entry-level power tools. It may not have the durability or stability of other units, but it still packs a decent amount of power to cut through various applications.
What Is a Chop Saw?
A chop saw is one of the most powerful machines in the category of cutting products. These tools are very powerful, aggressive, and efficient in cutting various workpieces, including metal, wood, and hard materials like tile and concrete. The biggest advantages they have are power and speed, which makes them suitable for cutting a big number of thick and large materials in a short time.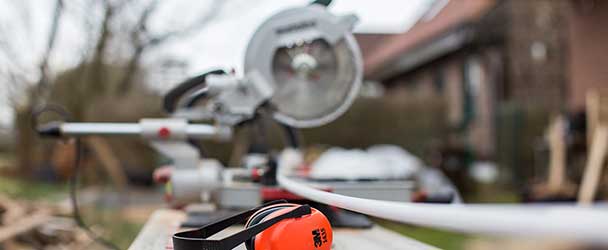 A chop saw is perfect for straight cutting. If you want to make a quick square cut, this is the ideal tool for your needs.
Freehand chop tools are fairly easy to transport, and some of them are powered by gasoline. You can make angled or bevel cuts with certain models of chop saws, which often results in people naming them miter saws.
You will find models with classic teeth-filled blades, but chop saws also use cut-off abrasive discs to perform the cutting. The difference between the two is that the disc cutter creates a high temperature and a bunch of sparks when cutting, which makes the workpiece hot. On the other hand, using standard blades with teeth is also known as cold cutting because there are no sparks and the material stays relatively cool.
Chop Saw Buying Guide
If you are a newbie or even an experienced cutter having a dilemma whether a chop saw is suitable for you, you may want to check this buying guide. We covered all relevant and important information about chop saws, including various types, details of the working process, and questions you should ask when purchasing one.
Top 5 Considerations if You Want to Buy The Best Chop Saw Possible
Take a look at the following questions and make sure to provide answers before placing an order for your desired chop saw. These will help you pick the model that suits you the most.
What Materials Do You Want to Cut?

Chop saws are versatile and powerful, but the versatility in terms of materials they can handle depends on the unit.
First, consider whether you need to cut wood, metal, or extra thick materials like tile. Keep in mind that the strength of the motor and the sturdiness of the entire unit may determine which model you need. Those DIY experts who focus on home-based projects may look for basic units that are capable of handling simple projects.
On the other hand, if you want to tackle exceptionally thick and hard materials, you will need a stronger unit that is more durable and has an extra powerful motor. Your choice will greatly depend on the materials you want to cut, and that will also determine the necessary budget to buy a chop saw.

What Size of the Blade Do You Need?

The next thing to pay attention to is the blade diameter, which directly affects the size of the workpieces you can cut. If you do some research, you will find that the majority of chop saws come with either 12-inch and 14-inch blades. The latter might bring a bit more versatility, but it may also increase the price of the unit.
Please note that each saw is suitable to fit only a single blade size and you can't mount blades of other sizes on those devices. That being said, it should be possible to easily replace the blade or the abrasive disc because they fit into the category of consumable items.

Do You Want to Make Angled Cuts?

If we stick to the definition of chop saws, they are specifically made for powerful straight cuts through metal and other materials. However, you can find plenty of units that combine features from different saw types these days. One of the so-called hybrid options available today is so-called miter chop saws.
These allow you to make curved cuts by choosing the desired angle with the bevel adjustment feature. If you want to have an additional cutting option and if precision matters to you, you should find a unit that allows angled cuts.

Is Portability Important?

Chop saws come in a variety of different types and categories. Some of them require to be stationary, and these are called tabletop units. However, there are also freehand models that most people consider portable because they have an admirable level of mobility. Additionally, they do not need cords because they operate on gasoline, which makes them suitable for job sites. The chances are you will have to sacrifice a bit of power, but you will get a lighter unit which is convenient to control in return.

Who Is the Manufacturer?

You want to ensure that a reputable manufacturer designed the saw you plan to purchase. The chances are that you are buying your cutting tool for years to come. Therefore, you don't want to risk something going wrong after using the tool only once or twice. As long as you pick a premium and reliable manufacturer known on the market, you will be certain in purchasing a long-lasting and high-quality product. Some of the most known brands in today's market include DeWalt, Makita, Evolution, Proxxon, and Husqvarna.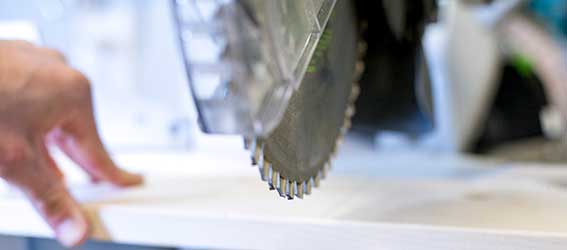 Most Important Chop Saw Features and Specifications
When checking out a particular product, you will get the chance to see its features and specifications.
Here is a short guide that can help in knowing what matters and why:
Motor power and speed

– these two are interconnected, and the general rule of thumb is that the bigger the power of the motor, the bigger the speed of the blade's rotation. The strength of the motor is described in horsepower (HP), although you can also take a look at the number of Amps in electric models. Apart from that, it is the rotations per minute that matter as they determine the spinning of the blade.

Safety features

– you want to ensure that your desired unit does everything in its power to protect you from potential accidents. Aside from a blade guard, you may also consider a spark deflector and the quick-release trigger.

Base

– if your unit comes with a surface where you should place the workpiece, you should make sure that it is sturdy. Optimal stability is vital to guarantee the desired results of the cut.

Fence

– some fences come with a miter capacity to allow angled cuts.

Cutting capacity

– this feature determines the depth of the cuts you can make and it is crucial to stay informed when it comes to the size of workpieces it can handle.

Blade or cutter

– while some models use a regular circular saw blade with teeth, others utilize an abrasive disc cutter.
For more information be sure to read about chop saw training for safety.
Types of chop saws regarding the power source
Electric Chop Saws
The first in a line of the three types of saws to consider based on how they operate are electric units. The experts suggest these units are fairly easy to operate, which makes them suitable for DIYers and newbies who need to do basic home improvement projects.
Pros
They do not require adding gasoline to work
Suitable for newcomers and DIYers who are focusing on home projects
Fairly easy to start and control
Do not require a lot of maintenance
Cons
Some units can spend quite a bit of power
Not suitable for wet cutting
Limited mobility of the device
Gas Chop Saws
Unlike the previous type, gas chop saws use gasoline to operate. They come with a tank where you put the fuel, and they are immediately ready to use. Gas-powered saws are quite mobile and versatile making them suitable for professionals at job sites.
Pros
Perfect for job site workers because it is very mobile
Packs a lot of power
It can operate for a long time, and it is easy to refuel
Cons
Needs a bit of effort to maintain properly
Not suitable to use indoors unless there is adequate ventilation
Makes a lot of noise
Pneumatic Chop Saws
Pneumatic chop saws are specialty tools often used by workers at construction or other job sites or by rescue workers. While they have their benefits, they are not suitable for newbies and not recommended for home projects.
Pros
A fairly mobile tool
Not that difficult to control
Cons
Not suitable for home users
Depend on the available air supply
Types of Chop Saws Regarding Materials They Cut
Metal Chop Saws
If one thing is certain, it is that you will not find a chop saw that doesn't pack at least a solid amount of power. When we say metal cutting, that involves materials of a wide range of size and thickness. If you need to cut through a thin piece of metal, even the most basic chop saw will be able to do that. However, if you want to cut through thick gauge steel, you need to ensure that the cutting tool you use is of adequate strength and sturdiness.
Metal chop saws are mostly quite durable and present a long-term investment. If you are a home user, there is no reason why you should consider premium and most expensive models when a standard unit will do the job. On the other hand, professionals that often deal with thick metal will want to get into details and add a little extra to purchase a more powerful unit.
While chop saws are suitable for various sorts of metal, keep in mind that the suitability depends on the characteristics of a particular unit. They are often used at job sites and even for demolition projects or by emergency workers when they need to cut through a piece quickly.
Wood Chop Saws
If your primary consideration is cutting wood, you may think about purchasing a wood chop saw. However, the thing with this type of cutting tools is that they cannot deliver angled cuts, which are sometimes needed to cut wood. Fortunately, there are miter models out there that allow you are adjusting the angle of the cut.
Home users or those who own a workshop may consider a saw with a tabletop surface. That allows you better control and precision. The good thing about chop saws is that they are powerful and efficient and they can also do swift cutting projects. Their productivity and quickness are its crucial advantages when you need to chop wood down to smaller pieces.
Abrasive Chop Saws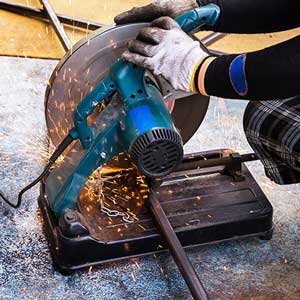 This type of saw might not be what it used to, and you will realize that when you take a better look at it. Those who pay attention will notice that teeth (shaped edges) are not the ones that do the cutting. Instead, the unit packs an abrasive disc, and it has the task of cutting various materials. The disc reminds of a grinding wheel except for the fact that it is somewhat thinner.
Abrasive saws are quite powerful and durable. Their sturdy construction makes it possible to cut through hard materials. The list of the materials that can cut includes metals, but also concrete, tile, ceramic, and other pieces that are hard and thick. Those that often work on different job sites often prefer a freehand model, although there are also walk-behind and tabletop units.
Keep in mind that you might need to change discs quite often, especially if you are working with strong materials, such as steel. The disc will wear off with every next cut, which is why they have considered consumable parts of a chop saw.
Corded Vs. Cordless Chop Saws
When you are choosing a power tool, you have two options at your disposal – utilizing electricity or using a battery to run the device. While some love the power that electricity brings, others would never trade if for the convenience of the cordless unit. Let's take a look at the advantages and drawbacks of both types.
Corded Chop Saws – Pros and Cons
Corded chop saws require a cord that you should plug into a power socket so that electricity can power up the unit. The biggest advantage of these tools lies in their power. The fact that they are powered by electricity means that they are stronger from even the strongest battery out there. Additionally, corded units are heavier and more durable. The quality of construction usually means they will last for a long time. You can use corded chop saws for a variety of materials of different size and thickness.
As for the downsides, the crucial one is the need to consider the position of the power socket and cord length. These two may directly affect where you will place the saw. Corded tools are also not considered mobile because they are heavy.
Pros
Electricity can pack a lot of power
Durable construction
Suitable for large and thick materials
Cons
Their weight limits the mobility
Power socket and cord length can directly affect the position of the saw
Cordless Chop Saws – Pros and Cons
As the name suggests, these units are not dependant on the position of the power socket. Instead, they run on rechargeable batteries. Cordless chop saws are fairly lightweight, which makes them portable and adequate for job sites. You can move them around, but you can also transport them from one location to another.
The obvious drawback is that you can't expect a cordless unit to deliver the same amount of power as a corded one. Cordless saws focus on convenience, but they might be unsuitable for large and hard materials. You also need to consider that battery only lasts for a certain amount of time, and you need to pay attention to recharge it regularly.
Pros
More convenient and portable
Suitable for job sites and easy to move around
Lightweight and simple control
Cons
Do not pack as much power as the corded units
You need to ensure there is enough gasoline left in the tank
Which Should I Choose?
Ultimately, this depends on your preference. When choosing between corded and cordless unit, consider what matters to you more – power or portability. On the one hand, a corded saw packs more strength, which makes it suitable for large and hard materials. These units are also more durable, and that makes them a great long-term investment.
Alternatively, the cordless unit is suitable to use on the go. Whether you frequently switch job sites or you appreciate portability and convenience, you should consider these units. However, keep in mind that they have restricted power and versatility when it comes to the materials they can cut.
We suggest analyzing the pros and cons and considering how you will use your chop saw. That will help you decide whether you need cordless or corded saws.
How Does a Chop Saw Work?
Before you start using a chop saw, it can be beneficial to know more about its working process. Once your tool arrives, you will need to set everything up. Pick the most suitable position for your tool and do not forget about the cord length if you choose a corded unit.
Once the saw is ready to go, you should ensure to pick a workpiece that it can cut. Chop saws can work with a wide range of different metals, as well as tiles and concrete. Make sure to read the instruction manual and see if the piece you want to cut fits with the specifications of your unit.
We suggest marking the workpiece first as that makes the process of cutting easier. If your saw has a blade guard, remove it and start the cutting process by turning on the power switch. Use the handle to steer the blade and make the cut down the marked line. You should maintain a clear line of sight during the entire process. Once you are done and you need the blade to stop spinning, utilize the quick-release trigger that most of the saws have.
Finally, do not forget about safety when operating a cutting tool. You want to wear suitable equipment and ensure that your fingers or any other body part get in touch with the blade itself. As soon as you finish the cutting, return the guard to protect the blade and yourself from possible accidents.
What Can a Chop Saw Cut?
A chop saw is a cutting tool that packs a large amount of power. It depends a bit on the unit, but the general rule of thumb is that chop saws are incredibly durable and sturdy. That is why their primary priority is cutting hard materials, including:
Chop saws are considered versatile tools, but the majority of users mostly use it for cutting metal. However, its versatility can come in handy for both home users and professional workers.
As for the types of cuts that a chop saw can make, their primary purpose is making great straight and square cuts. If you need angled cuts, choose a unit that can meet those expectations.
What Are the Basic Parts of a Chop Saw?
Have you ever wondered what are the parts of a chop saw? Let's get to know the anatomy of this tool a bit better – here are its integral components:
Blade – we start with the essential part of every cutting tool. The blade is a component that is in charge of the cutting. There are various sizes and types of blades you can choose from, but in case of replacing them, make sure that you find a fitting one for your unit.
Motor – the second most important component of a chop saw. The speed of the motor depends on the rotations per minute (RPM) it can achieve.
Handle – you use this component to operate the saw and have complete control over it. Some handles come with a power switch that signals the blade when to start/stop spinning.
Fence – it is a surface where the operator puts the piece of the material they are cutting. Always look for a sturdy fence as that is the way of keeping the workpiece stable.
Guard – this component is actually a safety feature. Its task is to protect the blade and the operator from cutting themselves on it.
Miter scale – not present on all saws and used for angle cutting. It allows you to pick the desired angle before you perform the cut.
FAQs & Answers
What Is the Difference Between a Chop Saw and Miter Saw?
There is confusion regarding this issue, and the reason is that these two cutting tools look very much alike. Furthermore, they share some similarities in the way they operate. We cannot pronounce the winner of a chop saw vs miter saw the battle as they are both useful and it just depends on your cutting objectives and preferences.
A chop saw is primarily used to cut metal, and it is extra rough. It makes it more suitable for hard and thick materials. On the other hand, a miter saw allows you to adjust the degree of the cut. That makes the tool adequate for angled and precise cutting. However, It doesn't have the same roughness as a classic chop saw and might not be able to handle such a wide selection of materials.
Apart from reading this article, you can also check out a miter saw buying guide to find out more details about that type of tool.
Is There an Option of Changing the Blade?
The truth is that some saws come with blades that are not that powerful or durable. If you are a professional, you may want to use the blade of your choice. And even newbies will eventually have to change the blade after it wears off.
The good news is that most units allow you to do that effortlessly. Not only blade replacement is possible, but the manufacturers will often give their best to make the process as simple as possible, which is why they include a spindle lock or a similar feature on their units.
Can I Use a Tile Blade on a Chop Saw?
If you have a strong and durable chop saw, the chances are that you may try to mount a tile blade on it. However, it is important to pick a suitable blade and be very careful during the operation. The ceramic sawdust might cause a problem, and you need to ensure that the quality of the cut meets your expectations. We suggest trying the tool on a piece that you do not need first and then proceed to cut the desired workpieces.
In case you are not familiar with tile saws, the name explains pretty much everything. This type of tool serves for cutting tile, ceramic, concrete, and other thick and hard materials. If you want to find out more, you may want to check out tile saw reviews available online.
Wrap Up
Did you carefully read our article? In that case, you probably already know what is the best chop saw for your needs. The formula is simple – read our buying guide and carefully analyze different types of hand saws. Don't forget to note which features you should consider and what questions are important to ask when buying a power machine.
If necessary, take a look at our chop saw reviews once again. Based on the information provided in the guide, it will be a piece of cake to choose the ideal model for you. Once the product arrives, do not forget to remind yourself of the working process and read the instruction manual that comes with the unit. Remember, safety comes first, so make sure to take all the necessary steps to stay safe. We are certain that it will take only a bit of exercise to start making perfect cuts and enjoy the results of using your favorite chop saw!