Intro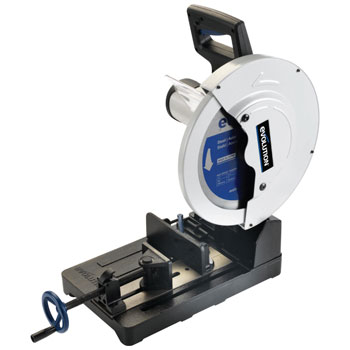 If you work in a metal shop, the powerful 15-inch EVOSAW380 chop saw from Evolution Power Tools will make your work faster and more efficient. This sturdy saw runs on a 15 amp motor that delivers an enormous amount of torque for effortless cutting.
Unlike most chop saws on the market, this machine comes with the more efficient cold cut blade. The blade reduces heat and burrs, delivers an exceptional finish and lasts longer.
The EVOSAW380 is strengthened to withstand the greatest amount of abuse with its heavy-duty cast aluminum base. Its solid construction makes it ideal for industrial metal cutting projects.
This saw is a smooth cutter as it slices through metal with minimal heat or sparks, allowing you to work safely and more comfortably. Whether you are cutting 2 x 2s, iron rods, stainless steel sheets and everything in between, the cutting power of this tool will help you cover more ground in less time.
If you desire a blade that can last 20 times longer than abrasives, the 14″ Mild Steel Cutting blade that comes with EVOSAW380 is a game-changer. Not only will this save you time and energy, but you will also reduce the cost of buying new blades.
Pros
The Evolution EVOSAW380 is an evolutionary tool for the metal workshop. This saw cuts steel plates, angle iron, pipe, metal sheets, tubes and more without sparks or heat. It comes with a plethora of excellent features including:
Powerful Motor

Inside the EVOSAW380 is a 15 amp motor that delivers an astonishing cutting power. This allows the saw work through huge piles of metal materials with ease.
The powerful motor drives a hi-torque gearbox and blade system that increases motor efficiency and blade life. With the astonishing amount of torque being delivered to the blade, this saw slices through stock quickly and leaves a clean, sharp edge.
This chop saw produces 14 horsepower, enough to cut through mild steel plate of 1/4-inch thickness quickly. It can also cut 1/2-inch steel plate with a 15-inch mild steel cutting blade which you can buy separately.
The EVOSAW380 runs on 1800 watts and will cut anything in its path with impressive precision. Since it makes smooth cuts, you spend less time reworking the materials.

Accuracy

Most chop saws lack accuracy because they are built to cut large amounts of metal fast. But the EVOSAW380 is a winner here as its smooth-cutting Mild Steel Blade delivers far more precision than you would expect in a chop saw.
This saw makes consistently smooth and accurate cuts on mild steel and other metal stock without burrs, sparks or heat. You don't need extensive reworking, boosting your productivity and efficiency. Start welding right after cutting since you don't have to wait for the metal to cool.

Long-lasting Blade

The 14-inch mild steel blade that comes with the EVOSAW380 is durable and long-lasting. This cold cut blade not only provides an impressive level of precision, but its depth of cut does not change through its useful life.
The blade can last 20 or more times compared to abrasives, helping to cut blade replacement costs and boosting your productivity. Evolution claims it can make over 1000 cuts become needing a replacement.

Versatile Industrial Performance

Some chop saws are only good for square tubes but the EVOSAW380 can cut a wide range of stocks, making it the ideal cutter for industrial workshops. This tool handles steel plate, I-beams, and square tubes, round pipes, sheet metals, cladding, and angle iron with no problems.
No matter the workload or project requirements, this saw is up to the task. The EVOSAW380 also features an adjustable vice that swivels from 0-45º, allowing you more flexibility to cut at different angles.

Solid Design

The EVOSAW380 has a durable design. Weighing a solid 55 pounds with a heavy-duty cast aluminum base, this dry metal cutting chop saw provides exceptional stability and ruggedness in the workshop. You can cut away with the confidence that nothing will shake or move this saw during operation.
Cons
The biggest problem with this saw is the quality of the miter gauge. A few users complain about the miter gauge lock that works below expectation. Some customers also report that the saw is difficult to place on a table.
However, the company's customer support is excellent. They will help you with any problem you may have with this saw.
Check out our roundups of the best chop saws here!
Wrap Up
This EVOSAW380 is fast, precise and powerful. It comes with a smooth-cutting blade that lasts far longer than abrasive alternatives and you can use it for a wide range of industrial applications.
The saw is affordable despite its premium features and has a durable construction that will serve you for a long time. Whether you are a professional metalworker or a hobbyist, this chop saw will improve your productivity, refine your results and deliver a ton of value.