Intro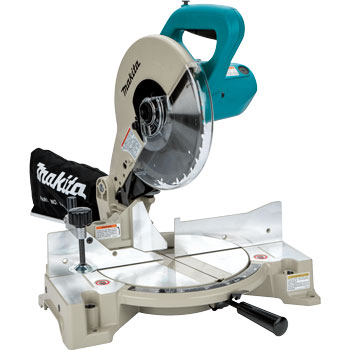 The Makita brand has created a compound miter saw that weighs 27.3 pounds with a 10" saw. The 15-amp motor with 4600 RPM delivers high performance and accuracy due to its dual post compound pivot arms. Makita 10" Compound Miter Saw can be used for woodworking, cabinetry, deck building as well as framing. The corded, electric saw with an aluminum base has ideal features such as CT blade, vertical vise, wrench, triangular ruler and dust bag. Makita is a worldwide, well-respected manufacturer of high-quality power tools. Their brand has been a go-to option for many professionals and this 10" compound miter saw is one that should not be overlooked. With its one year warranty, the Makita 10" Compound Miter Saw gives the user assurance and at such a competitive price point, users should consider adding this saw to their shop.
Pros
Quality Features

Makita 10" Compound Miter Saw can be used in varying ways by finish carpenters and professional woodworkers. Ranging from case and base installers to decking and flooring applications to siding installers. The powerful performance and the capacity due to features and the lightweight of the Makita compound miter saw. Even though the Makita is just under 30 pounds, it is created with a heavier metal and has a positive lockdown.
The Makita 10" Compound Miter Saw has bevel cuts up to 45 degrees to the left and moves 52 degrees to the right and 45 degrees to the left. The miter adjustments have high capacity range so it gives the users more flexibility on their projects. With nine miter stops such as 15, 22.5, 30, and 45 degrees; it allows for the user to not only be mobile in using this miter saw, but to handle more angles accurately and with ease. This miter saw is great for cutting baseboards. Keeping the ease of use in mind for the customer, Makita has included the shaft lock that has a blade change. With precise cuts made by this 10" compound miter saw, it cuts 4×4 plywood with ease. In addition, it is great at cutting oak and has precise angles.

Smart Technology

The start-up on this Makita power tools is smooth with no belt to potentially slip up or ever need replacing. The high motor quality of the 15 amp motor is easy to operate and still delivers solid construction. The soft-start technology in the Makita power tool is hard to find in other compound miter saws. Combined with attention to details such as providing fluorescent lighting. This helps to illuminate the work surface. The lighting works great for users that are installing wood floors or when attention to baseboards as well as trim work detail is highly needed, just to name a few examples of how adding this feature benefits the user. Makita also has electronic speed control which works in the favor for the user to maintain speed under a heavy workload. Attention to what will benefit the user is one of the reasons Makita is an industry leader.
Cons
Handling Challenges

While the light helps the user to see certain areas better, the Makita does need to focus on making the compound miter saw more ideal for handling non-square corners. This counters how well it could do for trim work because a ton of adjusting is needed for trim work to be achieved. In addition to not handling specific types of corners, it may be due to the left-hand miter at 45 degrees, then getting to the right-hand miter at 45 degrees for a perfect angle cut. If the user can navigate around this one challenge, the Makita Compound Miter Saw would still be a viable option. Cutting 4x4s may be an issue if using the bevel angle and users should be aware that it could flip the saw over if not handled properly. The vertical hold down does not seem to extend long enough which is why it may topple over. It should be used with caution, just as any power tool.

Sturdiness

A solution to having the saw topple over would be using a base and have the saw mounted like others of its size. Even if this is mounted, there are other challenges that need to be addressed with this Makita model. The angle detent lever may flex slightly which will allow play. In addition, the blade guard is slightly thin and unreinforced. With this compound miter saw also being lightweight, it is another reason it should be fastened down.
While there is a wide range of miter stops, all angles are preset. This does not leave any adjustments to be done by the user. In addition to this restriction, the safety trigger sticks out slightly which may be an inconvenience to certain buyers. It does not come with support extensions either. The start on this compound miter saw is loud and hearing protection is highly recommended.
Don't forget to check out our roundup of the high-quality compound miter saw reviews!
Final Thoughts
The Makita 10" Compound Miter Saw is a compact power tool with many features that users can use to their advantage. With its bevel cuts, compound pivot arms and lightweight structure, this brand can be a staple in a wide range of users' power tool collection. What should be considered are the restrictions, such as the beveled angles and its overall construction. These challenges are there, however, Makita is a strong brand to consider and offers smart technology with quality features.