Are you considering adding a track saw to your collection of tools? Before you do that, you should find out everything about these units. Our track saw reviews would provide insightful information about the most popular models available on the market today.
We won't only get you familiar with all the top-rated units, but also provide a buying guide on how to choose the best track saw for your needs. If you ever wanted to learn more about how this tool works, what are its benefits, and how it compares to other power tools, you've come to the right place!
Don't hesitate, and start reading the most detailed track saw guide ever. And don't worry if you are a newbie that never used power tools before. By the end of the article, you will become an expert on the topic!
Best Track Saws
1. Festool 575389 Plunge Cut Track Saw Ts 75 EQ-F-Plus USA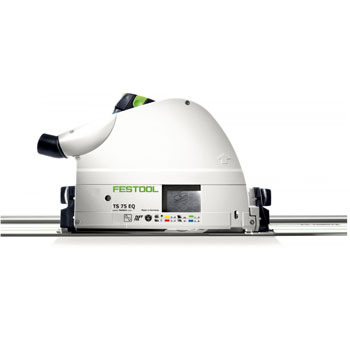 Festool is a reputable manufacturer known for its top-quality power tools, and this unit is no exception. It features variable speeds from 1,350 to 3,550 RPM, and it can handle materials that are up to 2-3/4 inches thick.
The manufacturer suggests using this saw for window frames, rough lumber, solid doors, and many other materials. The tool will exceed your expectations when it comes to accuracy and precision. You will enjoy making straight, splinter-free cuts.
You can also use the depth control that is micro-adjustable for the highest possible precision. The tool features a riving knife, which is spring-loaded to ensure that the workpiece stays away from the blade's rear. That minimizes the chances of a kickback happening while you are operating this tool.
One thing to pay attention to is that this saw is not metric, which means that it uses only imperial measurements.
2. Bosch Tools Track Saw – GKT13-225L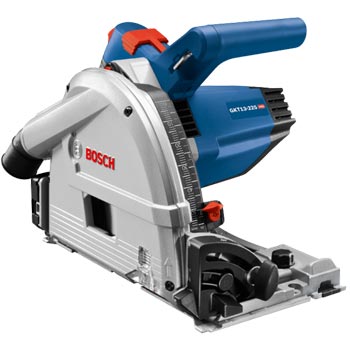 Bosch released a corded saw that is very light and reliable. It features plunging action, which means you can set up everything easily, and ensure straight and smooth cuts.
The saw is a great alternative to a stationary table saw, and it can provide the same cutting quality. It is easy to carry the unit around thanks to the case you receive in the packaging.
You can adjust the angle of the cut from -1 to +47 degrees, which gives you plenty of room to set the desired angle for your application. Some other intriguing features include a spindle lock and the lock-off feature. You can connect to the unit to a vacuum cleaner for dust extraction.
As a track saw that comes from a premium manufacturer, it is not the cheapest one out there. However, it should justify the price with its durability.
3. DEWALT DWS520SK Tracksaw Kit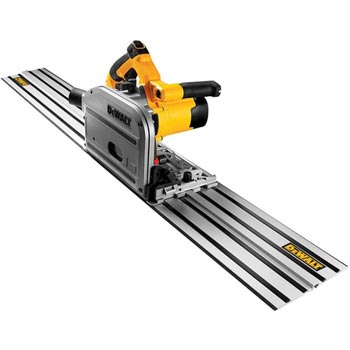 DeWalt features a unit that comes with a 1300W (12A) motor, which is quite powerful and durable. The saw can handle materials that have a thickness of up to 2 1/8 inches at 90 degrees, and 1 5/8 inches if you cut at 45 degrees. As you can see, you can adjust the desired angle of the cut.
The tool's top feature might be zero clearance, which enables you to achieve not only splinter-free but spot-on straight cuts. You can also see the exact cut depth thanks to the depth scale.
You might need some getting used to how the tool works when it comes to long cuts. However, even if you are a newbie, you should quickly learn how to maintain a straight cut. The riving knife features a kickback safety feature to prevent any issues while you are operating the unit. The tool also comes with a blade guard.
4. Makita XPS02ZU Brushless Cordless 6-1/2″ Plunge Circular Saw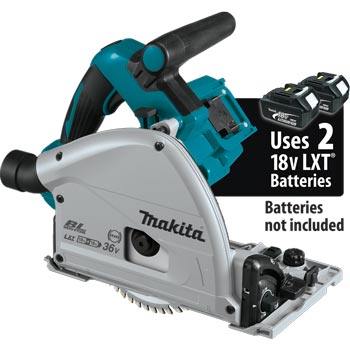 We are now moving to a cordless unit, and Makita is an expert company in manufacturing these. This specific tool uses two LXT batteries, which can secure plenty of power to do all the cutting tasks you have planned.
The saw features an incredibly high maximum speed of 6,300RPM. You can adjust the speed to the maximum, or use the dial to lower it to 2,500RPM. Thanks to that, you have plenty of room to change the desired speed depending on the application,
The integrated depth stop allows you to start with an initial cut of up to 7/64mm. That way, you can increase accuracy and secure accurate and splinter-free cuts.
If you are cutting at an angle, make sure to utilize the slide lever for additional stability. Overall, the unit is reliable and suitable even for cutting close to the walls, which adds to its versatility.
5. SHOP FOX W1835 Track Saw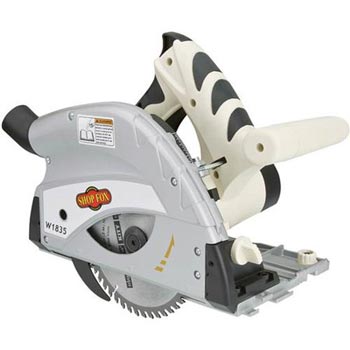 The primary reason why you would want to consider this track saw is its affordability. You might think that it is an entry-level unit, but it will take a while until you learn how to make clean and accurate cuts.
Once you pass the learning curve, you will realize this is a useful tool that can do a decent job if you are an amateur or DIY enthusiast. The strength of the motor is 1,100W (9A), and it works at 5,500 rotations per minute.
The blade has a diameter of 160mm, which is quite decent for a portable unit. It is also interesting to note that there is a dust collection port you can connect to a vacuum.
The saw protects the user from kickbacks, and it has a blade guard that enables you to work near to the wall. The maximum cutting depth is 1 31/32 inches if you use the rail or 2 5/32 inches without one.
6. Kreg Adaptive Cutting System Plunge Saw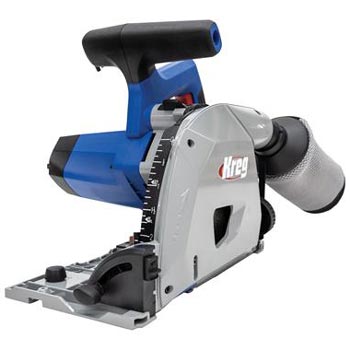 Here is a highly-adjustable plunge saw, which has not only a motor with variable speeds but also an electronic brake. That is incredibly useful, especially if you are a beginner.
The tool comes with a blade that features a carbide tip and 48 teeth. It can achieve a maximum cutting depth of 2 1/8 inches. You can choose from angles that go from -1 to 47 degrees, and it can provide surprisingly straight and accurate cuts.
The manufacturer took great care of ergonomics of their product, and that is what makes this track saw a pleasure to use. However, they optimized the tool for users who use their right hand as the primary one.
The unit might seem a bit heavier than some others on our list, but you should quickly get used to that. The important thing is that it comes with an anti-kickback feature to protect you while operating.
What Is a Track Saw?
Track saws belong to power tools primarily used for woodworking. You can mount a track saw on a track or a metal guide rail system. When the tool is active, the blade moves along the track to do the cutting. That is how you can use this saw for different applications, such as MDF, plywood sheets, melamine, etc.
Tracks saws aren't difficult to use, and you should learn how to operate them quickly even if you are a newbie. They can achieve accurate cuts without the user putting in a lot of effort.
People also call these tools to plunge saws, but they are similar to circular saws when it comes to the working process. The cutting blade is located in the guard, and you can only release it by pressing the lever that initiates the movement of the motor assembly to your desired application to do the cutting.
Track saws have a reputation for making plunge cuts that are very accurate and clean, but you can also use them to cut conventionally. They are one of the most versatile wood saw types, and they can manage tasks that circular units can't do. Track models can serve as an alternative for table, miter, circular, and panel saws.
Track Saw Buying Guide
It is time to discuss the purchasing process for a track saw. We will cover features and factors to consider when buying this power tool, and provide insight on how a track saw works.
Here's What to Look for if You Want to Buy the Best Track Saw

The best way to pick a power tool is to learn more about its features. Whether you are choosing a circular saw or any other tool, getting to know its specifics will secure that you make an informed decision. Here are the crucial features you should consider when purchasing a track saw.
Motor Power

In power tools, everything starts and ends with motors. Track saws can have motors that largely vary in strength. You will notice that their power is described in watts or amperes.
The choice will depend on how you plan to use the tool. However, if you want a decent performing saw, it should have nine amps of strength or more. That way, you will secure a power tool that you can rely on for a wide variety of tasks and applications.

Rotations Per Minute

The "Rotation Per Minute (RPM)" characteristic describes the speed of the track saw. You would think that you need a power tool to have impressive high speed, but the truth is that even 2,000 RPMs will do a great job.
You can find track saws that only have a single default speed, but also units who have multiple speed settings available. If you want to go with added versatility, go with a unit that has variable speeds.

Cutting Capacity

Here is another crucial feature of table saws and other cutting tools out there. As the name suggests, the specification describes the capacity of the tool when it comes to the cutting.
The first thing you want to discover is the maximum cutting depth of your desired tool. You should also confirm the types of materials that your tool can cut. It is not only about the types, but also about their thickness, so make sure that the saw can handle the applications you plan to cut.

Bevel Capacity

The beauty of a track saw is that you can use it to make angled cuts, too. The bevel capacity of a particular unit will tell you more about the angle cut specifics. You might go for a track saw that doesn't have any bevel, but also one that offers a generous angle range.
It is also vital to consider the angle increments when adjusting the saw. Some units will allow you to set the desired angle to the smallest detail, such as a degree fraction. That enables maximum wiggling room to set the right angle each time.

Other Features to Consider

Here are some other specifications you may want to consider when buying a track saw:

Anti-Kickback

– this is one of the safety features that can be crucial if you are a newbie. Since power tools can kick back while users are operating them, you want a feature that counteracts that. Thanks to the anti-kickback specifics, the chances of this happening will be reduced to a minimum.

Blade guard

– it also increases safety because it protects from any mishaps happening when the tool is not in use.

Dust collection

– power tools can leave a mess behind them, and dust collection and other cleaning systems can pick up debris and sawdust to make cleaning easier.

Blade

– the quality of the blade will determine the quality of the cuts, and affect the durability of the saw.

Cord length

– these only apply to corded saws, but it can prove to be a deciding feature when it comes to how convenient it is to use your tool.
What to Consider When Buying a Track Saw
Here are some questions you may want to ask when purchasing a track saw.
Do You Need a Variable Speed Track Saw?

The speed is directly related to the motor's power and strength. While it is nice to have an impressively fast track saw, a power tool can be extremely versatile even at low speeds.
If you are looking for the ultimate versatility, go with a model that has adjustable speeds. You should look for table saws that have at least two-speed settings available. That will give you a lot of room to maneuver when it comes to cutting different materials.

Why Should Safety Be Your Primary Concern?

Safety should always be a top priority regardless of the tool you use. Whether you are a beginner or experienced cutter, your track saw should have the necessary safety features.
The basics include a blade guard that would protect you from accidentally injuring yourself on the blade when the tool is not active. Additionally, an anti-kickback feature minimizes the odds of a kickback happening, which not only increases overall safety but ensures optimal quality of the cut each time.

What Should You Know About Blade Quality?

The blade will actually do the cutting, and that makes it an essential piece of your power tool. The blade quality will affect how often you have to replace it but also secures that you will make accurate and clean cuts.
The blade size depends on your cutting plans. The most tools use a blade that has around 14 teeth, but if you need a smoother and finished edge, you can also consider a 48-teeth unit.

Do You Want to Make Angled Cuts?

Straight and clean cuts are nice, but sometimes, you need to cut at an angle. In those situations, you need a track saw that has a bevel capacity.
You want to pay attention to two things. The first one is the angle range as it can largely vary from one unit to another. The second is that the saw offers the desired angle increments.
A maximum angle range isn't worth much if you can't adjust the desired angle in small increments. If you are looking for precision, you want a unit that can set the angle to even the fraction of a degree.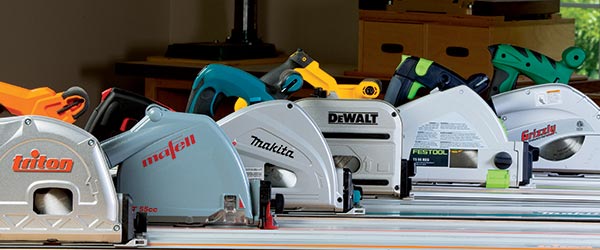 Corded VS Cordless Track Saw
You might think that power tools need electricity to work, but that is only true if they have electricity set as the preferred power source. The market also offers models that are cordless and use batteries to operate. Here is an overview of both types so that you can pick the desired one.
Cordless Track Saws

A cordless tool uses batteries as the primary power source. Users should charge that battery before using a cordless saw. You should also monitor battery level so that it doesn't stop in the middle of the operation.
On the plus side, cordless units are extremely portable. You can operate them anywhere because they do not require an electricity socket. As long as the battery is full, you are ready to work with your tool. Additionally, cordless track saws are light, which contributes to the ease of transport.
However, the batteries do offer a restricted amount of power, and the strength of the tool depends on the motor and battery power.
Pros

Extremely portable and easy to move
Lightweight units

Cons

A limited amount of power
You need to monitor battery level

Corded Track Saws

A corded track saw uses a cord placed in an electrical socket as a power source. That immediately points to the main drawback – you need to have electricity for this tool to work.
However, you should receive a huge amount of power in return. Even the strongest batteries cannot produce as much power as electricity. Additionally, you do not have to worry about battery life with corded tools. As long as electricity is there, the tools can operate around the clock without stopping.
Pros

A fantastic amount of power
You do not have to worry about battery life

Cons

You need an electrical socket for it to operate
Ultimately, the differences between corded and cordless power saws are the same as with other power tools. It is often a battle of power against convenience, and that should be your main consideration.
Table Saw VS Track Saw
The extensive selection of power tools available on the market best tells you about how popular they are among the amateurs and professionals around the world.
You might have a dilemma about who wins in the table saw VS track saw battle. The truth is that both tools can be a great choice, and it only depends on your preference.
Why Should You Choose a Track Saw?

Users who picked a track saw emphasize a higher level of portability as the primary reason for doing so. It is easier to move a track saw around, and many units are extremely suitable to use while on the move.
Additionally, a track saw takes less space than its table alternative, although that might depend on the unit. It can also be a more suitable choice for newbies as it doesn't have a difficult learning curve.

Is Table Saw a Better Choice?

Both tools have their advantages and disadvantages. Table saws are large and take a lot of room, but they can also deliver an ample amount of power. That makes them suitable for professionals who need a reliable saw every day. If you want to learn more about these units, check out a table saw buying guide and discover more about their crucial features.
Track Saw VS Circular Saw
The next tool we will compare track saws with are circular sawing units. Here is an overview of the specifics of tools, and analysis of which performs better in particular areas:
Accuracy – circular saws can do a quick cutting job when you need them, but they are not very accurate. On the other hand, track saws are great for smooth and straight cuts.
Storage – it varies from one unit to another, but both track and circular saws shouldn't take a lot of room in your workshop, or at the job site.
Versatility – track saws are a fantastic choice for all types of wood. Circular saws may also be appropriate for other materials, but you need to ensure to use the right blade.
Safety – both tools use an ample amount of power, which means you need to consider all the safety precautions before using them.
Ultimately, it all comes down to your preference. If you feel that a track saw is a right fit, don't hesitate to go with that tool.
Benefits of a Track Saw
If you are still unsure about the advantages that using a track saw brings, here is the list of benefits to consider before deciding on this unit.
Excellent Accuracy
The fact that it comes with a track (rail, plate) makes this tool incredibly precise. Experienced users now that sawing can sometimes be a guessing game when it comes to accuracy. However, if you go with rail, straight cuts will truly be straight and smooth.
The only thing you need to do is to adjust everything correctly before you start the machine. If you meet that condition, you do not have to worry about going off-track and ending up with an unprecise cut.
Bring the Saw to the Material
Some power tools require that you bring the workpiece to them before they can do the cutting. The obvious benefit of a track saw is that you can easily move it around, and bring the saw to the material.
That can make your job easier, and you can do the cutting quicker than usual.
A High Level of Portability
The fact that most track saws are easy to transport makes the tool very portable. You can easily take it from one job site to another, and that can ensure that you do plenty of cutting tasks quickly.
Additionally, track saws do not take a lot of space. Although they can make long cuts thanks to the rail, these tools do not take a lot of room and can fit into any workshop easily.
How Does a Track Saw Work?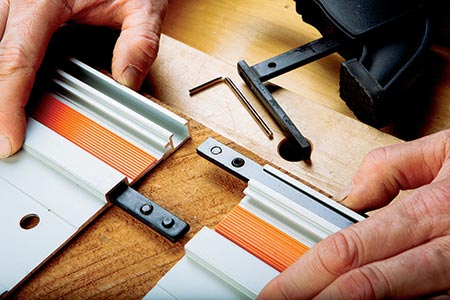 Before you start using a track saw, it is important to ensure that everything is installed properly. Additionally, you want to choose the material that your tool is capable of cutting.
The first thing you want to do is to place the rail on top of your workpiece. You want to position it so that it keeps the tool and the material steady.
You will also see the path where the track saw will cut through the application. Once you turn on the saw, it won't take a lot of effort to maintain a straight cut and achieve the desired results.
The tool uses the blade to cut, and the motor to power the device, which is similar to all the other power tools out there.
What Can a Track Saw Cut, What Are Its Uses?
Operators who work with wood are the ones who use track saws. These tools are perfect for a wide variety of wood-based applications. The list includes melamine, trim, lumber, plywood, PDF, and others.
Depending on the unit, the tool can work with materials of various thickness. Some track saws are also capable of making bevel cuts, which increases their versatility.
It is important to mention that you shouldn't cut aluminum, steel, ceramics, or any materials that are not wood-based. That may affect the durability of the tool but also compromise your safety. Not using a track saw in the way it was intended might lead to injuries, which is why it is important to follow the instructions when using the tool.
What Are the Basic Parts of a Track Saw?
Let's take a look at some of the basic components so that you can understand the unit better:
The plate – you use this component to place the tool on the workpiece so that you can do the cutting. It also helps to keep the tool and the object level and steady while you are cutting it. Due to its shape, it can serve you as a guide to make straight cuts.
Blade – the part that does the cutting. It can be of various sizes, and it features clamps or bolts that have the task of securing it.
Bevel adjustment – the component serves to choose the desired angle of the cut.
Handle – it is the part you use to control the saw while cutting. Modern track saws feature ergonomic handles that have user's comfort as the primary concern.
Power switch – it is a button or trigger that activates the saw and turns it off. Before you turn it on, it is vital to ensure that you followed all safety and other instructions.
Some other parts include the blade guard, cord, and various accessories.
FAQs & Answers
Q: Is a Track Saw Worth the Money?
A: Track saws are extremely versatile tools, especially if you are looking for a wood cutting unit. Their versatility makes worth the money.
Q: How to Change the Blade on a Track Saw?
A: The process of changing the blades depends on the unit. That is why you should carefully read the instructions and follow them. The good news is that the replacement process should be simple and last for only a couple of minutes.
Q: Is a Track Saw More Expensive Than Other Tools?
A: It depends on the model you choose. Track saws can be both affordable and costly as their price significantly varies. The more expensive tools usually have additional features to justify the high price.
Wrap Up
The first time you use a track saw, you will realize that the tool has many benefits. Its suitability for different types of woodworking and overall versatility make this tool a great investment.
If you want to maximize the benefits, you need the best track saw for your needs. As you could see, there is no universal formula to tell you what the best model is.
For some users, it is a cordless unit they can easily take from one job site to another. Others, however, prefer a corded and powerful tool. We hope that our track saw reviews can help you to make the right selection.
The important thing is not to rush your decision. Take some time and choose carefully as that is the best path to securing the highest value for money, and ensure that you can take your craftsmanship skills to the next level!