Intro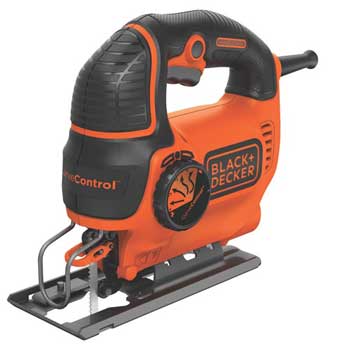 Black+Decker is one of the oldest power tools company in the world. Its BDEJS600C Smart Select Jig Saw combines ingenuous engineering with exceptional ergonomics for the best results and optimal operator comfort.
This tool is powered by a 5 Amp variable-speed motor that delivers up to 3,000 spm of cutting force. It comes in a sturdy and tough plastic casing to reduce weight and protect the components from falls and the elements.
The BDEJS600C has an adjustable shoe for excellent stability regardless of the material. The shoe can bevel up to 45 degrees, allowing you to make angled cuts such as bevel and miter cuts with its impressive 3/4″ stroke length.
With the new improved CurveControl technology, making plunge cuts and other intricate designs in your workpiece is faster and more refined. There is also a new and more accurate Wire Guard which allows you to make more precise cuts by providing a reference for the line of cut.
Changing blades is seamless with this tool thanks to its keyless blade clamp. The BDEJS600C features a dust blower to keep your line of cut visible at all times.
This jigsaw is ideal for a variety of materials including wood, sheet metal, MFD, ceramics, PVC and more and accepts T-shank and U-shank blades. The BDEJS600C is light at only 4.6 pounds, making it comfortable to use for extended periods.
Pros
The BDEJS600C is an excellent woodworking tool from a reputable company. This jigsaw has a durable design and a powerful motor that gets the job done in less time. Here are its main advantages.
Powerful Motor

The BDEJS600C features a high-performance 5 Amp motor that spins at up to 3000 strokes per minute. This speed allows the saw to cut different materials quickly, boosting your productivity and saving time for other important projects.
With this amount of cutting power, the BDEJS600C is at par with many commercial and far more expensive jigsaws on the market. It cuts smoothly and handles well regardless of the material you are working with. This is an excellent saw for the serious homeowner and makes a reliable backup for contractors.

Variable Speed

If a jigsaw has a motor that runs at 3000 spm, one of the best feature you want is a variable speed control as not all your projects will require that amount of power. The BDEJS600C comes with a variable speed trigger that enables you to choose different motor output for various materials.
That way, you can use the tool more efficiently and reduce motor wear. This ultimately helps lower maintenance cost and improves the useful life of the machine.

Versatile Operation

The BDEJS600C is a flexible tool that provides endless possibilities in the workshop. If you have the right blade, this jigsaw will cut most materials including sheet metal, wood, PVC, MFD and others.
Whether you are a hobbyist or professional woodworker, you will find the versatility of this tool impressive despite its affordability.

CurveControl

This feature is a unique technology from Black+Decker that allows you to get optimal use of the jigsaw. CurveControl provides 4 customized adjustments of the saw's orbit, allowing you to achieve more intricate cuts in a variety of materials.

Beveling Shoe

The BDEJS600C has a stable and solid shoe that makes it easy to use. This shoe provides exceptional handling and can even bevel 45 degrees to the right and to the left. The beveling shoe allows you more flexibility when making angled cuts such as bevels and miters.

Wire Guard

The new and improved Wire Guard on the BDEJS600C helps to improve your precision. It provides a clear line of cut on the material, allowing you to trace your marks more accurately for professional results.

Easy Blade Swap

Whether you use old-style blades or newer versions from Black+Decker, the BDEJS600C comes with a keyless blade clamp that makes it easy to change blades. With this feature, you don't have to carry an Allen wrench before swapping blades.

Ergonomic Design

This jigsaw has an attractive and ergonomic design that boosts handling and control. Its handle has a comfortable grip that makes holding the tool fatigue-free, even if you are working for extended periods.
The thick plastic casing helps to absorb some vibration, allowing the saw to run smoothly. It is also lightweight, compact and runs quietly.
Cons
The major disadvantage of this jigsaw is the lock-on button which some customers complain is difficult to engage. However, many of the reservations users have about the tool are probably because of improper use and setup.
Before using this saw, take your time to go through the user manual and operational procedures to understand the proper way to use it.
Read on to find more details on choosing the right jigsaw.
Wrap Up
The BDEJS600C is an affordable and powerful tool that should be in your workshop. It is compact, lightweight and smooth running. It has a beveling shoe and the comfortable grip makes it a delight to work with.
Regardless of the material you are working on, the BDEJS600C is capable of most jigsaw projects.