Did you know that power saws can cut pretty much anything these days? The choice of your preferred unit strictly depends on your needs and preference. In this article, we are focusing on reciprocating saw reviews. We selected the most reliable sawzalls out there and included them into our list. We hope it will help you choose the right combination of power, versatility, and features for your desired tool.
If you plan on making a purchase, you want to ensure to buy the best reciprocating saw out there. Our buying guide will answer all questions and dilemmas you might have about reciprocating cutting tools. We covered all the important aspects so that you can make an informed buying decision. Keep reading to gather all the relevant data and choose the desired unit!
Best Reciprocating Saws
1. Bosch 1651B 36-Volt Reciprocating Saw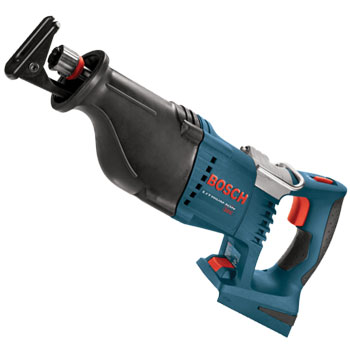 We are starting with a cordless unit powered by a 36V battery. The tool can achieve the speed of 3,000 RPM. You can control its pace by choosing one of two different speed variations – the low one set at a max of 2,400RPM and high at the unit's max.
Bosch's reciprocating saw is quite fast and can cut 1 ½ square inches every minute. You can use it for cutting metal, wood, or plastic. If you need to change the blade, you can twist and eject the existing one easily. The unit provides an ergonomic grip and an optimal line of sight thanks to the open toe.
One of the things to keep in mind is that you buy only the tool and not the battery. While that means you need to pay a bit extra, you still get a reliable and long-lasting tool that should be worth the money.
Read the full review → Bosch 1651B
2. Makita JR3070CTZ Recipro Saw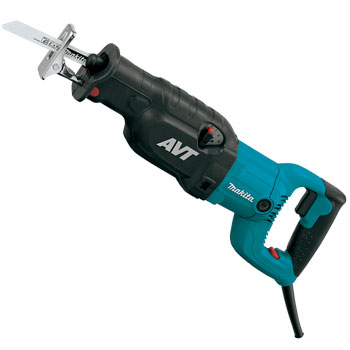 The first thing that you notice when you take this saw into your hands is that it is lightweight. It weighs only 10 pounds, but do not underestimate its power and performance. Thanks to the fact that it is corded, it can pack a lot of power. The unit features a 15 Amp motor with six different speed variations.
Another thing we liked is that the unit has a 1 ¼ inch stroke length for swift cutting. If you want to turn the quickness up a notch, you just need to switch to the orbital cutting mode. The manufacturers also considered the durability of this unit, which is why they ensured a unique assembly that protects gears.
Although there is an anti-vibration technology featured, you may feel the vibration of this tool at points. However, the chances are you won't mind it as soon as you get used to the unit.
Read the full review → Makita JR3070CTZ
3. Milwaukee 2720-21 M18 FUEL SAWZALL Reciprocating Saw Kit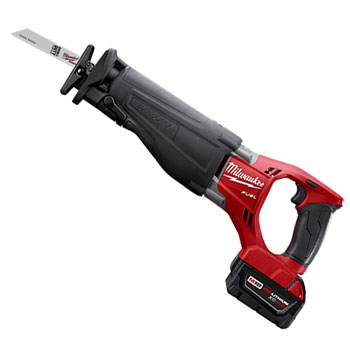 If you take a look at the specifications, you have to admit that this cordless unit can pack quite a punch, and even be comparable to some corded units. The power of the motor is set at maximum 3,000 SPM while the stroke length is 1 1/8 inches.
The tool weighs only 7.4 pounds and features a blade clamp and an adjustable shoe to increase the cutting precision. It even has a five-year warranty, which is quite generous from the manufacturer. The motor is brushless, which is how it manages to prevent any overheating issues while supplying constant power.
The battery you receive with the unit can last for a long time, but the battery life decreases as time goes by. That means that the amount of working time with a full batter may decrease as time passes. Fortunately, batteries are replaceable, which solves this problem.
Read the full review → Milwaukee M18 FUEL™ SAWZALL
4. DEWALT DCS380B 20-Volt MAX Li-Ion Reciprocating Saw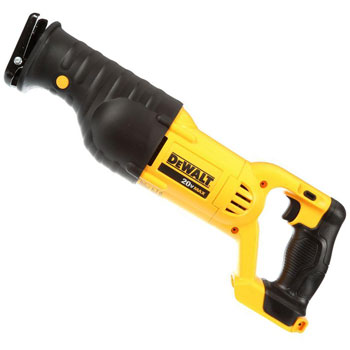 Cordless units are a tool of choice of many professionals and private DIYers, which is why we stay focused on that type of reciprocating saws. The DeWalt's unit features a stroke length of 1 1/8 inches and a motor that can deliver up to 3,000 RPM. The trigger gives you the ability to choose the desired speed depending on the material you are cutting.
When it comes to precision, you will notice that the adjustable shoe facilitates simple control of the tool. Additionally, the blade clamp has four different positions, which makes flush cutting possible, and it also takes positional versatility to the next level.
The one downside about this saw may be that the battery life is quite short, which is why you may need to recharge it often. However, that shouldn't be a deal-breaker if you are satisfied with the other features of this saw.
Read the full review → Dewalt DCS380B
5. Bosch Bare-Tool CRS180B 18-Volt Lithium-Ion Reciprocating Saw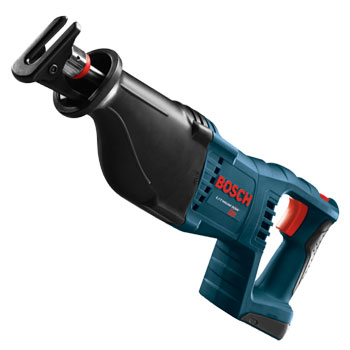 The stroke length of this tool is set at 1 1/8 inches, which is in line with similar tools. As for the strength of the motor, it can achieve up to 2,700 SPM. There are two available speed settings, so if you need fewer strokes per minute, consider the low function with a max of 2,400 SPM. You can change the blade with a single hand thanks to the lockjaw blade holder.
The saw weighs about 7.5 pounds, making it mobile and easy for transport. It is cordless, which makes it suitable for difficult to reach locations. The manufacturer designed an ergonomic handle to increase the comfort of users that need to operate the saw for a long time.
If you are an electrician cutting EMT, you may notice that the front blade guard is a bit longer than you would have preferred. But ultimately, that is just a personal preference, and you should get used to it with time.
6. Ridgid R8641B X4 18 Volt Cordless Reciprocating Saw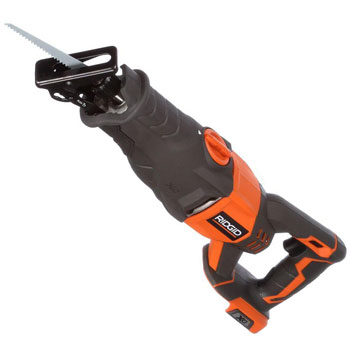 When you grab the tool in your hand, you realize that it is light. Taking a look at the product specifications will tell you that it weighs a bit over 7 pounds. The stroke length is ¾ inches, which is a bit less compared to similar tools.
However, the motor is quite powerful and can deliver up to 3,600 SPM. When it comes to adjusting the speed, you can do so automatically by pressing the trigger harder. It may take some getting used to, but that way seems pretty convenient.
The tool can perform straight cuts, but you can also switch to orbital cutting when you need the extra speed. The manufacturer recommends it for woodworking projects.
Changing of the blade is possible without any tools. While operating, the rubber grip will prevent any slipping, and LED lighting can assist you in illuminating the workpiece you are cutting.
What Is a Reciprocating Saw or Sawzall?
A reciprocating saw (also more colloquially known as a sawzall) is a cutting tool that packs a lot of power and can cut various materials, including metal, wood, and PVC. The primary focus of this saw is to offer power and quickness in making straight cuts that utilize push and pull motion. These are not suitable for delicate and curved cuts, but they can do the job efficiently and be incredibly productive.
Reciprocating saws are often used by construction workers, especially during the demolition projects. Due to its swiftness in cutting, these units are also suitable for emergency rescues when there is a necessity to cut through a material without the need for high precision.
The first time a reciprocating saw appeared was in the 1940s. The goal of creating them was to replace a classic hacksaw and take them to the next level by utilizing electricity. Although they were initially advertised for cutting pipes, their versatility significantly increased over time.

Reciprocating Saw Buying Guide
Are you considering purchasing a reciprocating saw? Maybe you got a recommendation from a friend, or you heard that these tools are amazing. Before you go through with the purchase, you want to ensure that is the right tool for your needs. Furthermore, you want to be certain that you picked the right model, which is why you should check out our reciprocating saw buying guide.
What to Consider if You Want to Buy The Best Reciprocating Saw Possible
Here are some questions that you should ask when purchasing a reciprocating saw.
Do you need a corded or cordless unit?

Ultimately, it is up to you and your preference. As we will discuss later, each of these tools has its advantages, as well as a couple of drawbacks. Corded units pack a lot more power, but they are dependent on the existence of an outlet at the job site.
Unlike that, cordless units are more portable because they run on batteries and do not require a cord. They are suitable for hard to reach places and transport, but you need to ensure that the batteries are charged at all times.

Does It Have a Variable Speed Control?

Speed variation is an important feature that can increase the versatility of a reciprocating saw. While it is nice to have a tool that can work at high speed, you will need to slow down the saw occasionally. That can be particularly helpful if you are dealing with a hard workpiece. Look for a unit that has at least two different speed variations, although it would be better if it has even more.

Can you change the blade quickly and effortlessly?

The majority of blades, especially modern units, come with a tool-less blade replacement. The manufacturers realize it is an important feature that increases versatility and ease of use of their tools.
However, it doesn't hurt to be on the safe side and check that the blade can be changed efficiently and without wasting precious time. That will ensure you to easily switch the blades depending on the material you are cutting.

Is the Handle Ergonomic?

If you are a professional, the chances are you will work with this tool for a long time every day. That is why you will want to avoid fatigue at all costs, and ergonomic design of the handle is essential there. You can also check if the tool offers a rubber grip as that enables better control and reduces the chance of the tool slipping away.

Is It Made by a Reputable Brand?

The first reciprocating saw ever was made by Milwaukee, and they belong to the list of reputable brands even today. However, numerous other manufacturers joined Milwaukee on the list of premium brands, such as DeWalt, Bosch, Makita, and Ridgid. As long as you choose a reputable manufacturer, you won't go wrong. The important thing is to avoid low-quality tools from questionable brands as they not only have limited durability but can even compromise your safety.

Most Important Reciprocating Saw Features and Specifications
If you want to find a suitable reciprocating tool for your cutting needs, you need to know more about the vital specifications and features of these units. Let's take a look at some crucial things to consider.
1. Blade
If you ask any experienced cutter, they will tell you that your primary concern should be the blade. Now, it is not about the exact quality and durability of the blade. Why? Well, because blades are replaceable and the chances are you will switch them depending on the materials you cut. That is why a tool-less blade replacement feature can come in handy.
As for the blade itself, you can go for the one that makes straight cuts, and the blade that performs an orbital action. We will talk more about it later, but you won't go wrong with either. Here are some other things to consider:
Type

– blades can be designed to cut metal, wood, or perform specific actions. For example, if you are doing tree trimming, you want an aggressive wood blade. However, steel materials may require a carbide-tipped blade.

Size

– in most cases, you will pick between 4, 6, and 12-inch blades. While there is not a big difference apart from convenience, small blades may be a bit better at quick cutting.

Stroke

– this may be the most important feature of a blade. The number of strokes it can make per minute is an excellent indicator of how quickly can a saw cut. Keep in mind that you should also strive for variable speed control to increase the tool's versatility.
2. Motor
You need to carefully consider the motor when buying a reciprocating saw because that is the part that will actually run the tool. Combined with the blade, they make two integral parts of every power cutting tool.
There are two things to keep in mind when picking a motor. The first one is its amperage on voltage. In case of corded units, you can choose between modest 4 Amp models up to heft 16 Amp units. When it comes to voltage for cordless units, it can vary from 18 to 36 volts.
The general rule is the bigger, the better. However, you also want to pay attention to the number of strokes per minute, which is marked by RPM. That will tell you how powerful the tool is and how quickly it can do the job. A reciprocating saw needs to have at least 2,400 RPM to deliver the expected results.
Other features to consider
If you are checking out a product description for a particular reciprocating saw, you should take into account these details, too:
Orbital action – some saws have the ability to make orbital cuts. You can even look for a hybrid unit capable of straight and orbital cutting.
LED lighting – if you are working in dark areas, light can make your job considerably easier.
Rubber grip – this is the material of choice because it is slippery-proof and increases accuracy.
Corded Vs. Cordless Reciprocating Saws
One of the most important decisions you will have to make when choosing a reciprocating saw is whether you will purchase a corded or cordless unit. Each of them has certain pros and cons, and we will discuss them more below.
Corded Reciprocating Saws
Everything is quite self-explanatory, but for those who may need an explanation, corded saws are those that come with a cord. That means they operate on electricity and require a power outlet to run. Thanks to the fact they use electricity, they can pack a lot of power. That is their crucial advantage over cordless models, which is why this is a go-to unit if you need a powerful tool.
Another benefit is that the device can operate non-stop as it doesn't need recharging. That means it will serve you for as long as you want it (unless something goes wrong). There is no need to worry about battery life as there is no battery. Finally, these units are quite durable and sturdy, although they do weigh more than cordless models.
The fact that they are heavier than their counterparts makes them harder to maneuver. Additionally, you have to pay attention to the cords, which present tripping and, therefore, a safety hazard. Finally, the length of the cord may determine where you can use the saw, and some construction sites may not even have a power socket.
Pros
It is a powerful cutting tool
There is no need to recharge the device – it can operate non-stop
Sturdy and durable
Cons
Weight and cords make it hard to maneuver the saw
Tripping hazard decreases the safety of the tool
Cordless Reciprocating Saws
Unlike the previously mentioned type, cordless reciprocating saws do not require a power outlet to operate. Instead, they run on batteries which are, in most cases, made of lithium-ion. The voltage of the batteries may vary and that directly affects the power of the saw. Keep in mind that even the most powerful battery cannot produce the same amount of power as electricity.
Although cordless units may be less powerful than corded alternatives, many people still choose them because of their portability. The fact that they do not depend on a cord means that you can move them around as you please. Additionally, the general rule is that they are lighter than corded units, which further adds to their portability.
A cordless saw is suitable for all those areas that may be difficult to reach, which might make it suitable for certain construction sites. The fact that they do not require a cord makes them relatively safer than their counterparts, but keep in mind that you need to be extra careful when operating cordless saws. Finally, you should always keep track of battery life. You certainly do not want for the saw to stop working in the middle of an operation. The good news is that recharging doesn't take a lot of time and most batteries won't take more than 30-60 minutes.
Pros
Suitable for hard to reach areas
High mobility and easy to move around
Relatively safer as they come without cords
Cons
They can only operate for a limited time before they need recharging
Even the most powerful battery cannot compare to the power of electricity
Electric or Pneumatic Reciprocating Saw?
As many other tools out there, reciprocating saws can be electric or pneumatic. The question is which is better, but we cannot provide a definite answer to that question. What we can do is to give you an overview of both types so that you pick by yourself.
Electric Reciprocating Saw
Electric reciprocating saws are the more common choice among users, although they have both positives and drawbacks, too. It is an advantage that you can choose between corded and cordless units.
A corded model can deliver more power while the advantage of cordless tools is mobility and the ability to cut in hard to reach places. A cordless saw can never be as strong as a pneumatic unit, and you will need to pay attention to battery life. However, it will be easy to move around and operate it. Additionally, you can use it wherever you are because it doesn't need a power outlet or air socket.
Electric saws are a technology-friendly tool, and the chances are you can connect them to software to get various information about the unit's performance. You do need to be careful when operating as the unit may overheat.
Pros
Some cordless models do not require any sort of connection to work
Easy to move around and operate
A technology-friendly tool
Cons
Not as strong as a pneumatic saw
It happens to overheat
Pneumatic Reciprocating Saw
If you have ever tried working with a pneumatic tool, you know how powerful it can be. Even an impact wrench will surprise you with its power. The same rule applies to pneumatic reciprocating saws.
Just like other pneumatic tools, they are air-powered, which means they require an air compressor to work. Unfortunately, that means that there will always be a hose, which limits the unit's mobility and maneuvering.
Pneumatic reciprocating saws are durable and long-lasting, but still lightweight, which makes them fairly easy to operate. You may be surprised by the amount of power that a lightweight tool can deliver. Although the difference is not big, pneumatic saws might be a bit more affordable in the long run.
Pros
Packs a huge amount a power
Long-lasting and durable, but still lightweight
The price is a bit more affordable compared to electric units
Cons
You need to connect them to an air compressor
Limited mobility due to the always-present hose

Straight Cut Vs. Orbital Cut
There is another way how you can make a difference between various reciprocating saw. It is their ability to make straight or orbital cuts. Some would say that straight cuts are a basic cutting option on a reciprocating saw, while orbital actions are a more advanced feature. Remember that the choice is up to you, but before you make one, read the paragraphs below to know more about different types.
Straight Cut Features
Here is an overview of when you should consider using straight cuts:
For a relatively high level of precision (the highest one a reciprocating saw can achieve)
For cutting hard materials, including workpieces of steel and other metals
The straight cut process is quite simple to explain – it involves the blade moving in and out of the tool and making a straight stroke. This type of cutting is suitable for various materials, including hard steel workpieces or wood.
Straight cut reciprocating saws also have a higher level of precision than orbital cutting tools. If you need to keep the blade perpendicular to the working area, this is the right unit for you.
Orbital Cut Features
Let's take a look of when you should go with orbital cuts:
If you need to cut the material especially quickly
If you want to make aggressive cuts on non-hard workpieces
An orbital cut can be done by moving the blade in an orbit-like motion, which can be considered slightly circular. The tool achieves this by adding a bit of rotation to the blade. Thanks to the orbital action, you can make more aggressive and faster cuts.
Orbital cuts are not suitable when dealing with hard materials, such as metal. They are also not adequate for workpieces that you want to cut with a certain level of precision.
We started with disadvantages, but the truth is that orbital action has many positives, too. For starters, it raises the quickness of cutting to a whole new level. That makes it suitable when you need to cut quickly, which can come in handy for emergency rescue workers.
The quickness is additionally improved by efficiently removing chips from the path of the blade. Additionally, an orbital cut is more aggressive, which may decrease precision, but that doesn't matter if you are at a demolition site. These aggressive cuts are particularly useful on softer materials and all workpieces considered not hard.
It is interesting to mention that you can even find hybrids between straight and orbital reciprocating saws on the market.
Reciprocating Saw Enhancements
A reciprocating saw is an extremely powerful and versatile tool that can do a great cutting job. Before you pick the right unit for your needs, you should also consider reciprocating saw enhancements. Here are some extras that can be useful to buy along with your tool.
A Storage Case
We are starting with an accessory that cannot be considered a true tool enhancement. However, a storage case is essential to keep your reciprocating saw in shape. The chances are you will be transporting the unit from one place to another.
A storage case will protect the tool during transport. You can also pack all the accessories in a safe way and without having to carry them in a bag or otherwise. Aside from a storage case, you can consider a classic toolbox with a durable exterior for added protection.
Replacing the Blade without Any Tools
It is a feature that can enhance the experience of using a reciprocating saw. There will come the time when you will need to replace the blade on your unit, which is why it is vital to ensure the process involves as little hassle as possible.
Not having to use any tools for a blade replacement is as easy as it can get. You will do the job more quickly and save a lot of time and effort. Additionally, you do not have to carry an extra set of tools around just in case the blade needs a replacement.
Other Enhancements to Consider
Here are some other accessories you should consider having on a reciprocating saw if the budget allows you:
Flexible rubber cord – if you want to add extra maneuverability to the saw, this is an extra to add.
Adjustable shoe – it can add stability and control to your tool.
Speed variation – the chance to select between different speeds will help you adjust the setting to fit the workpiece you are cutting ideally.
Auto-stop brushes – as the name suggests, they enable automatic stopping of the saw. Most of them can also identify when the brushes decay, which will keep the motor protected.
Metal gear housing – this feature adds extra motor protection, and it prevents it from burning out in case you tackle some particularly hard materials.
The enhancements for a reciprocating saw will depend on your budget. However, keep in mind the more, the better rule and try to squeeze in as many extras as possible.
How Does a Reciprocating Saw Work?
Although the type of drive may vary, reciprocating saws have a fairly simple working process. The blade does the actual cutting and, in reciprocating units, it can either use the standard straight motion or orbital action, which we already discussed.
For the saw to run, it needs to have an electric motor or be connected to an air compressor. The motor can vary depending on the type of the saw. The electric ones vary from 4 to 16 Amps while batteries go up to 36V. You should look for a motor that provides at least 3,000RPM or more if you need a really powerful tool.
During operation, you will probably have an option to adjust the speed of the blade spinning. The speed will depend on the material you are cutting – slow materials are suitable for faster spinning, but hard materials require patient and slow speed cuts.
Once you ensure that the tool is connected to a power source, you make the blade spin by pressing the trigger button. Before you do that, make sure that the workpiece and the tool are both positioned correctly. And do not forget to use safety equipment when operating a power tool.
What Can a Reciprocating Saw Cut?
Reciprocating saws are extremely versatile tools suitable for woods, PVC, wood, iron, steel pipes, and even masonry. However, its usability depends on the blade. Apart from the saw strength and size, the blade decides what types of material can you cut.
As long as you have a suitable blade, a reciprocating saw can be used by:
HVAC and plumbing experts – a reciprocating saw is suitable to cut pipe pieces. In the case of cordless units, you can use it for hard to reach spaces, such as crawl space, inside of a wall, etc.
Window fitting – trim down the framing area whenever necessary and fit windows efficiently.
Construction – its versatility is the biggest advantage at construction sites. A reciprocating saw is quick at cutting, which makes it suitable for removing walls or demolition.
Emergency rescue workers – if you need to cut a piece of material to get inside of an area, this tool can do an efficient job.
Yard work – how about doing some tree trimming? You can do all sorts of yard work with a reciprocating saw as long as you stay safe.
What Are the Basic Parts of a Reciprocating Saw?
We love to analyze the anatomy of a saw, and this time we are focusing on a reciprocating unit. Here is an overview of its basic components:
Blade – it doesn't take an expert to figure out that this is what makes saw able to cut. You will notice that the blade comes out from the saw's front. Depending on the material you cut, you may need different blades. When choosing one, make sure it fits your saw size.
Shoe – a component that adds to the control and stability. You use it to guide the blade while cutting and control how much of it will protrude into the workpiece. You can usually find at least several different adjustments for a shoe.
Clamp – this part is what secures that the blade stays in position once you mounted it. You will notice it on the front of your unit.
Trigger – a component that you use to command the blade to start cutting. As soon as you press it, the blade starts spinning. Make sure that you are careful when operating.
Grip – it is the section where you will put one of your hands to hold the saw. You should always aim for ergonomic design and a soft rubber grip.
Power source – it is a place where you put the battery in cordless units, or where you insert the cord.
FAQs
Q: What is the difference between a jigsaw and reciprocating saw?
A: There is no clear winner in reciprocating saw vs jigsaw battle as both tools can come in handy. A reciprocating saw is suitable for straight cuts that need to be done quickly. On the other hand, jigsaws are perfect for curved and delicate cuts that won't require any sanding.
If you want to do some craft or decorative projects, such as creating a puzzle, you may want to check out our jigsaw reviews and find a suitable model.
Q: Can a reciprocating saw cut tile?
A: Theoretically, yes. However, that depends on the blade and the size and thickness of the tool and the material you are cutting. An abrasive blade is needed to cut through the tile and other particularly hard workpieces. If you plan to do a lot of tile or concrete cutting, we suggest you find the best tile saw for your needs instead of using a reciprocating unit.
A: Safety should be your top priority. Reciprocating saws are power cutting tools that may cause injuries unless operated with care. We would suggest using safety goggles that will prevent any sawdust get into your eyes.
You should also put on a pair of safety gloves. Look for those that are breathable and offer a comfortable grip – you do not want your hands sweating.
Finally, you should always carefully read the instruction manual for your particular reciprocating saw. Different units may require different safety measures, but you need to ensure to follow them to the smallest detail.
Wrap Up
We've reached the end of our best reciprocating saw buying guide, and we can only hope you liked it. Our goal was to cover all the important aspects that you should consider when purchasing this type of electric hand saw. As you could see in the guide, there are many different units that you can choose from, which increases the chances that you will find the perfect unit for your needs.
If you still haven't made the decision, make sure to check our reciprocating saw reviews one more time. We singled out only the top units currently available on the market, and we firmly believe one of them is your best choice. If you already found the desired tool, go ahead and place an order today!