Intro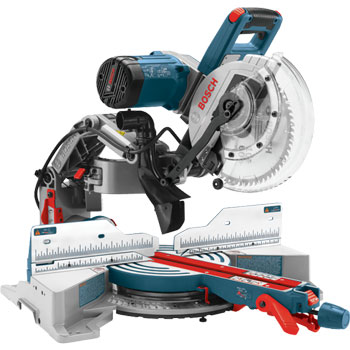 Bosch CM10GD is a 15 amp corded 10" dual bevel sliding glide miter saw. With a 60 tooth carbide saw blade, this miter saw includes several user-friendly features that can perform accurate and precise cuts. With a one year warranty, Bosch has created a miter saw that showcases the Axial Glide System. Alongside having a wide range of angles for its miter detents at 0, 15, 22.5, 31.6 and 45 degrees on the right and left with 60 degrees on the right, users have some versatility when using this miter saw. Not being a lightweight saw, weighing in at 78 lbs. it is an electric, corded 120 volts of power.
Pros
Bevel Glide

With cutting capacity of 5-1/2" vertically and 12" horizontally, the bevel glide within this miter saw gives power and versatility for the user. Since it is set to cut up to 47 degrees, left or right, Bosch is giving the user as much versatility with power from a miter saw of its size. The upfront all metal bevel lock lever with range selector so there is no reach around, making it a more convenient design for the user. With easy to read markings to set up accurate cuts and miter angle ranges spanning up to 60 degrees, this Bosch model brings a lot of value to the user.

Axial Glide System

Bosch has created its own Axial Glide System that has set their miter saw a part from its competitors. This glide system provides smooth cutting control for the user. It also gives user durable precision within a compact workspace. The hinged glide arm system is saving up to 10 inches of workspace with enhanced alignment. Bosch also includes other features such as efficient locks, fence and 4800 RPM. The crown chop locks that are in place for maximum chop cutting capacity. The Bosch Compact Miter Saw powers through upright base molding and nested crown molding. In addition, Bosch has a 6-inch crown capacity against the fence and a 5-1/2 inch vertical capacity. The 4-1/4 inch sliding fence supports a quick and rather easy bevel set up.

Smart Features

Additional features to note on this Bosch model would be the large, form-fitting ergonomic ambidextrous trigger handle. Bosch provides easy storage with zero clearance in the rear, unlike a few other brands of similar size. The great motor strength that this compact miter saw makes it an easier decision for users when debating if it is worth the purchase. The dust bag on many miter saws are either too small in comparison to its size or it is just overall inadequate. Bosch has considered this issue with users and created a combination of dust chute and vacuum adaptor. This means it stays in place by a simple click and clean method.
Cons
Bevel Restrictions

While Bosch is a well-known and respected, there are some precautions that should be taken with this compact miter saw. When using the upfront bevel it can appear stiff to some users. It may be thought to immediately use slightly more force, however, this could cause the saw to flip over so ensure it is secured down appropriately. Due to its weight, it is not easy to maneuver with several turns and cuts. This may throw off the alignment especially since this miter saw is not ideal for long bevels. Overall, an area of improvement might be to design a better screw clamp to hold down materials.

Design Reconsiderations

Some users might not have any issues with the Bosch Compact Miter Saw, however, it is all due to what kind of projects considered when researching miter saws. With this particular model, the blade guard rides on the material with little wheels while cutting. There is no slide-out material support built within this miter saw either. With not light or laser and a wider board, cutting on an angle has been more difficult than with other brands. Last, with the thought behind the combination dust chute and vacuum adapter, it has some area of improvements still to achieve. While the concept is ideal, the dust collector does not seem to work properly.
Don't forget to check out our roundup of the high-quality compound miter saw reviews!
Final Thoughts
Bosch has created an electric, compact miter saw that can work for the DIYer as well as the professional. With its 120 volts and 4800 RPM power, this 78-pound saw has an array of smart features that users can really use to their advantage. With an exclusive Axial Glide System, bevel glide, 60 tooth blade along with bonus features such as material clamp and dust bag; it seems as if Bosch wants to ensure its users' needs are covered. The few drawbacks with this Bosch would be to improve on its existing features. Improving on the bevel glide system would allow it to move in more directions so the user is not limited to what they can cut. For the overall design, just improving on their dust collection concept and adding features that support more accurate and precise, may make this model top in its category.