For woodworkers, picking a high-quality jigsaw is more difficult than cracking a jigsaw puzzle. Jigsaws might appear small, but they perform a vital function in the woodworking industry, which is why professionals search for top quality models from reputable brands. There are many leading brands with exceptional, innovative power tools, but not all of them offer the best jigsaw for your needs. And that's why we provide in-depth, well-researched jigsaw reviews with honest appraisals of the top jigsaw brands.
If you are planning to buy your first jigsaw, this review includes all the information you need to make the best use of the tool. You will find details of what to consider when buying a jigsaw, the important features, things a jigsaw can cut, and more.
Let's start with an overview of the leading jigsaw models on the market.
Best Jigsaws
1. Makita XVJ03 18V LXT Jigsaw Kit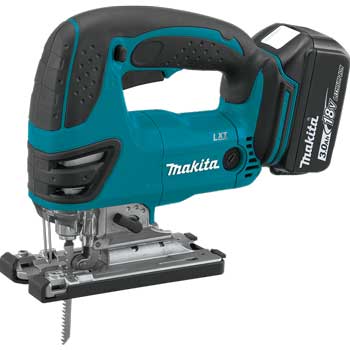 The Makita XVJ03Z looks simple but comes with exceptional functionality. The jigsaw features a variable speed motor that produces 0-2, 600 strokes per minute for efficient cutting in record time. The XVJ03Z is sturdy and versatile, featuring 3 orbital settings and straight cutting to allow you to cut a variety of materials. It also comes with an ergonomic design and the tool-less blade change system enables you to swap blades easily and quickly, allowing you to work for longer.
The Makita XVJ03Z features a heavy-gauge, precision machined base which delivers an accurate and seamless cutting while the large 2-finger variable speed trigger makes for comfortable operation. At 14.4 pounds, this jigsaw is heavy, but this increases control and comfort of the operator. A Lithium-ion battery provides power and portability, so you can work anywhere, anytime. If you already have the batteries, you will save a few dollars with this jigsaw as Makita batteries work with all their power tools. The Makita XVJ03Z is a precise and high-efficiency jigsaw that delivers professional results.
Read the full review → Makita XVJ03Z
2. DEWALT DCS331B 20-Volt MAX Li-Ion Cordless Jigsaw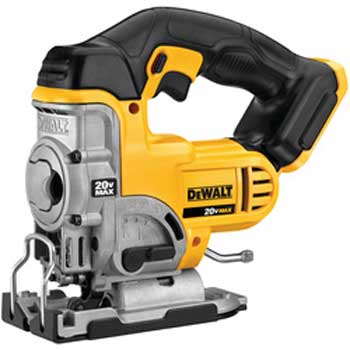 Coming from the stable of world-famous power tools and battery maker DEWALT, the DEWALT DCS331B is an innovative jigsaw with enhanced features to boost productivity. While this is a new offer from DEWALT, the DCS331B is a portable, battery-powered jigsaw with all the superior qualities of the company's products. The machine uses a 2.5Amp 20V Lithium-ion battery, although the battery and charger are not included.
Featuring durable, all-metal construction, keyless blade change, and adjustable base, the DEWALT DCS331B offers an impressive cutting power for a wide range of materials. The variable speed control delivers impressive precision and control, making your work professional and neat.
The tool comes with a 4-position orbital action which delivers precise and accurate clip-free cuts on any material of choice. With a tool-less blade removal system, Energy Star compliance, and 3 years limited warranty, this dynamic jigsaw is a great buy any day.
Read the full review → DEWALT DCS331B
3. Bosch JSH180B 18-Volt Li-Ion Cordless Jigsaw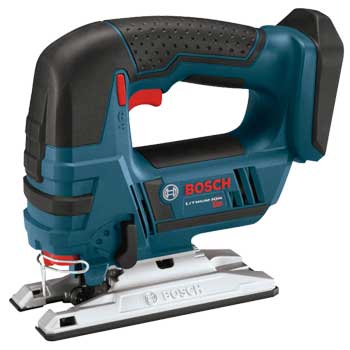 Bosch has been producing world-class power tools for over a century, and the Bosch JSH180B epitomizes the attention-to-detail and innovative prowess of this German company. At 5.05 pounds, this jigsaw is one of the lightest in the industry but still performs like the heavy-duty models in its class. The lightweight construction combined with the small grip makes for comfortable operation and improved productivity.
The Bosch JSH180B features a T-shank blade change system which allows for quick and efficient blade changes with no tools or contact with the scalding blade. There is also an adjustable footplate which enables you to make bevel cuts up to 45 degrees.
For longevity, the Bosch JSH180B comes with Electronic Motor Protection and Electronic Cell Protection, which safeguards the motor and battery from overload and overheating. An always-on dust blower and LED light to provide constant visibility so you can always see the cut line, reducing chances of errors. The Bosch JSH180B is an almost perfect tool for the professional. It is lightweight, portable, efficient, and powerful.
Read the full review → Bosch JSH180B
4. Bosch JS470E 120-Volt Corded Top-Handle Jigsaw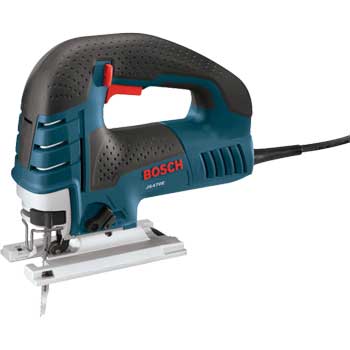 Like everything from Bosch, the JS470E is a professional's dream tool. With class-leading precision and accuracy and innovative features that enhance productivity, the Bosch JS470E is in a class of its own. Changing or inserting the blade is fast and easy with the tool-less blade change system and blade ejection lever, eliminating any risk of scalding from the blade swapping process.
This machine comes with a variable speed dial and accelerator trigger controls for setting and regulating the motor speed for a professional and premium finish on a wide range of surfaces. The four orbital-action tool settings offer a variety of blade strokes to handle any cutting job regardless of the complexity.
The JS470E achieves a high degree of accurate and precise cuts thanks to an internal precision-machined plunging system and the low-vibration construction. It features a multidirectional blade clamp that grips the T-shank blades tight. The die-cast foot and on-board bevel wrench help to hold the tool firmly in place during operation.
Read the full review → Bosch JS470E
5. DEWALT DW317K Top-Handle Corded Jigsaw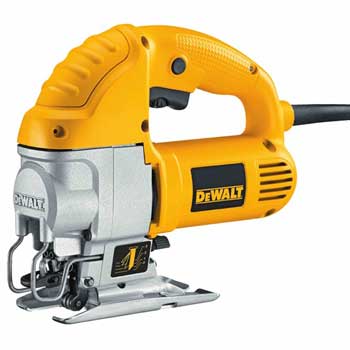 This corded jigsaw from DEWALT comes with an impressive suite of features for improved productivity and ease of operation. Featuring keyless blade clamp for easy and fast blade change, the DEWALT DW317K also features a variable-speed control for accurate and quick adjustments according to the job requirements. You can change the speed from 0-3,100 strokes per minutes, allowing for increased control, and cleaner and professional results. Powered by a 5.5 Amp electric motor, the DEWALT DW317K delivers a 1-inch stroke length capable of handling any cutting job.
A four-position orbital action allows for more aggressive and faster cuts. The machine can also bevel thanks to a beveling show which enables the operator to make accurate bevel cuts from 0 to 45 degrees.
A tool-free blade clamp allows for seamless and fast blade swaps, resulting in higher productivity. Weighing only 6.2 pounds, the DEWALT DW317K offers exceptional operator comfort, allowing you to work for longer. This jigsaw comes with a 3-year limited warranty.
Read the full review → DeWalt DW317K
6. BLACK+DECKER BDEJS600C 120-Volt Corded Orbital Jigsaw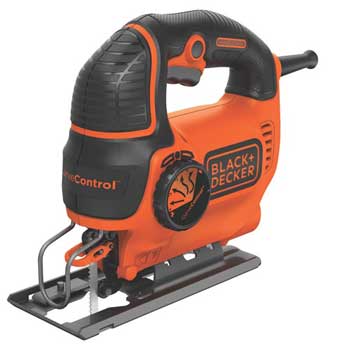 BLACK+DECKER is a leader in the power tools industry, and the company has been providing excellent machines for over 100 years. The BLACK+DECKER BDEJS600C is powered by a 5 Amp variable-speed motor which delivers up to 3,000 SPM of raw cutting power. The tool features the innovative Wire Guard which gives it exceptional precision and accuracy for professional-grade cuts. It also features Curve Control technology which provides four customized adjustable settings based on the complexity of the task.
The BLACK+DECKER BDEJS600C features a dust blower for improved visibility of the cutting line. A keyless blade clamp allows for tool-less blade change, saving time and increasing productivity. This tool comes with an adjustable shoe for improved stability and can also make 45-degree bevel cuts. At 5.2 pounds, the BLACK+DECKER BDEJS600C is lightweight, sturdy and precise equipment for premium-grade results. Read the full review → BLACK+DECKER BDEJS600C
What Is a Jigsaw?

A jigsaw is a versatile, electric or pneumatic handheld saw designed for cutting curves and complex shapes into a variety of materials. It uses a wide range of blades to make precision cuts in different materials including wood, plastic, ceramics, laminate, metal and more.
Jigsaws are essential tools of the woodworking profession, but welders, tile layers, and other professionals find it useful for its versatility. Most people are in awe of the intricate carvings on their furniture and plastic interior decor pieces, but many of these breathtaking designs are the work of a jigsaw.
The jigsaw has a simple construction which comprises the tool, a blade and the power source which can be an electric cord, battery or air compressor. Unlike chainsaws and other cutting tools, a jigsaw is relatively simple and safer to use due to its smaller size and the vertical movement of the blade. These and more are reasons beginner woodworkers prefer to use the jigsaw at the early stage of their career.
What Is a Jigsaw Used for?
The main use of jigsaws is to cut intricate curves in wood. The kind that even the best scroll saw can't accomplish. However, these versatile tools can also cut through a wide range of materials such as plastic, metal, ceramic tile, drywall, aluminum, steel, PVC, cardboard, cement backing board, Plexiglas, and MDF.
Jigsaws can be used to make the following cuts:
Curved cuts: Because of their delicate design, lightweight construction, and thin blades, jigsaws are perfect for cutting curved lines through wood and a variety of other materials.
Straight Cuts: A jigsaw can also make straight cuts using slightly wider blades. Straight cuts are made across or along the grain in wood and laminate.
Bevel Cuts: Most jigsaws feature a pivoting shoe that allows them to make bevel cuts at angles up to 45 degrees.
Plunge Cuts: Jigsaws can also make plunge cuts, a cut made from the middle rather than on the material's edge. The sink cut-out in your kitchen countertop is a common example of a plunge cut.
The jigsaw is the ideal tool when you need to make intricate curves, inside openings, circles and a whole range of special designs in a variety of materials. Be sure that you're aware of the differences between reciprocating saw and jigsaw.
Jigsaw Buying Guide

Shopping for a jigsaw can be daunting. There are many top brands with high-end jigsaws on the market, and they all offer astonishing amounts of enhanced features. How do you buy a jigsaw that suits your needs perfectly? In this buyer's guide, we show you the right questions to ask and factors to consider before you purchase a jigsaw.
13 Important Factors to Consider While Buying The Best Jigsaw
Type of Handle

Jigsaws can have two types of handle including the

Barrel handle

A barrel handle is more difficult to use because you are holding the saw from behind. However, advocates of the barrel grip say it provides more control as it places their hold closer to the blade. This makes it easier to apply pressure on the blade as it moves forward. Barrel handles are excellent for reverse cuts, tight cuts, and awkward angles where you need high accuracy. Most jigsaw models come in the barrel and top handle types, but the latter is more popular.

Top handle or D handle

Top handle jigsaws are the preferred design on the market. This is because they are easier to use and come with a low-vibration material that reduces wear on the operator's hand. Jigsaws with top handles are easier to use as it allows you to hold the saw firmly from the top while applying pressure on the material, increasing productivity and reducing fatigue.

The handle you choose will depend on your preference and the work you intend to do with the jigsaw. If your work requires speed and less of precision, a top handle is ideal. But a barrel handle offers more accuracy and control when you need to make intricate cuts at uncomfortable angles. But it's harder to operate.

Grip Circumference

When buying a jigsaw, it's important to check the grip circumference. A jigsaw with a smaller grip circumference relative to the size of your palm will be easier to control and hold for longer, reducing wear and improving productivity. However, using a jigsaw with a larger grip circumference might be a challenge if your hand can't hold it firm. You will lose your grip quickly and control will be low. Lower control means a higher chance of mistakes and accidents while using the jigsaw. Before choosing a jigsaw, make sure your hand can grip the handle comfortably.

Types of Blade

Jigsaws use a variety of blades which are designed for specific cuts on different materials. It is essential to buy a jigsaw with the blade selection for your jobs. Unlike the blade of power saws like the chainsaw which have heavy-duty blades, jigsaw blades are smaller and delicate, with most having a thin construction.

The jigsaw does not require bigger blades since it makes tight cuts, giving them the flexibility to make intricate turns through the material. The downside is that jigsaw blades can snap and warp quickly under pressure. You need a high level of experience to use a jigsaw blade to make curved cuts without bending the edges.

Jigsaws secure the blade on one end, leaving the free end to oscillate through the material. Jigsaw blades can be a standard-toothed or reverse-toothed blade. The teeth on a standard blade cut the material on the upstroke. In a reverse-tooth blade, the teeth cut the material on the downstroke.

Blade Shank

Regarding the method of mounting the blade on the jigsaw, there are two types of jigsaw blades including:

T-Shank blades, and
U-Shank blades

Many jigsaw models are compatible with both T-Shank and U-Shank blades, but some models will use only a specific shank type.

T-shank Blades

Most modern jigsaws use this blade. The T-Shank has a cone-shaped end and two flanges. The main reason for their popularity is their tool-less removal. You don't need a tool to swap the blade while working on a material, and this saves time and makes work easier. T-shank blades are compatible with U-shank jigsaws.

U-shank Blades

This blade features a U-like end which has two ends for mounting on the jigsaw. You need a tool to fit the blade into the jigsaw.
T-shank blades make work faster and are less fussy to change. If you want to avoid the trouble of using an Allen wrench every time you need to change a blade, go for a T-shank jigsaw. But it's better to own a model that uses both blade types.

Also, the blades are made of metals with the strength and durability to cut specific materials. Some materials include carbide blades, High-Speed Steel, Cobalt Steel, Bimetal and Scrolling blades.

Jigsaw Sizes

There are three types of jigsaw regarding size. These include:

Lightweight jigsaws: These weigh less than 5 pounds and are also the most affordable.
Mid-range Jigsaws: These weigh between 5-10 pounds. These are still lightweight and are a favorite of many professionals and DIYers.
Heavy-duty jigsaws: These weigh over 10 pounds. They are bigger and appropriate for professionals. These are high-end models with several enhanced features but are more difficult to control.

The jigsaw size is important as it determines the level of control you have on the equipment during operation. You want a jigsaw you can hold firmly and control easily without wearing out your hand. The jigsaw should be heavy enough to cut through materials seamlessly but light enough for you to work with for prolonged periods. If you are a beginner, a lightweight jigsaw might be the best option for you. As your skills improve, you can move on to bigger and more advanced jigsaws.

Power

A vital feature to consider when buying a jigsaw is power. Power is a function of the current and voltage running through the device. The higher the current and voltage, the higher the cutting power the machine generates. A jigsaw with higher wattage and current cut through the material faster. Domestic jigsaws come between 350-700 watts while professional jigsaws can have power ratings up to 1000-1500 watts

If you are buying a corded jigsaw, the power will be in Amps, the unit for electric current while battery-powered models show power in Volts. You want a high-powered jigsaw if you will work on harder materials like metal, hardwood, or stainless sheet. A modestly powered jigsaw is ideal for softer materials like softwood and laminate.

Cutting Depth

You also want to consider the cutting depth of the jigsaw before buying. The cutting depth determines how far the saw can reach into the material, making it important to get a jigsaw with appropriate cutting depth. Cutting depth of 2.7 inches is ideal for domestic jigsaws while professionals should aim for 5.5 inches cutting depth.

Speed

Speed refers to the stroke rate, i.e., is the number of strokes the jigsaw blade makes per minute. In chainsaws and leaf blowers, we talk about revolutions per minute, but jigsaws use strokes per minute. Modern jigsaws on the market have SPM rates from 500 SPM to over 3500 SPM, more than enough for most cutting tasks you will need to handle with a jigsaw. However, you need a jigsaw with a variable stroke rate. This does not translate to the power of the jigsaw; it's only a measure of the speed.

Variable Speed

Jigsaws with variable speed allow you to regulate the speed of the blade as it cuts through the material. Different tasks require specific speeds to get excellent results. When you are making rough cuts to a soft material, fast speeds are great for accomplishing the task. For intricate curves and delicate cuts in hard, heavy materials, you need a slow and steady speed to get a correct outcome and avoid ruining the blade. If you want maximum utility from your jigsaw, get a model with variable speed feature.

Dust Blower

Jigsaws that come with dust blowers make your work easier by providing a clear line of sight of the cutting line. The cutting action of the saw generates sawdust which can cover the cutting line, increasing the risk of errors. The dust blower ensures your work area stays visible, even without the use of LED work light or LASER.

Low Vibration

You want your jigsaw to have vibration reduction features. The cutting action of the saw creates a lot of vibration which it transfers to your hand, wearing you down gradually. A jigsaw with a soft grip will reduce the vibration traveling through your hands, making it easier to handle the machine for longer. Also, low vibration makes your work more professional as it increases accuracy and precision.

Tool-less Blade Change

Tool-less blade change reduces the time to swap blades. This increases your productivity and ensures you end up with a great-looking work.

Trigger-Lock

The trigger lock feature holds the trigger in place while you maneuver the blade through the material. This feature will save you a lot of trouble as it helps you work more freely when you have a lot of tasks to cover.

Bevel Capacity

While jigsaws mostly make straight cuts, some cuts require cutting at a smaller angle to the material. It is advisable to buy a jigsaw that can bevel at different angles such as 60, 45, and 30 degrees.
For further knowledge on types of saws, check out our reciprocating saw reviews.
What is Orbital Action?
You should consider a jigsaw with orbital action. In a standard jigsaw, the blade cuts the material in an up-and-down motion. Orbital jigsaws cut the material with a weaving, in-out motion otherwise known as oscillating action, providing more control and precision. With orbital action, you have higher control of the jigsaw and can easily adapt the saw based on the properties of specific materials.
Features of a Professional Jigsaw
If you are considering a professional jigsaw, the following fundamentals are a must.

3 Must-Have Features to Look out for Before Buying a Professional Jigsaw
Power

A professional jigsaw should have a current rating of 5-7 Amps and a voltage of 18/20 volts. Going for a jigsaw of lesser power will make your work slower or even impossible. Corded jigsaws deliver a higher power output compared to cordless models, so consider your workload before choosing a professional jigsaw.

Orbital Action

A professional jigsaw also needs to have an orbital action cutting. While the pendulum action provides more precise cutting, it is difficult to use it to make curved and intricate cuts. And that is where the orbital cutting action excels. Make sure your professional jigsaw has both pendulum and orbital cutting features to get an all-around tool.

Variable Speed

As a professional, you want a jigsaw with at least four different speed settings. Specific materials require different speeds, making it essential to buy a jigsaw with as many speed settings as possible.
Types of Jigsaw
There are two main types of jigsaw including:
Electric jigsaws, and
Pneumatic jigsaws
Electric jigsaws

Electric jigsaws can also be grouped into corded and cordless jigsaws.

Corded Electric

Corded electric jigsaws run on mains electricity. These are more powerful compared to cordless models and have a longer run-time since they have a constant power supply. Corded jigsaws are categorized according to their wattage which can range from 400watts to 900watts and above. Corded jigsaws are ideal for cutting harder materials such as hardwood and metal sheets.

Pros

Deliver consistently for longer
Ideal for DIYers and professionals

Cons

The mobility is limited to the cord length

Cordless Jigsaw

Cordless electric jigsaws derive their powers from batteries. These types of jigsaws are more portable and mobile since they don't depend on mains electricity. Cordless jigsaws are rated according to the battery voltage which ranges from 12 to 48 volts and more. The main drawback of cordless jigsaws is they deliver a lower power output and cannot run for a long time. Cordless jigsaws are excellent for cutting wooden materials as these conserve their battery life. You can increase the output by purchasing an extra battery.

Pros

Cons

Runs out of power quickly
Lacks enough power to handle heavy-duty cutting tasks

Pneumatic Jigsaws

Pneumatic jigsaws use an air compressor to operate. These jigsaws are used for specific advanced cutting jobs by professionals. Pneumatic jigsaws rarely overheat because they are self-cooling, making them suitable for cutting high-density materials such as fiberglass or metal. They are also lighter than electric jigsaws.

Pros

The pneumatic jigsaw is more powerful compared to electric versions
Requires no electricity
Self-cooling feature
Ideal for heavy-duty cutting tasks

Cons

Suitable for professionals only
To be completely thorough, be sure to check out the pros & cons of jigsaw vs circular saw too!
Corded vs. Cordless Jigsaw
Should you buy a corded or cordless jigsaw? When buying a jigsaw, consider your options carefully to make the best purchasing decision. While corded jigsaws provide more power, cordless models offer unlimited mobility. Which of these features is more important for your job? Let's look at both types of jigsaws.
The Pros and Cons of a Corded Jigsaw
Pros of Corded Jigsaws
These are the most common type of modern jigsaw on the market.
They are powerful enough to cut through tough materials like metal, hardwood, stainless steel and more.
Corded jigsaws enjoy constant power supply as they come with an electric cable to connect with the mains. Thus, you can use them continuously without worrying about power.
Corded jigsaws weigh less than cordless models.
Cons of Corded Jigsaws
Corded jigsaws have a few drawbacks, including:
They are not mobile. Mobility depends on the power cord length.
It is useless during a power outage.
The power cord can interfere with the operation of the blade, and this can lead to damage and electric shock.
The Pros and Cons of a Cordless Jigsaw
Pros of Cordless Jigsaws
Cordless jigsaws provide an unprecedented level of mobility and portability since they carry their power in batteries.
They are ideal for off-site cutting tasks.
They are perfect for beginners and DIYers.
Cons of Cordless Jigsaws
Cordless jigsaws lack the ability to deliver power consistently. The machine stops when the battery runs flat.
They are heavier than corded models because of the additional weight of the battery.
Cordless jigsaws are not suitable for heavy-duty cutting tasks as it depletes their battery power quickly.
These types of jigsaws are also more expensive because of the additional cost of the battery and charger.
So, should you go corded or cordless? The answer to this question depends on the tasks you plan doing with the machine. Cordless jigsaws are ideal for places without reliable electricity or small cutting tasks involving soft materials. Conversely, you need a corded jigsaw for continuous, heavy-duty cutting tasks which involve hard, high-density materials. The corded jigsaw is the preferred tool for professionals while the cordless jigsaw is suitable for the enthusiastic DIYers and the beginner.
How Does a Jigsaw Work?
A jigsaw comprises a motor which moves a thin blade in a reciprocal or up-down motion to cut through materials. The designer of the jigsaw got his inspiration from the reciprocating movement of the needle in the sewing machine. The jigsaw has a set of eccentric gears that connect the motor to the blade.
The axes of these gears are off-center, allowing them to change the motor's rotary motion into an up-and-down vertical movement of the blade, i.e., a reciprocating movement. When you switch the power on, the motor rotates, but instead of a circular movement, the blade moves up and down thanks to the eccentric gears.
Sometimes, the jigsaw will cut in a circular pattern known as orbital cutting action. However, the general mode of cutting is the pendulum action where the blade cuts the material in the upstroke for a standard blade and down stroke for a reverse tooth blade.
The jigsaw rests on a shoe that is placed against a workpiece during use. You make a cut through the material by pulling the workpiece against the jigsaw's shoe. Most saws have a variable speed feature that allows the operator to adjust the motor speed to the requirements of specific materials. For plastic and metal and other harder materials, slow speed is ideal. Higher speeds are suitable for soft materials such as wood and laminate. Also, learn how to use a jigsaw safely.
What Materials Can a Jigsaw Cut?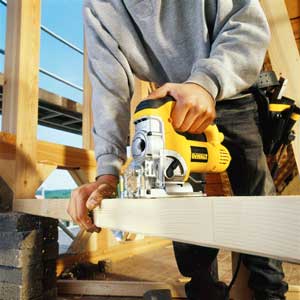 While a jigsaw was designed primarily to cut wood, the machine can cut a wide range of materials, provided you have a suitable blade installed. Here are materials a jigsaw can cut:
Wood: Wood is the target material for jigsaws. The machine is suitable for cutting through different wood types including hardwood, softwood, plywood, veneer, among others.
Metal: Jigsaws can also cut through different ferrous and non-ferrous metals including iron, aluminum, stainless steel, etc. Depending on the machine's power, a jigsaw can cut through metal up to 1″ thick.
Laminate: Jigsaws are ideal for making plunge cuts through laminate used for kitchen countertops and other materials with the same physical characteristics.
Plastic: A jigsaw with the correct blade and speed can cut through plastic and fiberglass.
Ceramic Tiles: Jigsaws with their thin and flexible blades can make curved cuts in ceramic tiles. Conversely, standard tile cutters can only make straight cuts.
Plasterboard: When you are making cutouts in plasterboard and drywall, a jigsaw provides an efficient and powered tool to complete the job quickly.
Although they have their similarities, it is important to learn the differences between scroll saw vs jigsaw.
What Are the Basic Parts of a Jigsaw?
A jigsaw has several parts that work together to make it a versatile machine.
The parts in a jigsaw include:
Handle

The handle can be a top handle or barrel grip. Both allow the user to hold the machine to the work surface, exerting pressure and guiding the saw through the material.

Shoe

This is the metal base of the machine. The shoe allows the operator to fix the jigsaw to a specific angle to the workpiece. Most jigsaw shoes are beveling adjustable to make cuts at different angles.

On-Off Switch

This switch connects and cuts off the machine from the power source. In most models, the position of the switch is underneath the handle. You press the button to operate the saw.

Blade Clamp

This is the part that holds the blade in place. It is a system of one or two screws which the user can tighten or loosen to lock or release the blade.

Blade Roller Guide

This part is found above the jigsaw shoe and supports the blade during operation. The blade is positioned between the guides to prevent it from bending while cutting.

Blade

This is the part that cuts the material. There are different blades for various materials.

Power Cord

The power cord, in corded jigsaws, provides an electric current to the machine.

Variable-Speed Dial

This dial allows you to change the speed of the tool based on the material.

Lock-on Button

The lock-on button allows the operator to set a specific speed for the jigsaw, freeing your hand from holding the on-off button continuously.

Orbital Action Dial

This button activates the orbital action. In orbital action mode, the jigsaw makes oscillatory cuts rather than straight cuts.
FAQ
Are jigsaw blades interchangeable?
Not all jigsaw blades are interchangeable. Jigsaws use either T-shank or U-shank blades, but some machines use both blade types. If your tool uses both blade types that give you more flexibility. However, a machine that uses only one type of blade cannot use the other. The good news is most modern jigsaws are compatible with both blade types.
When should you replace your jigsaw blade?
Replace your jigsaw's blade when you need to apply an additional force for the machine to cut through the material. If you check the old blade against a new blade and the old has round, worn-out teeth, it's time to swap blades.
Can jigsaw blades be sharpened?
Jigsaw blades made of soft steel can be sharpened but those made of hardened steel cannot be sharpened. However, it is easier and faster to buy replacements.
Here are the tips on how to use a jigsaw
Wrap Up
If you are shopping for the best jigsaw, you have everything and more in our comprehensive buying guide. Jigsaws are a must for every woodworker, but many become confused when it's time to make a choice.
In this review, we cover the fundamentals of buying a jigsaw and show you the essential features to have in your machine. Whether you are a professional or hobbyist, this piece will guide you to make the best choice when you need to buy a jigsaw.
Buying a jigsaw does not have to be challenging. Once you know the features vital for your tasks, you are halfway to making an excellent purchase decision. And that is why we provide as much detail as you need in this review to remove the guesswork out of your buying process.
Whether your projects require a powerful corded jigsaw or you only need a cordless model for occasional use, our in-depth jigsaw reviews offer all the details you need to make an informed choice.