Overview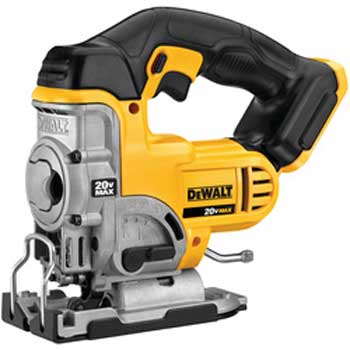 Having woodworking tools such as Jigsaws can be quite handy and convenient for many users. This is because you are sure to do all your wood alterations, DIY projects and even fix things easily. In this industry, most users will be torn between corded electric and battery powered jigsaws. However, the battery-powered devices are preferred especially when one wants to use it in areas that there is no power supply.
DeWalt, a company that is known for its high quality and power in their power tools has been able to assemble the DCS331B 20-Volt Jig Saw. This device has unique adjustable features which give variety and comfortability to the consumers. This article delves deeper into these features, the pros and even cons of the DCS331B 20-Volt Jigsaw.
Features and Pros
Ergonomic Design and Flexibility

This device is designed in such a way that you are able to change the blade easily. The 5.84 pounds' tool measures 11.2 x 11 x 3.9 inches, and it looks compact. Its size is 11.2 x 11 x 3.9 inches which ensure that you are able to handle it comfortably in your hands.

Dewalt included an all-metal lever-action keyless blade which in turn make this tool durable. The keyless blade design also ensures that you change the blades easily. The manufacturer recommends using the right T-shank blade for your tasks so as to facilitate the longevity of the product.

An adjustable dust blower is also present. Debris and bits of metal are likely to fall all over the place, and the role of the blower is to remove them. This reduces your downtime, and your projects are completed in a faster way. A large handle is inclusive, and this ensures that you handle the device effectively.

Powerful Performance

It is ideal to note that the performance of any Jigsaw will be tied to its source of power. For the DCS331B 20-Volt Jig Saw, the 20V battery will ensure that you go on with your tasks uninterrupted. To give you ultimate control over the battery, Dewalt included an LED light on the battery meter.

The 3Ah battery technology is efficient and gives this device enough runtime. This tool has an estimated speed of 0-3000 stroke per minute which is quite high at this range. Besides, you are given the ultimate control over the speed of the device through the trigger.

There are 4 uniquely positioned orbital settings which allow for flexibility during cutting. Hence, you are granted the liberty to perform curved cuts. A variable speed control helps you cut fast or slow according to your preferences.

Durability

This Jigsaw has an all-metal shoe bevel that has a variety of detents that range from 0, 15, 30 and 45 degrees. These allow you to cut different materials comfortably. There is also an anti-slip comfort grip which adds to the comfortability of the user. Dewalt also included a 3-year limited warranty on this product which is quite commendable as there are other manufacturers that offer lesser periods.
It is therefore clear DCS331B 20-Volt Jigsaw has numerous features that in turn contribute to its pros. You are sure to get unmatched performance with this device given that Dewalt is a company that is associated with quality products.
However, there are a few cons which are discussed in the next section.
Cons
Limitation in T-Shank Blades

This device only uses T-shank blades which limits the flexibility of the user. In this, in case your blade is faulty, you will have to get an original T-Shank blade which would waste both time and resources. However, Dewalt states that these are quality blades and the best in the market. They will therefore comfortably face any material with ease.

No Battery or Charger in the Purchase

This tool comes without the battery or the charger. The consumers, therefore, have to purchase these which adds to the expenses. It also wastes lots of time.
It would be ideal if all the parts came in a single unit. However, considering that this tool has a good performance, it would be ideal to take your time and get all the required parts. In the long run, it will give an edge over other users.

Blade Locking System for Beginners

A few users have complained that the blade locking system is a bit off. However, it is ideal to note that the manufacturer has a detailed manual that helps you understand the full functionality of the device. When you understand the functioning of the device, you will enjoy its smooth performance.
We've also selected the 6 best jigsaws. To check out in-depth reviews of all the latest jigsaws head over to our jigsaw reviews.
Wrap Up
This unique tool by Dewalt has critical features that are unique in the industry and hence will ensure that your projects are completed on time. Besides, it has the quality of Dewalt and you are guaranteed that it will serve you for long. It offers flexibility, solid performance hence consider it in your next purchase.