Overview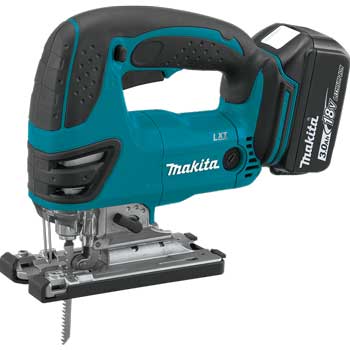 Cordless jigsaws are essential when it comes to the creation of cuts in wood, ceramic or even metal, especially in instances that power supply is not available. These kinds of jigsaws are also handy to most consumers as they do not have a cable that gets in the way of your task. In this, it is ideal to note that manufacturers have been keen to produce unique tools that are in line with the advancements in technology in the current era.
However, the increase in the number of producers makes it hard for consumers to make credible decisions in their moments of purchase. Makita, a renowned company in the power tool industry, has come up with the XVJ03Z 18-Volt LXT Lithium-Ion Jig Saw. This is a unique tool that is built for power. It has a unique motor that contributes to its unique performance. This article will be looking at the features, pros, and cons of the XVJ03Z 18 Jigsaw.
Features and Pros
Ergonomic Design

Makita invested in a cool design in the making of the XVJ03Z 18-Volt Jigsaw. With a weight of 6.1 lbs with battery on and a size of 13 x 4 x 10 inches, this device is easy to carry around and will also ensure that you do not experience fatigue fast. The manufacturer also ensured that they put a heavy gauge in the combination of a precision base which allows the user to have an accurate and smooth cut. The device is also easy to handle as it perfectly fits the hand of the user. Makita also equipped it with a low sound technology which ensures that you operate comfortably without much noise.

Powerful Performance

This device has a unique variable speed motor which gives you 0-2600 strokes and facilitates efficient and fast cutting. The choice of setting, in this case, will largely be dictated by the material you are cutting. The heavy gauge and precision base also contribute to the excellent performance of the device. The manufacturer states that the XVJ03Z 18-Volt Jig Saw is so powerful that it will easily take 25/32 inches of aluminum when placed at 90 degrees.
This model is quite unique in that to boost its performance level, its 18Volt LXT battery tends to charge fast. The technology used in the making of the cell also makes it last for a long period of time while performing your tasks and to the overall durability.
The 6 setting variable speed control also brings uniqueness to this device in that you have the liberty to change the speed. A small dial exists, and you can simply twist it to change the settings to the optimal ones. For instance, 3 orbital parameters exist, and straight cutting is available to enable you to cut a wide variety of materials.

Convenience

Most manufacturers will lack to give both power and convenience at the same time. Makita has made this model comfortable and convenient to the users through the use of a 2 finger variable speed trigger.
This device also has a brushless motor that is computer operated. The brushless motor technology has been adopted by Makita in this device as it helps facilitate durability.
The durability comes about from the fact that overheating is highly reduced in the motor through the use of an in-built cooler. You are therefore guaranteed that your device will stay strong and serve its purpose. To add to the convenience of the tool, the manufacturer was quick to equip it with a built-in LED light which illuminates the work area. The user hence enjoys using this tool each time.
It is clear from above that the XVJ03Z 18-Volt LXT jigsaw has numerous features that make it stand out in this range. Makita also included a 3-year warranty on the device which makes the deal even sweeter for you.
However, it has a few cons that are highlighted in the next section.
Cons:
Expensive

As compared to other products in this range, the XVJ03Z 18 Volt LXT Jigsaw is quite expensive. Many consumers have complained that the manufacturer had only the professionals in mind in the making of the device. However, Makita insists that the quality and performance of its device are worth the price. As such, consumers should consider a purchase of the device as a one-time investment as it will serve them for long.

Lack of Battery

This tool comes as a stand-alone and the consumer has to get a battery at an extra cost. This is inconveniencing to most users as they would expect a product that is ready to use. However, the fact that this tool is cordless compensates for this con. Once you get a battery and charge it, you will be good to operate even in remote areas.
In our updated jigsaw buying guide, we look at the top jigsaws available to buy right now!
Wrap Up
It is therefore evident that the Makita XVJ03Z 18-Volt LXT jigsaw has numerous positives. One of which includes a high quality that makes it durable and has an effective performance. Coming from a renowned brand, you are assured that this tool will get all your work done.