Scroll saws can be confusing. These tools look like a jigsaw and a miter saw, but they are different. A scroll saw is a powerful machine in the hands of a skilled woodworker and artisan. It is the preferred tool for making detailed intricate designs and cuts on an array of materials. But choosing the best scroll saw is a challenge for professionals and DIYers. Whether you need advanced scroll saws or want a simple model for your personal projects, our scroll saw reviews offer an in-depth analysis and buying guide to help you make the right buying choice.
There are many scroll saw brands on the market, but you need a model with the features you need to excel at your work. And that is why this piece goes above and beyond to provide all the details on features, operation, and essentials to look for when purchasing a scroll saw.
Best Scroll Saws
1. Delta Power 40-695 Scroll Saw
The Delta Power 40-695 scroll saw features an oversized 16-inch by 24-inch table that tilts right or left, allowing you to get the perfect work angle. This powerful machine comes with electronic variable speed adjustable from 400 to 1,750 SPM, making it ideal for a wide range of cutting tasks. An adjustable dust hose blows off debris and sawdust from the work surface, providing a clear line of sight to deliver professional results.
The Delta Power 40-695 scroll saw also comes with a stand and a work light for constant illumination, increasing precision and results. The on-tool storage area offers clutter-free protection for the blades. Thanks to the dual parallel-link arm design, the 40-695 scroll saws enjoy lower vibration while the blade is always perpendicular to the work surface. An innovative upper arm lock makes swapping blades fast, safe and easy. If you need a powerful scroll saw which can handle a wide range of applications, the Delta Power 40-695 scroll saw is reliable hardware. Read the full review → Delta 40-695
2. Excalibur Ex-16 Tilting Head Scroll Saw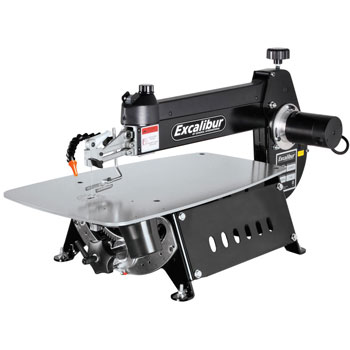 The Excalibur Ex-16 tilting head scroll saw is a dynamic tool which multiple applications. Unlike many models that table tilt, the Ex-16 has a unique blade head that tilts 30° left and 45° right, allowing you to keep the workpiece stable at all times. This improves control and enhances accuracy and precision while delivering up to 2-inch of cutting depth. This scroll saw comes with an upper and lower blade guard assembly that protects the operator's hands from accidental contact with the blade and a switch protection device prevents accidental start-ups.
The Excalibur Ex-16 offers variable speed of 400-1400 SPM, allowing you to tackle a wide range of tasks and materials. The constant torque permanent magnet motor provides impressive speed and tension adjustments. Tool-less blade clamps allow for seamless blade swaps and an onboard dust blower provides a clear line of sight on the work surface at all times. Read the full review →  Excalibur EX-16
3. DeWalt DW788 20-inch Scroll Saw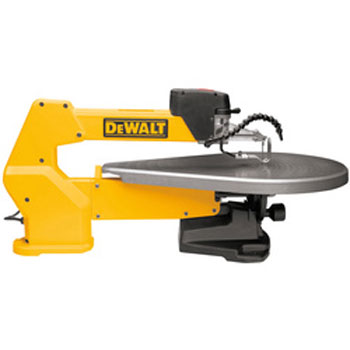 This powerful scroll saw from DEWALT is in a class of its own. With a double parallel-link arm design, the DW788 offers a low-vibration and reduced noise operation to deliver precision cuts. A unique tool-less blade clamp allows for fast and easy blade swaps. It comes with an on-off switch for quick and efficient control of the machine during and after use. An electronic variable speed allows the tool to handle a wide range of cutting task and materials. The DW788 comes with a flexible dust blower that allows a neat and clean work surface, enhancing work neatness and results.
The DW788 features an arm design which allows the tool to pivot from the back to the front, reducing arm movement for quieter and more efficient operation. The machine can make 2″ deep cuts and the arm allows for easy threading for inside cuts. The DW788 features an oversized cast-iron table which can bevel at 45 degrees left and right while providing improved material support. Read the full review → DEWALT DW788
4. Shop Fox W1713 16-inch Scroll Saw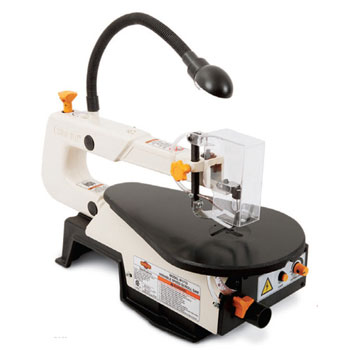 Powered by a 1.2 Amp motor, the Shop Fox W1713 16-inch variable speed scroll saw comes in a light but versatile design. The saw features a gooseneck work light, dust port, dust blower, and pin blades. The variable speed scroll is adjustable from 550 to 1700 SPM.
The W1713 comes in a cast-iron construction with an extra cutting capacity which delivers an impressive cutting ability in a variety of materials. The large 45-degree tilt table allows for getting the right angles for improved accuracy. Changing blades is easy thanks to the plain or pin-end saw blades and adapters. There is an air nozzle that blows off wood debris from the workpiece to provide a clear line of cut. The gooseneck work light provides ample illumination.
The W171 has an adjustable hold-down shoe that ensures the workpiece is balanced during operation while the table lock knob and tilt scale helps to tilt the table when making horizontal angle cuts.
5. WEN 3920 16-inch Scroll Saw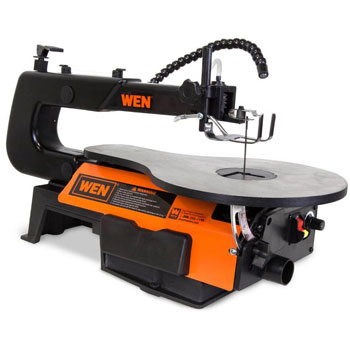 The WEN 3920 comes in a unique construction which allows blades in two directions for exceptional ripping capacity. The 1.2Amps, 120Volts motor features a variable speed function adjustable from 400-1600 strokes per minute. It comes with a large 16-inch by 11-inch table which can bevel from 0-45 degrees to the left, making angled cuts easier.
The WEN 3920 can cut at depths of 2 inches while the standard position has a 16-inch throat depth. The machine comes with a cast-iron base and foot lock clamp for more stability of the workpiece during operation. An air pump keeps the line of work clean and visible while a flex light offers consistent illumination for cleaner and more professional results.
The WEN 3920 offers an innovative blade holder that makes changing blades easy and fast thanks to an easily accessible tension-release switch. It comes with a two-year warranty.
6. Dremel MS20-01 Compact Scroll Saw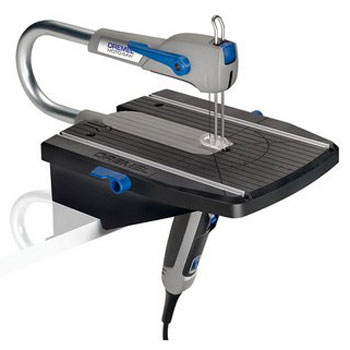 The Dremel MS20-01 is an advanced scroll saw with a beautiful, non-traditional design. The MOTO-SAW is a versatile saw that can cut a variety of materials including wood, plastic, laminate, metal, and PVC. Thanks to its detachable coping feature, you can use the MS20-01 either as a stationary scroll saw or portable motorized coping saw. The auto-tensioning quick change function maintains the right tensioning for more precise cuts. A fast clamp base allows you to mount the tool to a wide range of work surfaces including tables and benches.
Assembling and using the Dremel MS20-01 scroll saw is fast thanks to its compact and ergonomic design. With the tool-free blade change mechanism, swapping blades is easy and fast. Regardless of the material you are cutting, the MS20-01 offers impressive versatility and enhanced performance in all work conditions.
What Is a Scroll Saw?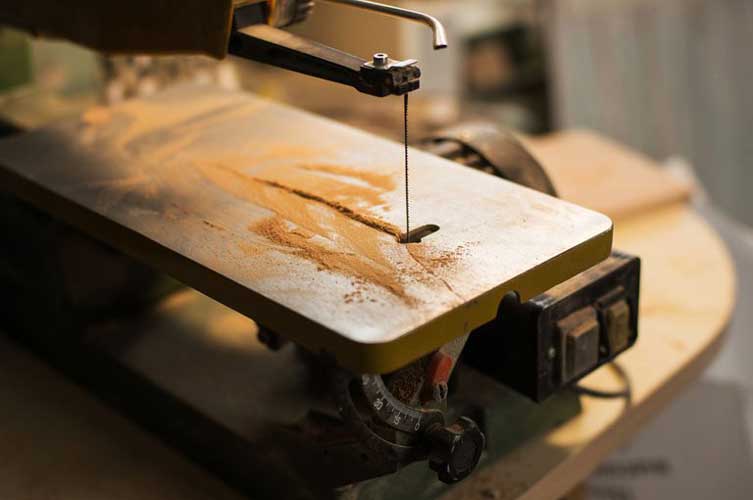 The scroll saw is a compact pedal or electric-powered saw used to make intricate curves in a wide range of materials such as wood, plastic, laminate, and metal among others. The saw has a pivoting table that allows it cut at extreme angles, thus making it an essential tool for intricate curves. Woodworkers and artisans who need to make intricate cuts and curves on different materials use the scroll saw to accomplish a variety of complicated tasks easily. There are two types of scroll saws including:
The pedal-operated and
The electric scroll saw
The pedal-operated scroll saw provides exceptional freedom as it leaves the operator's hands-free to maneuver the workpiece.
Most scroll saws come with a cast-iron base, tilting stand and a flexible light that illuminates the workpiece during operation. There are many leading brands that make high-quality scroll saws including DEWALT, DREMEL, Excalibur, and more.
Because of its small size and ease-of-use, professionals use the scroll saw as an introductory tool for new woodworking apprentices.
What Is a Scroll Saw Used for?
A scroll saw is ideal for a wide range of applications such as:
Cutting angles
Making intricate designs
Creating curves in a variety of materials
Making dovetail joints
Creating think cuts
The scroll saw is not only versatile regarding the tasks it can handle, but like the best jigsaw models, it is perfect for working on a wide range of materials.
A scroll saw is an excellent tool for making wooden portraits, furniture designs, lettered signs, intarsia (using different wood species to create patterns), marquetry, and dovetail joints. Whether for creating intricate patterns in wood, making detailed portraits, or as a standard tool for training beginner woodworkers, the scroll saw is a dynamic machine with impressive utility.
Scroll Saw Buying Guide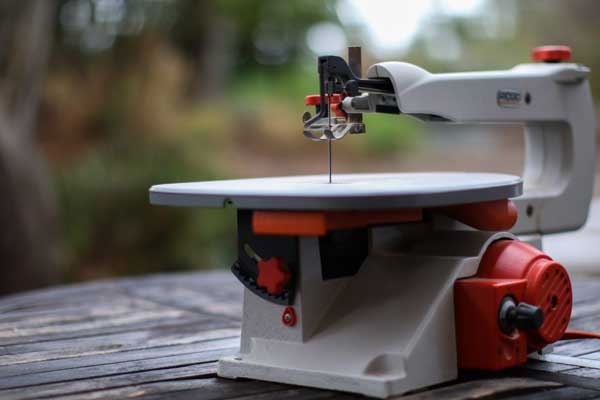 When you are shopping for a scroll saw, it is important to know what you want in the machine. A scroll saw can be pricy, so you need to get it right the first time to avoid wasting resources.
In this buying guide, we look at the essential features to look for in a scroll saw, additional functions that will increase utility and more.
You can also check our band saw reviews to learn what to look for when buying a band saw.
Here's What to Look for if You Want to Buy the Best Scroll Saw Possible
Before you buy a scroll saw, you need to consider factors such as;
Type of Project

Are you a woodworker or an artisan? There are many brands and models of scroll saws on the market with a wide range of features and capabilities. The work you intend to do will determine the model or type of scroll saw you choose.

Skill Level

Whether you are a woodworker, artisan, or craftsman, you need to consider your level of proficiency at using the scroll saw before buying one. Scroll saws come in different sizes and power ratings. You need to get a model ideal for your skill level to ensure maximum utility.

Speed and Capacity

You need a scroll saw with speed and capacity to deliver on projects. This will require you to check the power rating and the size of the motor. You may also need to determine the availability of variable speed so you can use the machine for different tasks and materials.

Material

The material you intend to work on is essential when buying a scroll saw. Remember that the power required to cut through a metal differs from what you need to make intricate cuts through a cork or laminate. Make sure you are buying a scroll saw that will enhance your productivity and improve your results.

Budget

The higher the specs of a scroll saw, the more you will pay to own it. It is important to consider your budget before choosing the tool. If a small unit will do for your needs, go for it. But if you are a professional, never buy an unsuitable tool because you want to save cash. It will cost you more.
Once you are clear about the purpose of buying the scroll saw and have a definitive budget, it is time to check out essential features that must be present in the machine. The following features will enhance the utility of your scroll saw.

Throat Length

The throat size is the distance between the scroll saw blade and the back of the saw. This feature is vital as it determines the work size the machine can handle at once. The rule of thumb here is that a scroll saw can cut a material double its throat length. That means a 20-inch scroll saw can cut through a 40-inch inch wood.
If you check the box of your scroll saw, you might find a value such as a 24-inch scroll saw. The "24-inch" is the throat size of the scroll saw. As a beginner woodworker, a 16″ scroll saw is simple and yet versatile enough to allow you to quickly learn the ropes of the profession. More advanced professionals can use scroll saws of 20″ throat length and above.
Industrial projects may need up to 30″ throat length, but most professional-grade works are perfect for 20-21-inch scroll saws. Make sure the model you choose has enough space to handle the type of projects you do.

Work Table

There are three important factors to consider in a scroll saw's work table including:

Size: You should buy a scroll saw with adequate table space so you can work and maneuver your projects freely with little to no difficulty.
Construction: The work table must be sturdy enough to accommodate a wide range of materials. The best scroll saw work tables are made from cast iron and aluminum and you should go for that. A wooden or plastic table lacks the durability to hold its own for long.
Material: The material of the table should have a smooth texture. This will make it easy to move the workpiece around during operation.

Blade Type

Scroll saws have either a:

Pinned blade, or
Plain blade

Pinned blades are sturdy as they are designed for cutting through thicker materials, making them difficult to use for intricate cuts.
However, plain blades come in a wide range of designs that provide more versatility and freedom when making intricate cuts but need a clamping mechanism to hold them in the machine.

Tool-less Blade Changes

A scroll saw with a tool-less blade change allows for faster and more efficient blade swaps, particularly when you are handling big projects. With this feature, you only need your fingers to remove an old blade.
However, tooled blade changes can be time wasting, although they can also last longer. It is important to note that the tool-less blade change mechanism can become damaged and you will need to replace it. Consider your options before buying. If speed is not a great concern for your scroll saw operations, a tooled blade change is not a bad idea.

Variable Speed

The variable speed feature is one of the best things about modern scroll saws. Regardless of the engine power or motor size, a scroll saw with a variable speed can handle a wide range of projects and materials.
Like jigsaws, the speed of scroll saws is calibrated in strokes per minute.
Most scroll saw brands come with variable speed controls that allow the operator to adjust the motor's power based on the job requirements. Higher speeds are used for hard materials such as hardwood and metal while lower speeds are ideal for softwood, plastic, laminate, paper, and other soft materials.

Table Tilt or Blade Tilt System

This feature allows you to make angled cuts with ease. It is better to go for a blade tilt system as this leaves the table in a fixed position, improving precision and accuracy.

Stable Base

You want a scroll saw with a base you can clamp securely to a workbench. This provides a stable and level work surface, reduces vibration and noise, and improves the work quality.

Other Features

Features such as blade storage, work lights, dust collection, and others are not essential but can improve your work on the scroll saw.
Corded vs. Cordless Scroll Saws
When classifying scroll saws according to their power supply, there are two types namely:
Corded, and
Cordless Scroll Saws
Corded Scroll Saw
Corded scroll saws need to be connected to the power outlet to work. They have electrical cables of varying lengths and most have low amperage, i.e. the amount of current the machine needs to work.
Pros
They are more powerful
Can work nonstop as long as there is power
Lighter and easier to maneuver
Cons
Lacks mobility
Can't work without a mains supply
Cordless Scroll Saws
Cordless scroll saws are powered by batteries. These tools can work for extended periods and are mobile.
Pros
Portable and mobile
Can be used off-site
Cons
Heavier than corded electric versions
Can't work for sustained periods
May not be able to deliver higher cutting power
Types of Scroll Saws
There are many types of scroll saw based on the power source and the design. Here, we look at the type of scroll saws according to the arm design. These include:
Parallel arm scroll saw
Double Parallel link scroll saw and
C-Arm link scroll saw
1. Parallel Arm Scroll Saw
This is the most popular scroll saw design on the market. The parallel arm features a pair of arms that work together to create an up and down motion. In parallel arm scroll saws, the blade moves is a straight vertical direction, allowing clean, precise cuts while reducing vibration.
2. Double Parallel Link Scroll Saw
The double parallel-link scroll saw looks like the parallel arm scroll saw. However, it has a horizontal link which joins the arms to a pivoting beam at the back of the blade. While this arrangement is somehow cumbersome, it allows the variable speed motor to perform a back and forth movement rather than the up and down movement of the parallel arm. The horizontal link then converts the back and forth motion into a vertical movement.
The parallel link design is more susceptible to failure. However, the design allows for shorter arms, reducing vibration while increasing consistency and accuracy of cuts.
3. C-Arm Link Scroll Saw
The C-arm scroll saw uses a single C-shaped arm instead of the two found in parallel designs. This construction makes the blade oscillate from one point, producing an arc movement that gets through more material. However, the C-arm is less accurate compared to parallel scroll saws.
How Does a Scroll Saw Work?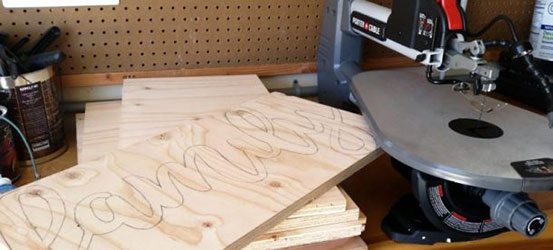 A scroll saw is a simple machine to use; even a child can use it safely and effectively. But do you know how this simple machine works?
The mode of operation of a scroll saw depends on the machine's design. However the design and position of the arms, the scroll saw has a motor that moves the blade.
A scroll saw works by moving the blade either up or down in a parallel arm model or an arc movement in the C-arm design. As the blade moves, it cuts through the material at depths up to two inches. The blade is positioned at the center of a small table which is usually tiltable to make angled cuts.
Thanks to constant tensioning mechanisms, scroll saw blades are now more efficient and last for longer. In the past, the rigid-arm scroll saw which was phased out in the 1970s could not maintain consistent blade tension, leading to wastage and low-quality results.
What Materials Can a Scroll Saw Cut?
A scroll saw can cut a wide variety of materials. This versatile power tool is ideal for woodworking, jewelry, carpentry, graphic design, plumbing, metal fabrication and more. Depending on your work, you may consider choosing scroll saw or band saw, but the former is the best tool for making intricate curves in tight angles. A scroll saw can be used to cut the following:
Wood: A scroll saw can cut through softwood and hardwood. All you need do is get the appropriate blade and motor speed.
Metal: This machine is also ideal for cutting through a variety of metals.
Concrete: Scroll saws can be used to cut and make precise, angled cuts in concrete.
Plastic: This material is also perfect for cutting with a scroll saw, particularly when making detailed curves.
Ceramic: A scroll saw can cut through ceramic and its derivatives.
Laminate: Laminate materials such as plywood and veneer are suitable for cutting with a scroll saw.
Bone: If you are looking to make intricate cuts and curves on a bone, a scroll saw offers precision and maneuverability to achieve your aims.
Ivory: Ivory, provided it is gotten from sustainable sources can be transformed into priceless works of art by a skilled craftsman using a scroll saw.
Cork: Yes, the same cork used to seal wine bottles also has other applications for which a scroll saw might be useful.
There are other materials which the scroll saw can cut efficiently. You only need the correct blade type for each material and task and set the machine's motor to the required speed. Regarding materials, the difference between scroll saw and jigsaw is minimal as both can handle almost the same type of substances.
What Are the Basic Parts of a Scroll Saw?
To understand the operating mechanism of the scroll saw, it is important to know the different parts that make up the machine. While the design may vary from one brand to another, the basic parts of a scroll saw are the same. Below are a scroll saw's basic parts:
Power Switch: This is a button that supplies and cuts off power to the scroll saw.
Table: Is the work surface where you place your material on while using the saw.
Variable Speed Knob: Most scroll saw models now have a variable speed knob that allows the operator to adjust the speed of the motor based on the job requirements.
Blade Guard: This protects your fingers from accidental contact during operation of the machine.
Blade Tension Knob: A dial that allows you to adjust the blade tension. You need to tighten the tensioner after swapping a blade.
Dust Blower: Keeps your line of sight clear on the work surface by blowing off debris and sawdust.
Tilt Lock Knob: Allows the operator to adjust the tilt of the table when making angled cuts on small works surfaces.
Blade Clamps: This system holds the blade in place.
Some scroll saw models have flexible work light that illuminates the work surface for increased accuracy.
FAQs & Answers
Do all scroll saws have flexible work light?
Availability of a work light in a scroll saw model depends on the manufacturer. While some brands include the feature in their models, others don't. If your work requires a high level of precision, a model with a work light will help improve the quality of your projects.
What is the most important feature to look for in a scroll saw?
The most essential feature in a scroll saw is the variable speed control. Regardless of the machine's power or motor size, a variable speed control allows you to work on a wide range of materials.
Can a scroll saw cut through drywall?
Yes, the scroll wall can cut through drywall, and even concrete, as long as you have the right blade and a sufficiently powerful motor.
Can I make my own stand?
Some scroll saws come with stands, but yours may not have one. If your project requires working in a seated or standing position, consider getting a suitable stand for your saw to optimize your results and increase comfort while working. You can make a simple stand with a couple of 2x4s.
If you have second doubts, our buying guide on power saw types with pictures will help you to pick the right one.
Wrap Up
Buying the best scroll saw is a huge task considering the number of factors you need to assess to make the right decision. In these scroll saw reviews, we cover all of the important details to help you choose the right model for your particular needs.
If you are a professional woodworker, you now know a 20″ scroll saw is adequate for most of your projects. However, as a beginner or DIYer, you don't need more than a 16″ scroll saw to perfect your hand in woodworking. These versatile tools are essential in any woodworking workshop, but they also come handy in plumbing, metal works, and many other specialized fields. Shopping for a new scroll saw doesn't have to be an impossible task. You have all the information to make an informed buying choice in this comprehensive guide.