Did you know that many people believe a table saw is the most fearsome power tool out there? We have to hand it to these tools – they truly pack a lot of power and can do an amazing job in cutting various materials. However, they are primarily used in woodworking, and you will see them everywhere. That means both private garages and large factory shops. Are you wondering what is the best table saw out there?
That may depend on individual expectations. There are portable models with limited power, as well as powerful models with limited portability. The trick is in finding the right balance to meet your needs. We will try to help you by providing table saw reviews for the tools that are currently very popular in the market. Before you go through with a purchase, we recommend checking out our detailed buying guide and finding out more about the specifics of these tools. Below you will find that we've investigated table saws in 2 sections; stationary table saws and portable table saws.
1. Bosch 4100-10 10 In. Gravity-Rise Worksite Table Saw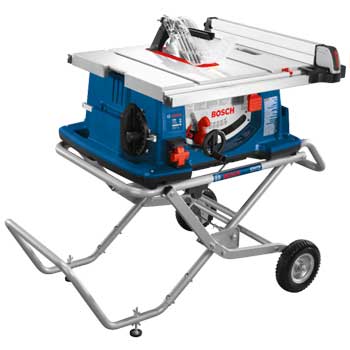 Whether you call this saw worksite or jobsite doesn't matter because specifications speak enough about its quality. The unit comes with a 10-inch table and a collapsible stand with wheels which enables portability. The item weighs only 60 pounds but still manages to pack a 4HP motor capable of delivering 3,650RPM. The manufacturer indicates you can use the saw for both crosscutting and ripping of delicate and rough wood pieces.
Anti-kickback pawls and riving knife contribute to your safety around the saw. When it comes to precision, Bosch included their rip fence named SquareLock to improve cutting accuracy. You can operate the saw with a single hand and rip pieces wide up to 25 inches. The stand may not be that sturdy, but as long as you are careful while operating, there should be no problems. The unit utilizes a standard 120V outlet.
Read the full review → Bosch 4100-10
2. DEWALT DWE7491RS 10-Inch Jobsite Table Saw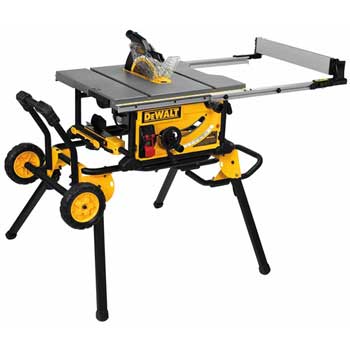 DEWALT is known as a reputable brand on the market, and they carefully pick the components used in making saws. We particularly liked the carbide blade, which has 24 teeth and can do a good job with all common applications. Combined with a 4,800RPM motor, it can cut filler and floorboards, lumber, and sheet material.
The rip capacity of the tool is set at 32 ½ inches. At 90 degrees, this saw can make 3 1/8-inch deep cuts while at 45 degrees the depth decreases to 2 ¼ inches. The stand is rolling and features wheels sturdy enough to effortlessly move the tool over curbs and steps. The included miter gauge could be a bit better, but if you feel like it is not adequate, it is easy to buy a new one. It is worth noting that the sawdust collection accessory does a great job.
Read the full review → DEWALT DWE7491RS
3. Makita 2705 10-Inch Contractor Table Saw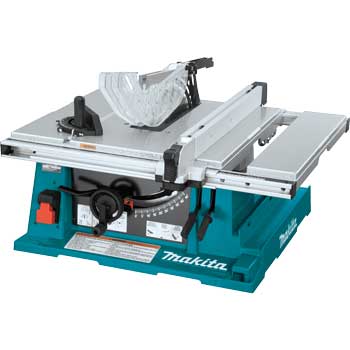 Makita is one of the manufacturers that accepted using the term "contractor" for jobsite saws. But let's ignore the terminology and focus on the features and performance. For starters, the blade has a 10-inch diameter and 3 5/8 inches cutting capacity. The tool comes with a miter gauge that enables 45-degree tilting. In that case, the cuts are limited to 2 ½-inch capacity.
The motor of the product is quite powerful at 4.800 RPM per minute. The table the product comes with measures 23 5/8 x 22 ¼ inches, which should give you plenty of space to work with different-sized materials. Riving knife and anti-kickback pawls are included as safety features while the rip fence enables improved precision. The saw weighs only 65.5 pounds, and it belongs to the category of portable saws. The result of aiming for such a lightweight is that the materials could have better durability, but if you take good care of the product, it can last longer than a year, which is the period covered by the warranty.
Read the full review → Makita 2705
4. DEWALT DWE7480 10 in. Compact Job Site Table Saw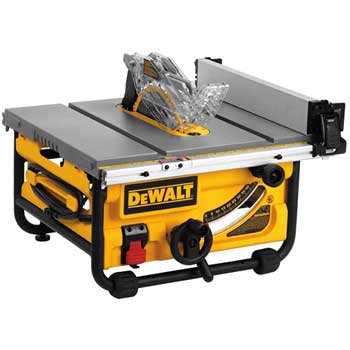 The product is not that different from the previous DEWALT model we mentioned, but there are certain differences. As for this saw, it has a blade with a diameter of 10 inches and 24 teeth. If you keep cuts at 90 degrees, the cutting depth is 3 1/8 inches. But the product also includes a miter gauge, which allows tilting up to 45 degrees. In that case, the depth of the cuts is set at a maximum of 2 ¼ inches.
The cutting capacity is set to 32 ½ inches. The stand included is rolling and comes with wheels that facilitate mobility. The rip fence is included as a feature, but it seems like it could have been made of a better-quality material. However, you will still be able to get used to it as long as you give yourself a bit of time to practice.
5. SKILSAW SPT70WT-01 Portable Worm Drive Table Saw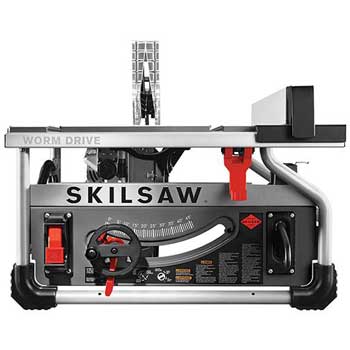 If you are looking for a small and portable entry-level saw for basic DIY projects, you can consider this model. The first thing you notice is how light this saw is – it weighs only 49 pounds. The manufacturer paid a lot of attention to the motor. The dual-field one included remains quite cool while operating, which can positively affect longevity.
The saw has a flat die-cast aluminum top while the rip capacity of the blade is set at 25 inches. When cutting, the depth is maximum 3 ½ inches. The product includes a rip fence, as well as a miter gauge which allows bevel adjustment up to 46 degrees. The saw also comes with an anti-kickback feature to protect the operator. Although it is suitable for newbies, you might need to invest some time and effort when adjusting it for the first time.
6. SKIL 3410-02 10-Inch Table Saw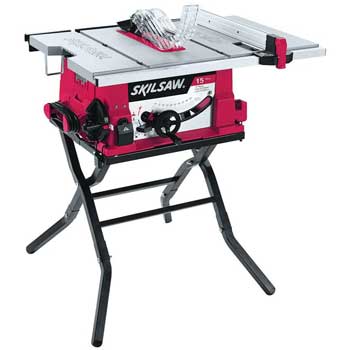 This is an affordable saw that was primarily designed to be used by all the DIYers out there. It can do a good job in cutting wood for home improvement projects you may be conducting in your garage. For a portable model, the saw has a solid motor with 5,000RPM. You can plug the model into any 120V power outlet.
The blade is a carbide-tooth one and has a 10-inch diameter. The depth of the cut can go to 3.5 inches at 90 degrees or 2.5 inches at 45 degrees. You can tilt the saw up to 47 degrees for angled cuts. The rip fence is there to help with precision, as well as the EZ view management system that facilitates accurate management. The folding stand is made out of steel and comes separately. Its setup is simple, durability adequate, and the size of the working space is 20 x 26 inches.
1. SawStop PCS31230-TGP252 3-HP Professional Cabinet Saw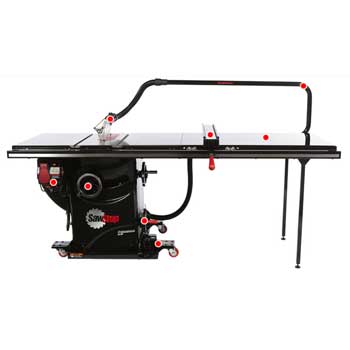 We are starting strongly with a stationary saw that belongs to the group of the most powerful ones out there. This cabinet unit has some cool features that you should consider. The manufacturer offers you to choose between two different motors – one with 1.75HP and the other with 3HP. The weight changes a bit depending on your pick, but other features remain the same.
The table is made of cast-iron, and it allows 27 x 20 inches of working space. The product comes with a wing extension, but you may need some time to level it with the table surface. The blade has 10 diameters and a left tilt option. If you make straight cuts, the depth is maximum 3 1/8 inches, but the unit can also handle angled cuts of up to 2 ¼ inches at 45 degrees. You will also get a dust collector for collecting residue.
Read the full review → SawStop PCS31230
2. Powermatic PM1000 1791001K Cabinet Table Saw 50-Inch Fence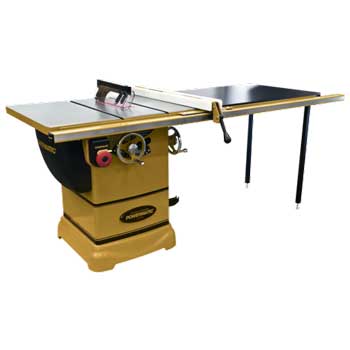 Despite this being a cabinet saw, you can still use the standard 115V outlet to power it. And thanks to the 1.75HP motor, the unit packs a handy amount of power. The interesting thing about the model is that it remains reasonably quiet during operation. The poly-V belt is included to ensure the efficiency of the motor and decrease vibration. The dust collection port will collect any reside to secure simple maintenance.
The saw weighs over 450 pounds, which limits its mobility. But considering this is a stationary tool, it is intended for those looking for a powerful tool that can perform serious cutting. Users will appreciate the hands-free switch for powering the unit on and off. The guard assembly additionally contributes to safety while the 50-inch rip fence facilitates precision. The miter gauge is quite sturdy and enables tilting of 60 degrees to both sides.
Read the full review → Powermatic PM1000
3. JET 708675PK XACTASAW Deluxe Table Saw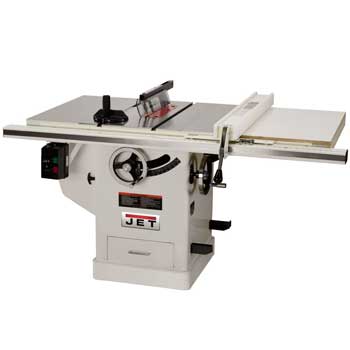 The model has a 3HP motor and a poly-V belt drive system to optimize power delivery. Considering how powerful it is, it remains fairly quiet when operating. The saw has a left side tilting feature. It also has a storage drawer located in the enclosed cabinet. Changing of the blade is simple thanks to the push arbor lock.
The blade has a 10-inch diameter, and the manufacturer used cast iron for the table measuring 42 x 29 inches. If you need extra room for working, just activate wing additions. When operating with a powerful saw, safety should be a primary concern. That is why this Jet's unit is equipped with a riving knife, which prevents the risk of kickback and binding, as well as the safety guard which will protect the user when cutting. The rip fence is reliable and T-square shaped for added safety and precision.
4. SawStop CNS175-TGP36 1.75Hp Contractor Saw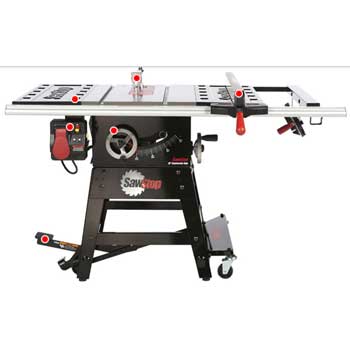 The first thing you notice is the black matte finish which makes this saw suitable for those looking for power tools that have a modern design. Although this unit is technically stationary, it does have a mobility option in the form of the mobile base designed by the manufacturer. The two fixed wheels combined with acceptable 240 pounds of weight make moving around possible, but not that easy.
The motor of the unit has 1.75HP of power while the blade has a 10-inch diameter. The product features a left tilt option for cuts deep up to 2 ¼ inches at 45 degrees. If you keep things flat, the depth increases to 3 1/8 inches. The working space on the cast iron table is 27 x 20 inches, but the wing extensions enable additional 27 x 12 inches on each side. When cutting, it might take a bit of exercise to ensure maximum precision.
5. Grizzly G0691 Cabinet Table Saw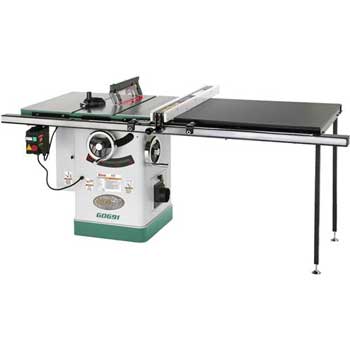 Grizzly tried to make an all-around saw that will be suitable for all workshop needs, but also serve for home improvement projects. The first thing you notice is the quality of the material used. The cast iron table comes with extensions that allow an ample working surface of 27 x 74 inches. The default cutting depth is 3/18 inches, but the included miter gauge enables tilting to 45 degrees and achieving 2 3/16 depth of the cuts.
The motor has 3HP of power and can achieve 4300 RPM on a 220v outlet. Additional features, such as dust collection and safety additions like a riving knife and motor guard are there, too. The saw is sturdy, but it weighs 580 pounds, which makes moving around almost impossible. However, as long as you find an ideal place for it, you will be delighted with the power and versatility of this tool. It could do a bit of a better job in collecting dust, but that is certainly not a deal-breaker.
6. Shop Fox W1837 10″ 2 hp Open-Stand Hybrid Table Saw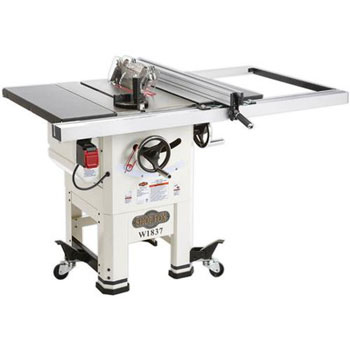 This table saw can operate using both types of outlets, although it has a pre-wired motor for running at 120V. The machine packs 2HP of power while the fence has a locking ability for improved precision. Cast iron was used to make the table with the dimensions of 27 x 40 inches. At the bottom, you will find a cabinet and a 4" port for dust collection.
The blade has a left tilting feature of maximum 45 degrees, and you can easily adjust the cutting angle. The 10-inch blade is carbide-tipped and has 40 teeth. The unit also comes with dado table inserts. The maximum cutting height is set at 3 ¼ for straight and 2 ¼ inches for angled cuts. Overall, this is an entry-level stationary saw for those that are looking for a professional-grade powerful model that won't require a particularly huge investment.
Table Saw Buying Guide
Have you set your mind on buying a table saw? The crucial thing now is not to rush and act like a smart buyer. Before finalizing a purchase, you need to know what model is the most fitting for you. You might know some basics about table saws, but we recommend asking these questions to make sure you found the right unit.
The Top 5 Things to Consider When Buying a Table Saw

Where You Will Use It?

The first thing to consider is where you will use the tool. That is important because it will give you the answer to an underlying question – do you need a portable or stationary saw? Portable tools generally belong in garages of individuals and small workshops. They are also adequate for places with limited spaces because they have a small footprint. Portable units are lightweight, small, and suitable for moving around, but they come with somewhat restricted power.
On the other hand, a stationary tool is a great choice for professionals and large workshops. They are powerful, sturdy, and extremely accurate in cutting. You will, however, need to ensure that there is enough room to fit the saw. Keep in mind that it is very difficult to move them, which is why they are called stationary.

What Materials Do You Plan to Cut?

The answer to this question will tell you a lot about your future saw. If you plan to stick to small pieces of wood, plastic, and aluminum, a portable and lightweight unit will be an excellent fit. However, if you are an experienced user who knows how to tackle large wood pieces, consider purchasing a stationary model with adequate power.
Another thing to take into account is how frequently you will cut with your saw. If you plan to spend some time cutting every day, aim for a unit that has extra durability.

What Should I Know about Safety?

Table saws fall into the category of high-risk tools, which is why safety is extremely important. Aside from applying common sense to keep yourself safe when operating a saw, here are some safety additions worth considering:

Paddle-style switch

– both your hands might be busy operating certain saws, which means that a turn off switch you can activate with your knee or leg can come in handy.

Blade guards

– a frequent inclusion in table saws, their task is to prevent accidental contact with the blade.

Riving knife

– they are equally wide as the blade, and their task is to keep the boards separated. Thanks to them, the pieces do not kick the operator back.

Which Additional Features Do You Need?

While these things are not mandatory, they can make your experience in operating the saw better:

Miter gauge

– it makes it possible to make angled cuts.

Dust collection

– plenty of dust fly around when cutting wood, which is why this feature may come in handy.

Side tables

– alternatively called wing additions, professionals might use them.

What Is Your Budget?

In the ideal world, we wouldn't ask this question at all. In reality, the prices may also affect your choice of the table saw to purchase. A smart strategy might be to prioritize the features you need in your desired unit. Consider if the budget can cover everything you want your tool to have. If necessary, eliminate a feature or two of the lowest priority.
One thing that the budget should never affect is sticking to a reputable brand. A table saw is a long-term investment and the best way to ensure that is to purchase a model designed by a company well-known in the industry.
A List of the Most Important Table Saw Features & Specifications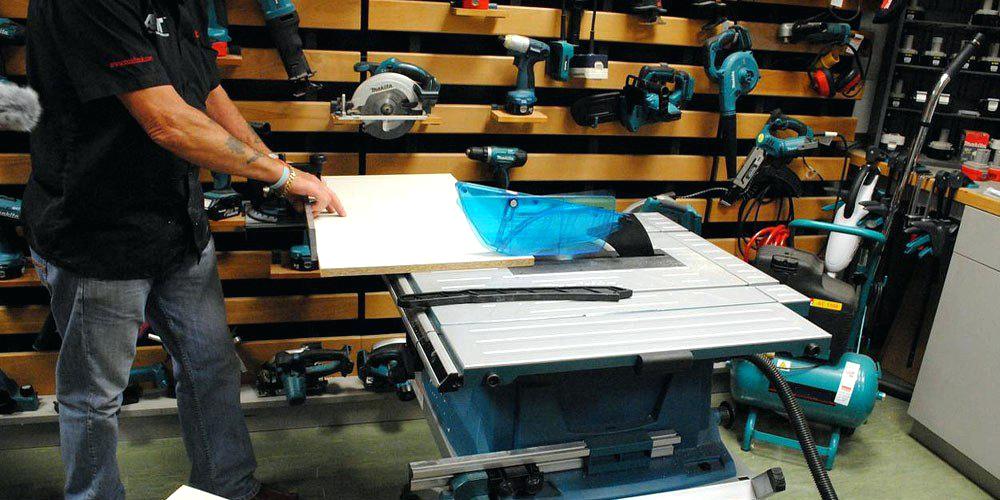 You might have taken a look at product descriptions for table saws, but that left a lot of questions in your mind. Here is an inside look at the crucial table saw features and specifications. Make sure to read them carefully so that you can be certain to make the right choice when purchasing a unit.
Blades

– this is the actual part that does the cutting. The general rule of thumb is that a higher price of the product brings a blade of better quality. Carbide-tipped and diamond blades require the highest investment. However, if you want a budget-friendly solution, sticking to steel blades is also an option. Keep in mind that low-quality blades tend to break and need replacement often.

Horsepower

– when it comes to the strength of the motor, it might be wise to consider the materials you will be cutting. If you frequently cut dense woods, you will need a strong saw. For standard woodworking, 1-2HP might be enough.

Rip fence

– it helps with the accuracy of the cut. You should always aim for rip fence made of sturdy material as stability is vital for this component. Despite their solid construction, it should still be easy to adjust them.

Table surface

– for starters, you should ensure that the top of the surface is flat. That is a pre-requirement for optimal precision when cutting. Other than that, make sure that the sturdiness and size meet your expectations.

Angled cuts

– you can achieve this with bevel capability. In other words, you can tilt the saw left or right to make angled cuts.

Voltage –

portable and contractor saws operate on 110V, but for true power, look for 220V electricity and a cabinet unit.
What Is the Best Table Saw for Beginners?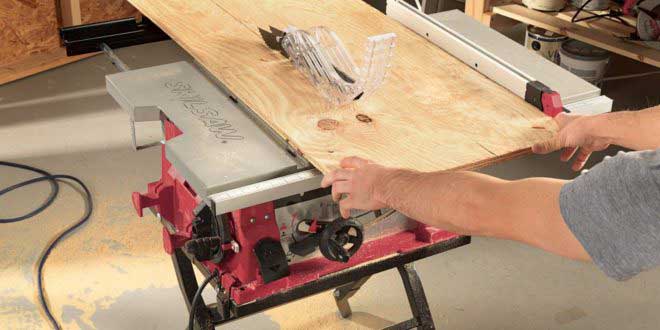 We cannot give a definite answer because this is not a one-size-fits-all situation. The best saw for your needs will depend on that very thing – your needs. However, the general rule of thumb is that the newcomers to the cutting world shouldn't buy extremely powerful and large table saws. These will end up to be a waste of money as you probably still do not know how to take full advantage of them.
As a beginner, the chances are you will need a table saw for cutting wood and other material of a standard size and weight. An average-sized and strength saw, such as jobsite or contractor, might be a wise choice. If you want added portability, go with a jobsite unit. Moreover, you can even consider trying a benchtop model if you only plan to handle only basic cutting projects. Once you improve your skills, you can consider upgrading to a strong unit.
Some people believe that a miter saw might be a better fit for beginners. However, in the duel of the miter saw vs table saw, the latter is a clear winner. The reason is versatility as you can use it for a variety of applications and cut types. Additionally, you can even add a miter gauge on a table saw to get the best out of both tools.
Different Types of Table Saws
Would you like to know more about the different table saw types? As you may have noticed from our reviews, there are two basic types of this saw:
Portable – you can move them around, which implies they are mostly lightweight and small.
Stationary – larger and more powerful models, but it is difficult to transport them.
While these categories are self-explanatory, you should also be aware of subcategories. Take a look at them below.
Portable Table Saws
Benchtop Table Saws

An absolute priority for benchtop saws is compactness. The manufacturers try to make them as light and small as possible. That means you should be ready to sacrifice a bit of power. It is why benchtop table saws mostly find their place in DIY workshops and garages. Although professionals do not use them often, individuals find that this saw is suitable for most projects they handle at home.
The majority of these tools does not come with wheels for transport or a stand. The reason why they fall into the category of portable tools is the fact that they are lightweight, which means you can move them around yourself.
They might not have enough power to do a solid job in cutting large wood pieces, but users utilize them for basic woodworking. You can, however, use them on composite materials like aluminum, as well as plastic. The rule of thumb is that lightweight tools are suitable for lightweight applications and that is what you should keep in mind when choosing a benchtop saw.

Jobsite Table Saws

Unlike benchtop units, these tools try to bring the best in terms of both portability and power. The first thing you notice is that they have a sturdier construction and look more robust compared to benchtop models. Jobsite table saws utilize direct-drive motors, which is the typical choice for portable units, but these feature extra power and durability. Thanks to that, you can use them for wood cutting and other hard applications. The accuracy of jobsite units is also taken to the next level thanks to the high quality of other components, such as blade adjustments and rip fences. You may even encounter the manufacturers offering an extension table with the unit.
More often than not, they come with a stand, which also boosts accuracy and simple operation. Jobsite saws may even include additional features, such as storage room or ports for collecting dust. The way you transport them is by utilizing wheels that are usually located at the bottom of the stand.
You may encounter people that are using the term "contractor" for jobsite saws. The reason for this is that many contractors opt for purchasing this saw when they need a tool they can move around. The crucial difference between the two is the term "compact." Jobsite units are relatively portable and fairly compact. The names may be synonymous, but the actual difference between the two types is significant.
Stationary Table Saws
Contractor Table Saws

The "original" contractor saw is a stationary one. You can consider them the entry-level step to the world of professional cutting. Although premium factories and workshops advanced to using a cabinet saw, some professionals stayed true to contractor units.
They feature belt-drive motors that are fairly powerful and extremely versatile. Additionally, they are quite sturdy and stable, which is primarily thanks to their weight, which can go up to 300 pounds. You may consider moving them around if you have a mobile base in your garage and workshop. Although they are not among the best-selling types today, contractor units are a thing of a tradition for some users. Moreover, they may be a suitable choice if you are looking a more affordable model, but you still need a stationary model.

Hybrid Table Saws

We see plenty of hybrid tools nowadays, and it was only a matter of time when hybrid table saws would appear. In the old days, contractor units had large outboard motors, and when they started manufacturing inboard units, users began calling them hybrid saws. This might not be quite accurate today, so if you ask us to define a hybrid saw, we would say it is a step forward compared to contractor saws, but still behind cabinet units in terms of power and performance.
As for characteristics of hybrid models, open-leg stands are a common occurrence, although you shouldn't be surprised if you encounter a fully enclosed one. The truth is that there is a bit of confusion when it comes to defining hybrid units. Perhaps the best way of doing that is saying that these are those stationary models that do not decisively fit into a cabinet or contractor categories.

Cabinet Table Saws

Are you looking for true power? If the answer is yes, you need a cabinet table saw. If you compare all the previously mentioned types, this is the most powerful model. The manufacturers design them to deliver exceptional performance. Although they may look like some hybrid saws, their features are entirely different. You can expect solid durability from a cabinet unit as each part should last for years to come. The sturdy construction of the saw should make it suitable for accurate cuts even when you are working with rough materials.
While newbies probably do not need the kind of power provided by a cabinet model, veterans and professionals will appreciate its characteristics. The fact that they have incredible precision accompanied by great power and stability is what paved their way to professional workshops, specialized schools, and factory shops.
A distinct feature of cabinet units is constant performance. You will need to adjust various things before using the tool, but making the adjustment once should cover you for some time to come. We mentioned power, so why not mentioned that motors on cabinet saws can have up to 5HP of strength. These models are suitable for a wide variety of materials, including large material sheets, plywood, hardwood, pine, etc. Their only downside is limited portability. You can put them on a mobile base, but even that is not an easy way to move around a 500-pound unit.
What Materials Can a Table Saw Cut?
The primary purpose of a table saw is to cut wood. The great thing about that is that it is suitable for making all sorts of cuts on wood, including ripping smaller and larger wood pieces. Apart from that, beveled and dado cuts are also a possibility, and you will need a bit of skill to make rabbet cuts. Furthermore, table saws allow miter and crosscuts but keep in mind that they cannot emulate the performance of the best miter saw out there.
Versatility is the strongest suit of table saws. Although most people used them for woodworking, they can cut other materials, too. They can do an excellent job with sheet plastic, as well as in cutting sheet brass and sheet aluminum.
What Is the Best Table Saw for Woodworking?
When a manufacturer designs a table saw, their primary concern is efficiency in cutting wood. In other words, the chances are you won't make a mistake as long as it has your preferred features. We cannot recommend a single table saw as the best model and type may depend on your preference. Some users prefer portability while others prefer working with a stationary saw to get extra power.
The advice we can provide is to stick to a reputable brand. Buying a saw made by an unknown manufacturer can lead to many problems. The quality of materials may be questionable, and you may end up replacing parts often. Or even worse, the saw may work for only a couple of months.
On the other hand, choosing a saw made by a reputable company means you will receive what you ordered. The saw will be in line with the features specified, and there will be no mystery when it comes to component quality. Moreover, most of these saws come with a generous warranty provided by the manufacturer.
What Are the Basic Parts of a Table Saw?
Is there are a better way to get to know a product than getting familiar with its basic parts? Here is an overview of the common parts every table saw has:
Tabletop

– an integral part of a saw as it has a huge role in securing accurate cutting. Tabletops should be flat and free of any bumps or dents so that they can do their job right. Cast-iron is the most common material used for tables.

Saw blade

– another essential component of a table saw is its blade. It depends on your needs, but 10-inch and 12-inch blades are the two most frequently used alternatives. Blades come in various designs, and you should choose a suitable one based on what you expect from them.

Rip fence

– a good tabletop and blade won't have a lot of worth without a high-quality rip fence. For those that might not know, you slide the piece you plan to cut against this part when feeding it onto the saw.

Tilt adjustment

– there are two variants to adjust the blade – left and right tilt, and they enable cutting angles.

Motor size

– the power depends on what are your expectations from the tool. A motor with 1-2 horsepower should cover you for most applications, but you can also go with stronger motors with up to 5 horsepower.

Miter gauge –

a small accessory in the shape of the letter "T." Its task is to direct the wood you feed through the saw. You should aim for a gauge that doesn't allow a lot of wiggling.
FAQs & Answers
Is Table Saw Better Than a Circular Saw?
Let's take a look at the difference between the table saw and circular saw. When it comes to materials they can cut, table units focus on wood, and they do an amazing job there. However, circular models can cut various other materials apart from wood. The problem is that circular tools are difficult to operate, especially if you never used a power tool before. Additionally, you cannot achieve a high level of accuracy with these units. You can consider checking out our circular saw buying guide to find more information about these models.
On the other hand, table saws offer precise rips and crosscuts. They do not have a steep learning curve, and you shouldn't have problems learning how to operate them. Their durability is also better compared to their circular counterparts.
Which Type of Saw Blade Should I Choose?
When it comes to saw blades, we will focus on four main categories:
Ripping – these blades cut along the lumber's grain. The cuts are quick, and the blade most often has 24-30 teeth.
Crosscutting – unlike the previous, these blades cut across the lumber's grain. Their number of teeth goes up to 90.
Combination – while they can handle both ripping and crosscutting, the problem is that they are experts for neither.
Composite – if you are dealing with something else than lumber, such as MDF or plywood, try these blades.
When Is the Right Time to Replace a Table Saw Blade?
Although there is no definite answer to this question, it should be enough to rely on your gut. If you frequently perform ripping, you will notice when the operation becomes more difficult. Additionally, the cuts may not be as precise as before. These are all signs that it is time for blade maintenance. You can start with cleaning the blade, but if you see that it doesn't perform better, it is time for a replacement.
Don't forget to check out our roundup of the high-quality track saw reviews.
Wrap Up
Congratulations, you've made it to the end of our table saw reviews. When selecting the saws, we tried to pick those units made by reputable brands and make the selection that will suit various tastes. We do hope that you noticed at least several models that suit your needs. But have you decided on the best table saw?
Our buying guide offers comprehensive information that can be of assistance when picking the unit that will meet and exceed your expectations. Make sure to return once again and read about different saw tool types, as well as questions to ask and features to consider during the buying process. Remember, buying a power tool is an investment for years to come. That is why it is vital to identify a unit that will become your best friend for all types of projects you may handle.