Intro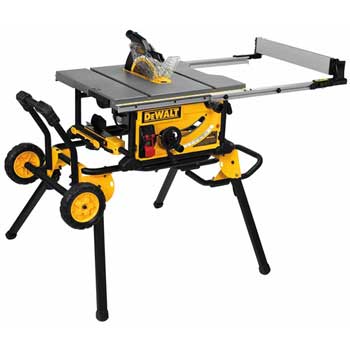 With a no-load speed of 4800 rpm, this DWE7491RS 10-inch table saw from DeWalt will cut anything in its path. It comes with a high-performance 15 Amp motor that delivers an insane amount of torque, enough to slice through hardwood and pressure-treated lumber in seconds.
Whether you are a mason, woodworker, or an enthusiastic DIYer, this saw can handle most cutting tasks tradesmen and handymen do on the jobsite.
The DWE7491RS features a proprietary material support and a flip-over ripping fence that makes it ideal for narrow rip cuts thanks to its 32.5″ rip capacity. This also makes it a perfect tool for cutting large trim and shelving materials.
Its rack and pinion fence system allows for easy, fast, and precise fence adjustments for exceptional results on your projects. Thanks to its telescoping rails, you can extend and retract the fence to transform the saw into a compact and easy-to-transport tool.
The DWE7491RS is easy to set up and operate. Its large heavy-duty wheels provide the rolling stand improved mobility over curbs, steps, and other jobsite obstacles. It comes with 2-inch dust collection ports that connect seamlessly to a vacuum to keep your work area clean.
This saw comes with a 26-1/4 inch x 22-inch table that provides exceptional material support and stability, allowing you 3-1/8-inch and 2-1/4 inch depth of cut at 90 degrees and 45 degrees, respectively.
If your work involves working with framing and sheeting material, making mortise and tendons, and other professional applications, the portable and flexible DWE7491RS is an excellent addition to your workshop.
Pros
The DWE7491RS is an upgrade of DeWalt's contractor table saws. This saw features several capabilities that make it an excellent choice over many others on the market. Here are some of its selling points.
Flexibility and Portability

Perhaps, the best thing about the DWE7491RS is the flexible design. Because it was designed primarily for use on jobsites, the saw comes with a rolling stand and large tires that can scale steps and jobsite debris with ease.
At 100 pounds, this tool is balanced, rugged and does not shift or move during use. Its larger and improved fence, flat table, and simple design means you can pack it easily, move it by hand or vehicle and set it up with ease.
While you may need some time to install this saw the first time, subsequent assembly and disassembly is fast and straightforward. The user manual provides clear instructions for assembling and adjusting the calibrations.
You can make a wide range of cuts with this saw including ripping sheets, framing, joints, and most cabinetry works although you need to fine-tune the fence to get the best results. It offers the common 24-1/2-inch rip capacity and the larger 32-1/2-inch capacity, allowing you to tackle any job that comes your way.

Improved Fence System

The DWE7491RS features a newer fence that helps you get the best out of your projects. Not only does the fence provide optimal support for materials, it makes cutting small and large workpieces fast and hitch-free.
You can move the fence position according to the material you are cutting and the readings are accurate out of the box. But for precise applications, you want to spend some time measuring and readjusting the fence as it can be a bit off in some units.
The fence rails extend and retract easily to facilitate easy movement of the tool. With the flip-over ripping fence, making a narrow rip cut is a breeze.

Safe Operation

A table saw can exert serious injuries on the operator if you switch it on by accident. In this model, a no-fail recessed power-on button ensures there are no near misses with the machine.
In dire situations, the large-stop on the button allows you to kick or knee the machine to an abrupt stop. However, it's important to use your safety equipment and practice power-off safety while using the blade.

Inbuilt Storage

Thanks to the on-board storage system, you can keep all your blades and components within easy reach. This cuts the time you spend fiddling for cutting tools or accessories, allowing you to spend more time on work that matters.
Cons
The DWE7491RS is an excellent contractor tool, but it's not perfect. Here are some shortcomings of this saw.
Table top is not flat

To the untrained eye, the DWE7491RS has a perfectly flat table top. But upon further inspection with a straightedge and dial gauge, some users discover that a 0.15″ slope across the table width.
While this has little to no impact on job quality of rough cuts, it might affect the precision of cabinet works. Plus, the material of the table can rub off quickly.

Few Accessories

Unlike earlier versions, the DWE7491RS has fewer accessories. But it provides an excellent performance in its primary role. But you can make customized accessories and adapters if you are keen to use this saw for specialized applications.
Want to know how to buy a jobsite table saw? Our helpful buying guide will tell you what to look for when it comes to selecting the best one.
Wrap Up
The DWE7491RS is a durable and versatile table saw for the serious contractor. It provides excellent mobility and can cut most materials on construction sites. This saw has a powerful motor, large tires and a solid build that will stand the test of time.
While it is expensive, the DWE7491RS delivers more than its price point. It is a worthy investment for constrictors and large home workshops.