Intro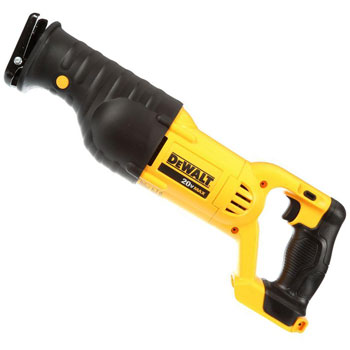 For some jobs, a cordless saw is necessary. When the need to cut through different types of metal and other types of material, a cordless reciprocating saw is a great tool. Dewalt has created a reciprocating saw to rival many of its competitors. The DCS380B model is a 20-volt, battery-powered reciprocating saw that can power through materials and deliver a precise cut every time. This reciprocating saw has a four-position blade clamp with a 1-1/8" stroke length. For the demolition project and for cutting through all types of materials, a reciprocating saw is the go-to tool for those needing to power through all types of material.
The Dewalt reciprocating saw has increased blade control and gives a faster cut speed. With features such as their pivoting, adjustable shoe and a user-friendly rubber grip, Dewalt has made a convenient, yet powerful saw.
Pros
Powerful Motor

With 3000 strokes per minute, the Dewalt reciprocating saw is lithium-ion battery powered. This reciprocating saw delivers a faster cutting speed than other saws in their category. With this type of power, the Dewalt can be used for not only pruning trees but cuts dimensional lumber and also power through bolts and angle iron. Being battery powered, many reciprocating saws will last for an hour or so. After that, a back-up battery would need to be used. To be able to power through your project with a durable saw is important. Dewalt reciprocating saw would have to be switched out. With the Dewalt saw, it starts strong so a lot can be accomplished with their powerful motor.

Convenient Features

Dewalt reciprocating saw has a shaft that is double oil sealed, which resists contamination. With the high demand of the reciprocating saw, it needs to be built to last. The Dewalt reciprocating saw has increased durability. User fatigue is a concern so having handles that provide comfort. Dewalt has rubber over-molded comfort grip. This delivers optimal comfort and control and lessens fatigue on the user.

Blade

A reciprocating saw should have a powerful motor as well as have a solid blade. The Dewalt reciprocating saw's blade has a four-position blade clamp which will help in creating the most precise cuts. Because of the blade clamp, the tool-free blade change has increased positional versatility. The four positions that the blade clamp allows for flush cutting which gives fast cuts and little to no vibration. The Dewalt DCS380B reciprocating saw also comes with a pivoting adjustable shoe. This does help to extend the blade life and allows for a deeper depth of cut control.
Cons
Battery Life

With any battery-powered tool, the time limit on use will always be a challenge. The Dewalt reciprocating saw comes with a 20-volt lithium-ion powered battery. Compared to other brands, the Dewalt DCS380B saw battery can cut through various materials for a consistent 30 minutes or so. What is found more often than not is the battery is holding a charge for less than that time. The 20-volt battery is not holding enough power to match being able to cut through materials. Some found that using a bigger battery it would mess with the battery connection. With it not being so powerful, users find it difficult to get through a full workday with this Dewalt saw. A saw like this model would be better for smaller, less intense jobs.

Blade Features

With better blade control and a faster cut speed, there are still some limitations to the Dewalt blade. The functionality of the blade has been an issue. The blade's quick-release mechanism jams open when changing blade types. To power through, there needs to be a variation of blades to work correctly. In addition to not being as powerful, there is also heavy vibration. A smaller issue with the Dewalt reciprocating saw is that is can lack a little torque.
Read on to find more details on choosing a reciprocating saw.
Final Thoughts
The Dewalt DCS380B reciprocating saw is a 20-volt, battery-powered tool that has features that are user-friendly. From the grip being rubber over-molded for comfort as well as durably sealed shaft, this Dewalt reduces user fatigue. This Dewalt gives 1-1/8" stroke length and the blade control is increased to provide faster cuts. The powerful motor kicks out 3000 strokes per minute and can cut accurately through various materials. The downside to this Dewalt reciprocating saw is that it is still battery powered. The limitation here is that the battery charge time is approximately 30 minutes. Just like any other battery-powered tool, the more battery life the saw has the saw will operate with more precision and power. While an alternate around this issue would be to get a bigger battery, this does seem to drain more power. The Dewalt would be best for those simple, lightweight jobs.