Intro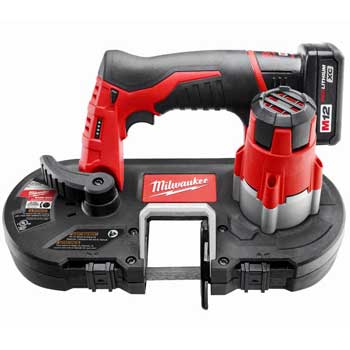 Milwaukee makes premium power tools with class-leading battery power solutions. Its 2429-21XC cordless bandsaw is the lightest of its kind on the market powered by the brand's legendary M12 Lithium-ion fuel cell. If you need a cordless bandsaw that provides exceptional handling and endless power, you probably won't get anything better than this product.
This bandsaw has 1-5/8″ cut capacity, enough to tackle a wide range of tasks and materials.
While Milwaukee claims this saw can make up to 150 3/4″ EMT cuts in 3 seconds, this may not be the case in reality. However, the XC energy-efficient battery allows the tool to make up to 50 cuts per charge, so you can work without interruption for longer in confidence. A powerful charger takes the battery from 0 to full charge in 30 minutes, allowing you to spend less time idle in between jobs.
The 2429-21XC was the first bandsaw on the market made for one-hand use. This makes it an ideal tool for both right-handed and left-handed contractors as most bandsaws target only the former.
This bandsaw comes in a sturdy plastic case with room for the saw, the motor, a battery, a charger, and spare blades. The tool is backed by a 5-year limited warranty and the battery has a 3-year limited warranty.
Pros
Milwaukee's 2429-21XC is a great saw with an impressive design that optimizes operation and productivity. The tool has the following advantages.
One-Handed Cuts

Most portable bandsaws are clumsy to use with one hand. The majority of the tools are designed for right-handed users, shortchanging a segment of the market that is left-handed.
The 2429-21XC solves this problem by being the first bandsaw light and compact enough to be operated by either hand. With this tool, you can get professional results from your projects without being ambidextrous.

Lightweight Design

The bandsaw weighs only 12.4 pounds with the battery, allowing you optimal control and handling with one hand. This makes it ideal for long, repetitive cutting tasks such as in construction sites and large workshops. You can work for extended periods using this saw with less fatigue without compromising the job quality.

Sturdy Construction

Like everything from Milwaukee, the 2429-21XC is a durable power tool that's built to last. This bandsaw is compact, light and comes in a tough plastic case for safe and easy storage and transportation.
The body comprises tough plastic and the pistol handle comes with grooves for improved grip. There is a blade guard that extends a few inches above the blade, providing a reference point for straight cuts. This helps also helps to prevent accidents, allowing you to work in relative safety.

Powerful Motor

The 2429-21XC is powered by an energy-efficient, versatile and high-performance motor. While you may not get the 150 cuts per charge quoted by Milwaukee, this motor can handle any professional or DIY job you throw at it.

Powerful Battery

The 2429-21XC comes with the M12 XC high capacity REDLITHIUM Battery from Milwaukee. Featuring leading-edge power-management technology, these batteries offer best-in-class power output that allows you to work for longer between charges.
There is also a fast charger in the box that takes the power pack from zero to full charge in 30 minutes. If you have any history with this brand, you know they are leaders in the cordless power tools industry and the REDLITHIUM Lithium-ion batteries offer some of the highest run-time on the market. In fact, you may not need to buy new batteries for other Milwaukee tools that run on this fuel pack as they last long.

Blade Tension Adjustment

This tool features a blade tensioning adjustment that allows you to change the blade tracking during operation. With this feature, you need not stop working to achieve the ideal tension to complete your tasks.

Warranty

Milwaukee provides a long warranty period for this tool, a testament of the quality and the confidence the company has in its products. The bandsaw is backed by a 5-year limited warranty while the battery comes with a 3-year limited warranty. If your product has any problem, contact Milwaukee for repairs or replacements.

LED Light

This saw comes with an LED light that is well positioned on the tool. The light focuses around the cut, allowing you to enjoy optimal visibility of the workpiece. Plus, it helps you work more effectively in dim and tight workspaces.
Cons
The only complain some users have about this tool is the price. This tool is expensive compared to other products with similar characteristics but its quality and performance are worth the extra dollar.
For more information, read our detailed bandsaw buying guide.
Wrap Up
The Milwaukee 2429-21XC cordless bandsaw is a great utility tool for professionals and DIYers. With the right tooling, this saw will cut through anything in less than 10 seconds. It comes with a powerful motor, a long-lasting and fast-charging battery and an easy-to-use design.