Overview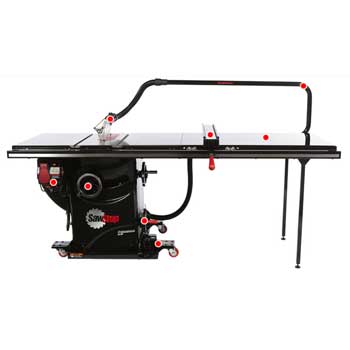 In the recent past, manufacturers have strived to make the most advanced cabinet saw around. This has created a variety from a consumers' perspective. However, it is ideal to note that the process of finding the best table saw that will meet all your needs is not an easy one. This is because some consumers will tend to prioritize convenience, others will prioritize the flexibility of the tool while others will go for the safest device. While it is good to keep your options open, SawStop have invented the PCS31230 cabinet saw that seeks to redefine your experiences. This is a device that has been fitted with the latest innovative features from SawStop. These features, the pros, and cons of this device will be looked into in detail.
Features and Pros
Compact Design

This tool comes in a convenient futuristic design. It measures 85.2 x 33 x 34 inches and consequently weighs 525 pounds. While this is hard to regard as a portable weight, the manufacturer has integrated a mobile base which makes the tool highly portable. The base is fitted with 2 pivoting as well as 2 stationary casters which facilitates the easy movement. The manufacturer invested heavily in the design of this tool as a unique dust collection system is inclusive. In this, a 4-inch dust port exists. Its role is to grant you a 99% dust-free working area. SawStop ensured that all the parts of the unit are packaged in neat blister packs which are well labelled.

Outstanding Performance

This machine is powered by a 1.75 HP motor which efficiently drives a 10-inch blade through almost all types of woods. The performance is also boosted by the adjusting wheels which are cast with spinner handles, locking knobs and chrome rims. With this, they feel rigid when turning as you go on with your tasks. SawStop also attributes the unique performance of this device to the blade replacement framework. Two buttons exist, and they help in removal and insertion of the blades.
The unit also comes fitted with two knives. One knife perfectly fits below the blade, and its role is to make non-through cuts. On the other hand, the second knife fits above the blade and has the role of holding the blade cover. A 52-inch unique professional T-Glide Fence System has been installed in this tool. This is made up of the most durable gauge steel which facilitates a smooth performance, a lockdown without deflection and a larger working space. The maximum cutting depth with this device is 3-1/8 inches. However, at 45 degrees, this depth fluctuates to 2-1/4 inches.

Flexibility and Ease of Use

SawStop included a manual that will aid you in the operation of the unit. The manual will also have the maintenance practices which will contribute to your tool's longevity. The flexibility comes into play from the fact that you will enjoy easy transitions between the blade guard and the riving knife. The patent dust collection system saves you time that you would have spent clearing your working space.

Durability and Safety

The manufacturer include thick arbor and a heavy-duty material in the overall construction of the PCS31230-TGP252 cabinet saw. The open gearing system and the Poly V-ribbed belts ensure that power is transmitted with the least vibration. This ensures that all components stay in place. Safety was prioritized this unite as there are numerous safety features. The first is the blade guard. This is specifically designed to collect debris such as dust and remove it through the special 1 1/2 inch exit vent. An additional over-arm dust collection vent is also available but at an extra cost. Besides, independent side panels rotate inside the guard, and it contributes to better dust collection and safety. SawStop inserted two critical anti-kickback pawls. These deal with the common kickback issue associated with most power tools. A dedicated blade braking system ensures that injuries to the user are minimized. The braking system monitors the state of electricity present at the blade.
From the above, it is clear that SawStop had the consumer in mind with the PCS31230-TGP252 cabinet saw. It is fitted with numerous features which make unique it unique in the market. The unit is compact, performs optimally and at the same time ensures that the user is safe at all times.
Cons
Short Cord

The unit has a 10 ft cord. While this is considerably long, some consumers have cited that it would have been ideal if SawStop included a longer cord.

Price

Some state that the unit is quite expensive. However, it is ideal to note that this product is worth the value. This is because, with it, you are guaranteed to cruise through any material with ease. Besides, you only need to make a one-time purchase, and you are sure to get your money's value in a few months.
** Our table saw buying guide tells you what to look for in a cabinet table saw and things to consider before you buy.
Wrap Up
The SawStop PCS31230-TGP252 3-HP Professional Cabinet Saw Assembly with 52-Inch Professional T-Glide Fence System, Rails and Extension Table is a beast of its kind, and you should select it as one of your tools this year.