Intro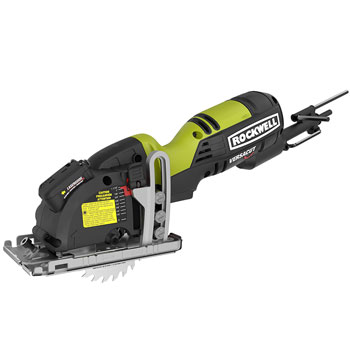 Rockwell has created a compact circular saw with its own laser guide that users can now take on the job and around the home. Backed by a two-year warranty, this 4-amp motor tool delivers professional-style results for the DIYer and brings a level of convenience that other saws cannot. If in need of a versatile saw that can cut wood, flooring, ceramic tile, sheet metal, slate, plastic, and aluminum, then the Rockwell Versacut Circular Saw is one of those rare finds. Weighing only 4 pounds, this saw is completely mobile. This serves as a great option for tackling projects around the home. While being versatile and easy to handle is important, there are limitations on using a more compact saw.
Pros
Technology

Rockwell has coined the term "Versacut" for their compact circular saw. With the Versacut tool, users will experience improved efficiency and comfort. Rockwell has been able to place power in a compact tool so users can tackle materials that are thicker than 1 inch but not be bound to a table or workspace. Being able to bring the power of a larger tool from out of the shop and now into those tighter areas is the exact purpose of the Versacut.

Powerful

The power-packed in this Rockwell Versacut is something that users will love. For such a lightweight piece of equipment, this Rockwell proves to be multi-functional due to being able to cut through various types of material. The DIYer can now provide precise cuts to their projects and in particular, not be bound to a workshop, to complete several different projects. Even though this Rockwell Versacut has so much power, it can be operated or held by one hand. While safety should always be a concern, Rockwell has been able to compact the power and it still is controllable by the user with ease.

Laser Guide

Being able to cut precisely is the main point of any saw. If the project is inaccurately cut, whether it is a bird house or trim along a base board, the entire project will be thrown off if the cuts are not exact. While a compact, easy to transport, saw is a benefit by being mobile, if it cannot perform accurate cuts, what is its use? Luckily, the Rockwell Versacut was created with exclusive Laserguide technology. With this technology, users will not have to measure twice to cut. The Rockwell Versacut will rip and plunge through cuts with ease when used with its laser guide feature

Other features of the Rockwell Versacut would be the lock off switch. This safety feature prevents accidental starting. With a compact saw, it can be stored anywhere so if there is a potential for the saw to be bumped or the start button to be taped without the user's knowledge, it would be an injury waiting to happen. Rockwell has created a simple, yet effective safety feature to prevent this type of accident from happening. The rear motor construction of this tool is something that is not seen on larger saws. With the motor being located in the rear, users will ultimately end up improving their comfort of use with this tool as well as decrease any fatigue.
Cons
No Bevel Cuts

Rockwell is not only competing with other circular saws of the same, but also other types of saws that could be used on similar projects. The enticement that this saw is extremely mobile and lightweight to carry around may not be enough for some users. The Rockwell Versacut cannot perform bevel cuts. To not be able to perform this does limit the user to what they can really accomplish with this saw. In addition to not being able to perform bevel cuts, keep in mind this is a compact saw. While it would be nice to cut through several types of material, the thicker the material the more difficult it becomes. The blade is ideal for smaller, compact jobs. For items that slightly larger, the user runs the risk of damaging the blade.

Being a compact saw will have other drawbacks. While it can be controlled with one hand and can rip through varying types of material, this Rockwell Versacut is not powerful enough on its own. Many users had to use more force when cutting thicker material. When using for an extended period of time, this could become draining and possibly damage the blade or saw all together. The Rockwell Versacut is intended for those smaller jobs that the user cannot bring into the workshop to complete. These smaller cut jobs will be able to highlight all the Rockwell's positive qualities better. For the larger, more intensive jobs, it would be recommended to use a more stationary saw that can bring power with less manual labor from the user.
If you are looking for expert compact circular saw reviews, and everything you need to know about circular saws click for more.
Final Thoughts
The Rockwell Versacut is a sleek, compact power tool that can be used on the go for both the professional and they DIYer. With it weighing in at only 4 pounds, it is a saw that can be controlled by one hand and can get those hard to reach places for the user. Having technology to aid in delivering improved efficiency and increased comfort for the user, Rockwell has created a power tool ideal for those light jobs around the home.