Intro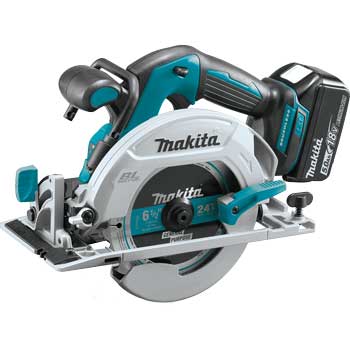 The Makita XSH03T circular saw comes from the brand's formidable lineup of LXT Lithium-ion cordless power tools, the largest of its kind on the planet. Using Makita's industry-leading power management technology, this tool provides a dependable performance with an extended run-time.
The XSH03T cuts and rips through materials easily thanks to a powerful brushless motor spinning at speeds up to 5,000 rpm. Because a BL motor experiences lower friction, this saw runs smoother and cooler, prolonging its useful life while optimizing battery life.
This means lower maintenance cost, longer run-time and increased productivity. There is an electronic speed control that matches motor output to the material and application requirements, boosting battery life and precision.
This circular saw comes with Makita's 18V LXT Lithium-ion batteries. The LXT line is the largest collection of power tools in the world which allows you to run over 180 products on the same power system.
These batteries are longer-lasting, intelligent and fast charging. Everything you need to take your hobbyist and professional projects to the next level comes with this package.
This tool is lightweight, compact and easy to use. It offers enough cutting power to handle most jobs and offers exceptional handling and control.
Pros
As power tools manufacturers shift from brushed to brushless motor designs, Makita leads the industry with its innovative products and durable designs. With its popular LXT power pack and ergonomic construction, the XSH03T beats its predecessor the 6 1/2-inch BSS 610 hands down and delivers more value compared to premium alternatives. Here are some of its main selling points.
High-Performance Motor

This saw comes with Makita's legendary Brushless motor which spins the blade at speeds up to 5000 rpm, allowing it to slice through tough and hard materials with ease. The motor is quieter as it has fewer moving parts and produces less friction. It is also more energy-efficient, requires less maintenance and lasts longer than the old brushed motors.
The BL motor communicates with the battery via the Star Protection Controls for efficient power management. This allows for a smooth, quiet, and fast operation that trumps anything in its class.

Longer Lasting Batteries

The 18V LXT batteries have so many positives. They are longer-lasting, fast-charging and versatile.
These batteries come with overload protection, over-discharge protection and overheat prevention which allows them to perform at the highest levels. With these Lithium-ion batteries, you will spend less time between charges as they are optimized to run efficiently based on the job requirements.
Compared to other batteries, LXT power packs deliver more run-time per charge, sometimes up to 50 percent more based on the usage. The Star Protection Control provides seamless coordination between the motor and the battery for improved performance and safe operations.
The battery features a 3-stage LED gauge that shows you the amount of charge left.

Automatic Speed Change Technology

This is an upgrade of the popular variable speed function found in most power tools. However, this system automatically detects the ideal torque and speed required for specific materials and applications and adjusts motor output for optimum performance.
With this intelligent control, the XSH03T enjoys greater flexibility independent of the user, and improved motor life and battery run time.

Ergonomic Design

At only 7.3 pounds with the battery, the XSH03T is a lightweight circular saw, making handling and control easier. This tool is light, compact and highly maneuverable, which means you can tackle a variety of projects with minimal effort. You can use this circular saw for longer with minimal fatigue, boosting your performance and productivity.
The XSH03T has a rubberized grip that is comfortable and firm. You can use the saw with one hand but some applications require you to pin down the tool with the other for a smooth and precise operation. The battery is positioned at the end of the handle, providing a well-balanced center of gravity for optimal operator comfort.
Cons
Except for people who got a defective unit, it's difficult to find users complaining about this tool. Everything from its performance, weight, battery, and versatility makes it a clear leader in its category. The XSH03T has proven itself in professional and DIY settings as a reliable circular saw that always delivers excellent performance.
View the best-selling cordless circular saws for the money!
Wrap Up
The XSH03T is a must-have in your workshop if you want to increase your productivity and boost your results. It comes with a powerful, high-performance motor, long-lasting and fast-charging battery and an ergonomic design that makes it fun to work with. Whether you work with hardwood or love experimenting with domestic projects, this circular saw is a capable tool for any workshop.