Intro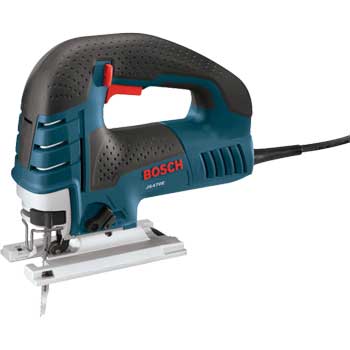 You can do almost any project with the exceptional cutting power of the JS470E Corded Top-Handle Jigsaw from Bosch. The company is a pioneer in innovative research and development and its power tools blow the competition away.
This top-handle saw can cut through steel, wood, ceramics, plastic and everything in between. Whether you are making lateral cuts or plunge cuts for countertops, this flexible tool provides exceptional capabilities for your projects.
The JS470E features variable speed control that allows you to adjust the motor output to the job requirements. Its ambidextrous lock-on button makes it ideal for any user regardless of their dominant hand while boosting comfort and handling.
Bosch couples a large, durable and stable die-cast shoe with steel inserts to the JS470E Corded Top-Handle Jigsaw for superior balance and control on any material. The shoe has an onboard bevel wrench that allows you to make angled cuts with impressive accuracy.
This jigsaw is a high-end tool designed for precision and control. Its internal precision-machine plunging system delivers an improved accuracy while the low-vibration construction provides a smooth and fast cutting experience.
The JS470E offers orbital action for optimal performance when cutting tough and hard materials. For professionals and heavy DIYers, the JS470E is an excellent saw that will make all your jigsawing projects faster and more efficient.
Pros
Bosch's JS470E combines precision with durability and ease of operation. Here are some of its outstanding features.
Powerful Motor

Regardless of the toughness or hardness of the material, the 7 Amp motor of the JS470E will cut any workpiece easily. This powerful motor moves the blade at speeds up to 500 to 3100 strokes per minutes, enough to cut through steel in seconds.
It has a striking depth of up to 5-7/8″ in wood, 7/8″ in aluminum and 3/8″ in mild steel, allowing you more freedom to work on as many materials as you like.

Orbital Action and Variable Speed Control

For optimal energy efficiency, the JS470E has orbital-action control and a Constant Response Circuitry. The Constant Response Circuitry works in tandem with the variable speed control to adjust the motor performance to the job. This ensures you have the correct cutting power to slice through different materials with ease.
Not only does this optimize motor output, but it also improves precision and results. The orbital-action control transforms the blade into an aggressive machine that quickly travels through the hardest workpiece although the surface will need some finishing.

Comfortable Design and Operation

The JS470E comes with an easy-to-hold top handle. This handle has a soft grip that absorbs vibration and is easily accessible for exceptional control. The design makes it easier to exert pressure on the material, reducing the chances of errors for more precise outcomes.
The jigsaw also features an ambidextrous lock-on button that allows you to make sweeping cuts through the material. An adjustable dust blower keeps your line of cut visible always. With this jigsaw, you can work for longer in relative comfort with less fatigue.

Beveling Shoe

The JS470E features a sturdy, die-cast shoe with steel inserts and a plastic overshoe. This offers stability and increases precision for professional results. The shoe can also bevel to the right and left for precise angled cuts.
An internal precision-machined plunging system further improves accuracy while the low-vibration design helps keep your hand steady regardless of the rate of cut.

Keyless Blade Swap

Like most respectable jigsaw brands, the Bosch JS470E features a tool-less blade clamp. This multidirectional lever allows you to insert and remove T-shank blades from different directions without having to touch the hot surface.
Cons
The JS470E delivers a smooth and fast cutting experience. However, it has some shortcomings which are inherently a design flaw. The main issue with this jigsaw is its poor blade control which is because of the wide slots.
Unlike its older models, Bosch uses a much wider blade slot in the JS470E, allowing the blade to move more than you would like for precise cuts. However, we believe Bosch is making efforts to correct this problem.
You can also check out the important factors to consider when buying a jigsaw!
Wrap Up
The JS470E is a professional grade jigsaw with all the power you need to tackle the hardest material. It comes with a soft, comfortable top handle, variable speed setting, and a stable and sturdy beveling foot.
This 7 Amp jigsaw is optimized for precision and operator comfort and comes with industry-leading features to help you achieve the best results in all your projects.