Intro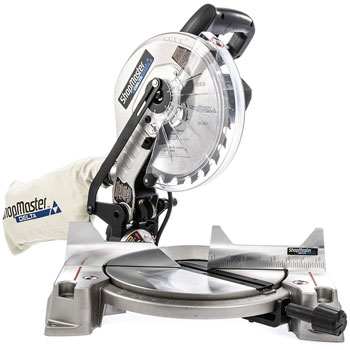 For the hobbyist or DIY user, the Delta S26 Shop Master Miter Saw would be an ideal purchase. Weighing 25 pounds with a 15 amp motor and 10" blade, Delta has created a compact, yet powerful miter saw. Even for the professional with daily usage of an array of saws, having a more compact saw that can easily travel ends up being a great addition to the power tool collection. With 120 volts and 1800 watts, this battery-operated tool comes with smart features such as the electric brake, fence, dust collection bag and convenient storage.
A miter saw that is mobile means that more projects around the home can easily be accomplished. The professional may not purchase this Delta for daily, heavy use. However, for those smaller projects and to be able to move from job to job with ease, this Delta Shop Master Miter Saw would get the job done.
Pros
Convenience for the user

When it comes to a more compact power tool, convenience is an important part of the design. The base store tools for alignment and blade changes. Having a more thoughtful design makes the Delta Shop Master Miter Saw easy to operate. This is one of the reasons this type of power tool is a great purchase for the hobbyists. What this miter saw works great in cutting trim. With its compact size it works great when trying to cut trim for batten wall and works great for building a valance. The value that users see in not only the features but the price makes it a worthwhile purchase.

Lightweight Design

The 25-lb. Delta Shop Master Miter Saw can move from job to job and room to room without the user struggling. Even though this is a smaller sized miter saw, it still performs powerfully and is sturdy enough not to have to be bolted down. Now being able to go from job to job without a hassle is vital for completing different projects around the home. The size of the saw does not negate its performance either. Delta has designed a miter saw that can cut 2"x 6" with only one pass. This miter saw is powerful to cut nominal 4"x4", 2"x6" at a 90-degree angle.

Laser

Delta Shop Master Miter Saw comes with a battery-operated laser with an on and off switch. Having a laser with your miter saw makes the tasks seem more convenient and the result ends up being extremely precise with aligning blade. Having an accurate laser alignment means the user does not have to take additional steps to produce professional projects. In addition to the laser, the blade on the Delta spins at 5500 RPM. The Delta miter saw does bevel left and have denoted stops at 0, 15, 22.5, 30 and 45 degrees.

Spindle Lock and Electric Brake

There are additional features of the Delta Shop Master Miter Saw that provides a better ease of use. Having smart features like a spindle lock, dust collection bag, and electric brake can make a difference to the user and save on not just time, but assist in creating clean and accurate designs. The power-packed in this Delta is 120 volts and 1800 watts so cutting through 2x4s won't be an issue. Going deeper into the features, the spindle lock will hold the blade in place during changes. This gives the user more flexibility when switching out blades and provides some assurance of safety and ease of use. One of user's favorite aspects of the Delta Shop Master Miter Saw is that it has an electric brake system. This brake system stops the saw blade in seconds of releasing the trigger. Not all miter saws have this feature so receiving this at the price point makes the Delta a very smart buy.
Cons
Blade

When looking at price first, there will be some trade-offs to deal with in order to have a miter saw and not spend over a certain amount for it. With the Delta Shop Master Miter Saw, there are some things to note about the blade. The bolt holding the blade comes too tight so the shaft lock will not hold. In addition to this pre-design function, the blade doesn't seem to perform accurate cuts because it tends to twist out of place. Cutting anything over 2×4 seems difficult for this Delta miter saw and it is not easy to lock in angles. The last issue with the blade of this Delta is that the teeth are very far apart and the control arm is not well-secured. These issues makes the Delta more ideal for smaller projects and lighter usage as opposed to a heavy-duty project.

Additional Issues

As in many saws, the dust collection bag could have some improvement. It could stand to be slightly larger to keep up with the production of dust made. Another disappointment would be that the dust collection bag doesn't collect most of the dust created which only makes for a mess to clean up after each project. Other features that could use improvement would be the adjustable lever not too durable. There are adjustments that could be made to the locking knob, possibly removing it and replacing it with a better grade threading bolt.
Read on to find more details on choosing the right compound miter saw.
Final Thoughts
Overall, the design could be considered sub-par. The hand bolt can be tightened more from the front against the frame of the saw as well as the motor vibrations ends up turning the miter saw too left on many occasions adding time to completing a task. This Delta Shop Master Miter Saw does have some great features and it is backed with a 3-year warranty. While this is not a saw intended for heavy, daily use; this is a nice addition for those smaller projects and at its price point, many DIY users will find this a nice addition to their power tool collection.