Intro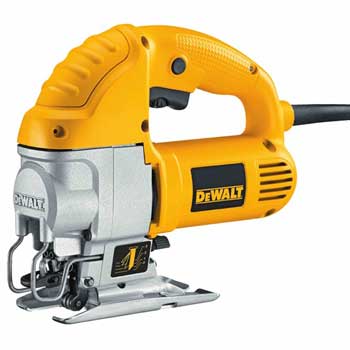 The DW317K from DeWalt is a jigsaw with a powerful, fast cutting 5.5 Amp motor capable of speeds up to 3100 spam. This versatile tool can cut through the hardest of materials with the right blade. And it offers a variable speed control for power optimization and efficiency.
The all-metal gear casing offers exceptional durability and survivability on the job site. Its 4-position orbital adjustment delivers superior control and precision with industry-leading cutting speed.
The DW317K sits on a sturdy shoe that bevels up to 45 degrees for angled cuts in carpentry, cabinetry and joinery projects. It has a keyless blade clamp that makes blade swaps fast and easy, allowing you to spend more time on work that matters.
While a jigsaw can't deliver a scroll saw's precise results, this saw combines different features to bring you refined cuts in your projects. It has a compact and solid body for improved control and operator comfort.
The saw is backed by DeWalt's 3-year limited warranty, 1-year free service contract and a 90-day money-back guarantee.
Pros
DeWalt might be popular for its legendary battery and cordless systems, but the company also makes industry-leading corded power tools like this jigsaw. The DW317K offers the following benefits:
Powerful Motor

Inside the hood of this jigsaw, there is a fast cutting and highly efficient 5.5 Amp motor capable of handling the toughest materials. Spinning the blade at speeds up to 3100 strokes per minute, this motor makes light work of any material so long as you have the proper blade and use the correct technique.
This immense power drives the blade into the material with a 1-inch stroke length, enabling you cover more ground in less time.

Variable Speed Control

The DW317K offers a variable speed setting that allows you to regulate the motor output to the specific job requirements. Whether you are cutting sheet metal or carving intricate designs on porcelain, the variable controls help you optimize the jigsaw's performance, improve your results and reduce wear on the motor.
You don't have to worry about over cutting or undercutting since the variable speed control allows you to achieve application-specific performance.

Orbital Control

Not all jigsaws have the orbital control feature. But it is an important function when cutting tough material as it changes the perpendicular movement of the blade into a more efficient orbital sequence that improves speed.
The DW317K offers four orbital control settings, helping you get the best out of your jigsaw when you have a lot of ground to cover.

Durable Design

The motor and handle compartment of the DW317K are covered in DeWalt's signature yellow and black livery. This part is made of tough plastic that cushions the impact of any fall, protecting the vital components of the saw.
An all-metal gear casing ensures that the cutting apparatus suffers no damage on the job site thanks to its exceptional durability.

Ergonomics

At 6.2 pounds, the DW317K is not the lightest on the market but it is well balanced and fits snugly in your palm. This tool is easy to handle and control with one hand.
While you may need your second hand to steady the saw in high-precision jobs, it provides a firm and comfortable grip and low vibration for enhanced operator comfort.
You can work for longer and achieve more precise results with the smooth operation and exceptional balance of this jigsaw and its ergonomic design.

Tool-Less Blade Swaps

A common headache when using jigsaws is the complicated process of blade swaps. The DW317K has a tool-less blade clamp that makes it simple and super easy to change blades without Allen wrenches or Phillip keys.
Regardless of the materials you are working with, changing blades takes mere seconds with this easy-to-use saw.

Beveling Shoe

This saw also comes with a beveling shoe that provides excellent flexibility when you need to make accurate bevel cuts. You can make angled cuts from 0 degrees to 45 degrees, enough to handle most bevel and miter cuts among others.
Cons
This saw is popular among users thanks to its solid construction, stability and excellent cutting power. The only major complaint with many people is that the description mentions that the package includes a blade which is false. However, this is probably a mistake and does not affect the saw.
The other shortcoming of the jigsaw is the price. Compared to alternatives, the DW317K is more expensive, but it delivers like a true champion. So the price is worth it.
Want to know how to buy a jigsaw? Our helpful buying guide will tell you what to look for when it comes to selecting the best one.
Wrap Up
The DW317K is an excellent piece of equipment for woodworkers and artisans who work with different materials. Its powerful motor makes light work of even the hardest material and the beveling shoe allows you to achieve accurate angled cuts.
Where precision is not a priority, the orbital control changes the blade into an aggressive and fast cutting tool, allowing you to work faster and more efficiently.
The DW317K may be pricier than competitors, but it handles professional and DIY projects with finesse.