Intro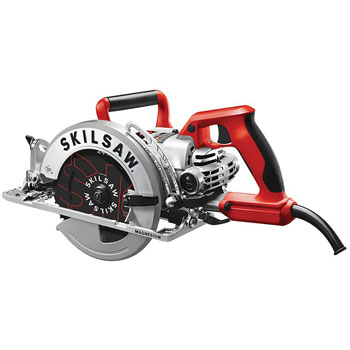 When it comes to tackling framing jobs, there are certain saw types that were created just for that job. Being able to maneuver your saw skillfully to get the precise cuts not only requires some experience and patience on the user's end, but it also requires a durable tool.
The Skilsaw 15-amp Lightweight Worm Drive Circular Saw is a corded, all-magnesium saw that gives off 120 volts of power to accurately cut through materials. Weighing at 11.6 pounds, it features a comfortable handle and comes with a 24 tooth carbide tipped Skilsaw blade. A powerful circular worm drive saw with on-tool multifunction wrench and a 7-1/4 inch saw, this power tool has an equal amount of pros and cons to consider before purchasing.
Pros
All-Magnesium

The Skilsaw Worm Drive Circular Saw was built with rugged durability. This corded saw has the potential to cut through thick materials and power through it giving precise cuts. Being made of the magnesium material, the saw is pretty lightweight in comparison to other high-quality corded circular saws. The material was used to make the saw strong so the user has a steady grip on the tool to control its cuts. The Skilsaw Worm Drive Circular Saw is considered the lightest worm drive saw on the market. With it being just slightly over 11 pounds, it reduces the risk of user fatigue, allowing for an extended time to use and cut through more materials. This Skilsaw Worm Drive was created to be powerful and be able to torque through difficult cuts.

Carbide Tipped Skilsaw Blade

The overall structure of the Skilsaw saw is more user-friendly than others within this category. With this Skilsaw Worm Drive Circular Saw the bevel happens in front and in behind giving the user the truest cut. The depth adjustment level is cut ready for ¼ ply, ¾ ply and larger. Having a blade that can perform with precise cuts is one of the biggest selling points for this Skilsaw model. The anti-snag feature allows for a smooth operation for small cut off pieces and in particular, thinner materials without it snagging. This feature protects the blade when not in use. This 7 ¼ inch saw has a maximum cutting capacity of two and three fourths at 90 degrees with a maximum 53-degree bevel capacity. With stops at 0 and 45 degrees, the Skilsaw Worm Drive Circular Saw gives the user consistent, precise cuts. Overall, the Skilsaw Worm Drive Circular Saw provides a quick, accurate depth measurements.

Motor

This Skilsaw Worm Drive Circular Saw has a 15-amp motor with a RPM of 5300. A corded circular saw will provide an extended use compared to battery-powered circular saws. Skilsaw provides smart technology with the dual field motor that can stay cool throughout the entire day. A saw of this caliber is ideal for framing, decking, siding, and ceilings. With such a durable motor, the Skilsaw can handle soft, hard and engineered woods are perfect material for this saw to cut through. Additional features such as the on-tool multifunction wrench is good for brush and oil maintenance. Even with a powerful motor, this Skilsaw is the lightest worm drive saw on the market.
Cons
Magnesium

The Skilsaw brand uses a different type of material than the norm for their worm drive circular saw. The magnesium plate bends easily which creates a poor cut. The reasoning behind the magnesium material was to be a lightweight saw. Users have experienced that this 11-pound worm drive circular saw is heavier than other circular saws that are non-magnesium. In addition to the magnesium, the base slides back and forth due to the beveling guide being connected by a pin. This makes the base unreliable and not sturdy at all.

Features

There are a few different aspects of the Skilsaw that could be improved upon. Some things are more so based off preference. For example, the cord in this worm drive circular saw could stand to be a little longer. As well as the handles are smaller than other circular saws. There are a few conveniences that Skilsaw could incorporate like the placement of the on and off switch. The internal parts of the Skillsaw Worm Drive Circular Saw are not long-lasting. The bearing on this particular saw tends to rattle more than other circular saws. The bearing also tends to wobble which hinders the perfect cut for the user. There are also key features that are missing from this saw such as a rip guide, dust collection port for a vacuum or a durable storage box.
Final Thoughts
A circular saw of this size has its share of pros and cons. The all magnesium saw was built to be one of the lightest worm drive saws for user's to select. The 15-amp dual field motor keeps the motor cool over an extended period of time. In addition, the anti-snag feature protects the blade and is the reason this Skilsaw can perform thinner woodcuts. In spite of some smart technology, there are some drawbacks such as durability of its parts and some more user-friendly additions such as a rip guide and dust collection port. Overall, if a portable saw such as the Skilsaw is ideal for both the professional and those that have infrequent needs for the worm drive circular saw.