Intro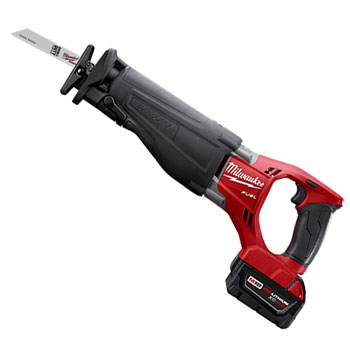 This battery-powered Milwaukee Sawzall is a M18 fuel reciprocating saw. Reciprocating saws are necessary when needing to cut different types of materials that need power. These saws are easy to transport. At 11.42 pounds, the Milwaukee Sawzall is battery powered at 18 volts from its Milwaukee brand only "Redlithium" battery has extended life, giving the user more power. The Milwaukee Sawzall comes with adjustable shoe, integrated LED light, rafter hook for convenient storage and blade release lever. The Milwaukee brand has consistently brought durable tools to the market. Their Sawzall has features that help make this a great addition but also there are a few parts of the saw that could be considered a challenge.
Pros
Speed

The Milwaukee Sawzall is tagged as the fastest saw on the market. With a fully charged battery, the Sawzall has 30% faster cutting time than other reciprocating saws. The Milwaukee Sawzall has two times more run time than its competitor brands. This Sawzall claims to be five times the tool life of reciprocating saws. Having a cordless saw, there are a lot of times that it is not as powerful as a corded saw. The Milwaukee Sawzall can easily cut through thick 6" tree limbs.

Durable

The battery that Milwaukee uses in its exclusive Sawzall reciprocating saw and its tools. This Sawzall has a lithium-ion created battery called "Redlithium". Using advance cell technology, this battery gives the Sawzall more run time and longer battery life. This is important for the user since one of the main downsides of cordless saws is having a limited battery life. The longer a fully charged battery can last means more time is dedicated to finishing the task. The Milwaukee brand uses lithium-ion that powers the battery. The advanced technology used to create a battery that not only runs longer but can runs cooler. Compared to corded tools, this Milwaukee Sawzall can compare due to the extended battery power.

Smart Systems

The battery in the Milwaukee Sawzall is just part of the tool that goes into making it a top selection if shopping for reciprocating saws. The Sawzall with the same cutting power level as many corded saws, the Milwaukee is a saw that can be used for the toughest materials. Due to the advanced lithium-ion battery, it runs cooler so it gives the Sawzall extended life. The key to having an extended use of a cordless reciprocating is reduced heat. If the tool does not overheat, it makes for a smoother use every time. With the Milwaukee Sawzall it is a constant flow of power supplied which gives faster cuts.
Cons
Weight

The Milwaukee Sawzall weighs slightly over 11 pounds. When using a reciprocating saw, more times than not, the material being cut needs a strong blade and adequate power to perform properly. To provide a lot of power without a cord means the battery is bigger. While Milwaukee did make a Sawzall with a powerful lithium-ion battery, it still weighs down the saw. Not considered the heaviest reciprocating saw, but it will fatigue the user trying to control the saw and deliver precise cuts of tough material. With it being a heavier tool, it is best to pull out this Milwaukee Sawzall on the big jobs. If it is some lightweight work needing to be completed, this Sawzall is the perfect option due to its reliable power. With the added weight, there is also vibration to this saw that needs to be taken into consideration. Having a strong grip on this tool is imperative. A saw with vibration can led to some kickback as well but for this Milwaukee the kickback is not an issue.

Battery Charge

Milwaukee has placed a lot of technology into their Sawzalls to make them be the ideal purchase for woodworkers. To have a strong reciprocating saw that can cut through tough materials is what Milwaukee focused on with this particular saw. While it is a powerful and innovatively created battery, there is still the issue that it needs to be recharged. A cordless saw will always have the limitation of the battery life and a limited amount of use time because of this. For this Milwaukee Sawzall, it takes an estimated hour to recharge the battery. If planned out correctly, it shouldn't affect the job, the user would just have to remember to charge after use for the most optimal performance. The life of the battery is about an hour and a half. If you are planning to cut through a massive amount of material, a corded reciprocating saw may be best. It is suggested to have a back-up battery in case the job does go over that time frame.

Safety Improvements

Other features that could use improvement would be the saw blade. This current model's blade goes in only two positions, facing up or down, which may be limiting to the user. There are some other features on the Milwaukee Sawzall that could be improved upon. The keyless chuck is hard to operate so it slows down the process. The Sawzall could also use a cutting shield for better protection. These aren't huge deal breakers however if Milwaukee was to update the Sawzall and improve these features, it would only make it an even better tool.
But, how do you choose a sawzall from the hundreds on the market? Here are our top tips.
Final Thoughts
Milwaukee is a trusted brand that has been around for years supplying woodworkers with reliable tools. With its "Redlithium" branded battery promising longer run times and enhanced power, the Milwaukee Sawzall has been considered the fastest saw in its category. The brushless motor and blade release lever are just two of the features that makes this saw durable and easy for the user to operate. There are some shortcomings in missing a cutting shield and just being a cordless saw. Milwaukee Sawzall is heavier than most but the power that this cordless saw has is comparable to many corded reciprocating saws.