Intro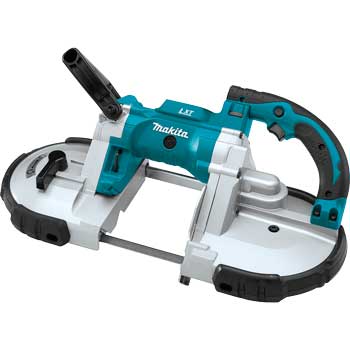 The XBP02Z cordless portable bandsaw is part of Makita's growing line of cordless tools powered by its legendary 18V LXT Lithium-ion batteries. With a 4-3/4-inch cutting depth, the XBP02Z is a versatile tool ideal for a wide range of metal materials and more.
It carries Makita's high-performance motor that delivers speeds up to 275-530 ft. /min. The motor has variable speed controls to help you optimize performance to different applications and materials.
This saw was designed with safety of the user in mind. It has a trigger switch with a lock-off feature that makes it impossible to power the saw accidentally, helping to reduce the risk of serious injuries.
The tool also comes with a protection circuit that alerts you when the motor is producing excess torque, allowing you to reduce power for longevity and improved performance of the unit.
The XBP02Z has a sturdy, durable build with rubber bumpers for improved longevity. Its adjustable stopper plate offers excellent support and protection for materials and an LED light provides adequate visibility when working in dark areas. Its rubberized soft grip delivers a firm and comfortable hold while you work.
Pros
Makita was the first company to produce cordless power tools and its 18V LXT line is the largest collection of battery-powered tools in the world. This bandsaw has all the exceptional characteristics of the tools in the LXT lineup and more.
If you are a professional who loves refined results and a dependable cordless bandsaw that won't run out of power quickly, the XBP02Z provides the following benefits.
Fast and Powerful Cutting

The XBP02Z features Makita's high-speed motor that works in sync with the LXT battery to deliver an impressive cutting experience. This motor spins at speeds up to 275-530 ft. /min, allowing you to cut mild steel, copper, aluminum and everything in between with ease.
Not only is the motor powerful, but it also comes with a variable speed setting for improved performance.

Variable Speed

The 6-dial variable speed setting allows you to optimize motor output with the job and material. Thus, you only have to use the minimal amount of battery power to complete different tasks, increasing run time and reducing the wear on the motor.
This leads to fewer charges between use, longer motor life, less maintenance and ultimately more value for your money.

Durable Design

This saw has a durable steel and rubber construction. The main body is steel for exceptional durability on and off the job site.
Its edges are protected with thick rubber bumpers for improved survival during drops and falls. The handle and other parts are rubberized for comfort and to protect vital components from the elements.

Ergonomic Design

For improved user comfort, this tool weighs only 15 pounds even though it is a full size bandsaw. It comes with a large handle with soft, comfortable rubberized grips that reduce vibration during use.
Using this tool for extended periods does not cause excessive fatigue and its low weight means handling and control are excellent. If you need a capable cordless bandsaw that doesn't bog you down on the job site, the XBP02Z makes an excellent choice.

Safety

The XBP02Z comes with a Safety switch that prevents you from accidentally depressing the trigger. It works like a gun safety and requires two actions to power on the saw. This feature minimizes the risk of accidental starts, making the saw safer for you and your projects.

Exceptional Battery Life

The 18V LXT Lithium-ion batteries from Makita are a phenomenon in the cordless power tools industry. These fuel packs can deliver consistent power during extended use.
Users report that the battery is difficult to deplete even after a hard day's work cutting heavy and dense materials. Plus, you can use the battery for other cordless tools in the LXT lineup.
If you own one of these power packs, you may not need to buy another for the bandsaw except you want to have extras. Also, the LXT battery has the fastest charging time in its class, so you spend more time doing productive work.

LED Light

Like most power tools, the XBP02Z has an LED light that helps you see the workpiece and the line of cut when working in low visibility job sites. Whether you are working in the basement at night or renovating a flooded attic, this LED light can help you work in dim spaces without reducing your results.
Cons
The only complaint some people have about the XBP02Z is its weight. Compared to many of its competitors, this saw is lightweight and most professional users won't complain. DIYers who only use it once in a while may find it a little on the heavy side.
But that is not a problem. You can fabricate a mount to turn it into a bench saw.
** Our buying guide tells you what to look for in a band saw and things to consider before you buy.
Wrap Up
Makita's XBP02Z is a pro bandsaw with a powerful motor and a long-lasting battery. The saw is durable, versatile and comes with myriad features to make you more productive and efficient.
If you want a professional cordless bandsaw that can handle any metalwork with no problem, check out this saw.