Intro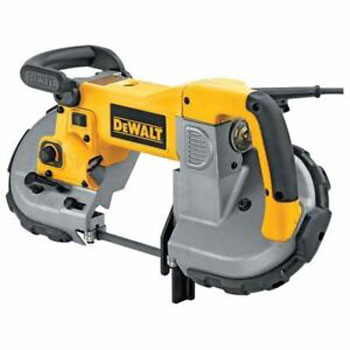 The deep cutting DWM120K band saw from DeWalt packs a powerful 10 amp motor that delivers an impressive cutting performance regardless of the material or application.
With industry-leading 5-inch deep cut capacity, this saw is one of the most versatile contractor tools which provides an easy and efficient way to work with rectangular or round stock. Its design is optimized for ease of use and maximum productivity so you can get the most out of your workdays.
The DWM120K features a sturdy build for maximum jobsite survivability. It comes with rubber bumpers around its serviceable steel shroud so that falls and drops won't be an issue for the machine. This bandsaw allows for exceptional control and precision and an integrated hook allows you to hang the saw without damaging the castings or front handle.
The DWM120K comes with a variable speed control that helps you adjust motor output to various applications and materials, improving energy efficiency and motor life. A LED light provides direct illumination on the work surface in dim spaces and trains the beam on the line of cut for improved precision.
The DWM120K has everything you need in a powerful contractor bandsaw. It comes with DeWalt's 3-year limited warranty; a one-year free service contract and a 90-day money-back guarantee if case you are not satisfied with the performance.
Pros
The DWM120K is an exceptional tool with industry-best features to help you work more efficiently and get professional results. It has many advantages including:
Powerful, High-Performance Motor

Unlike many bandsaws on the market that come with low-powered motors, the DWM120K comes with a 10 amp motor optimized to handle the toughest jobs with ease. This portable saw makes clean and quick cuts regardless of the material.
It moves at 100 spm to 350 spm, enough to slice through rock in seconds. Because this is a corded model, you can expect the motor to deliver a consistent output based on your job requirements, allowing you to work for as long as you want.

Variable Speed Control

An excellent feature of the DWM120K is the variable speed setting. Often, it is better to start the cut slowly to avoid kickbacks, and this option makes the whole process seamless and safer.
Different jobs and material require specific motor performance. With the variable speed, you can adjust the bandsaw's performance to the proper requirements of the application or material, allowing you to save energy, longer useful life from the motor, and the best out of your blades.

Versatile and Deep Cut

Not all portable bandsaws can work with round and rectangular stock. Thanks to the DWM120K's deep cut design, you can achieve 5-inch depth of cut with round stock and 5 x 4-3/4-inch depth of cut with rectangular stock.
With this saw, the possibilities are endless as long as you have the right blades and skills to execute the job.

Durable Design

Since the DWM120K is designed for professionals, it comes with an impressive array of features to protect it on the jobsite. This tool has a serviceable steel shroud with rubber bumpers at the edge for improved durability.
An integrated hang hook makes it easy to keep the tool out of the reach of debris and other materials on construction sites.

Ergonomic Design

At 15 pounds, this bandsaw is light and portable. It comes with an oversized 3-way handle that provides ample space for maneuverability and control. There is a comfortable ergonomic soft-grip to help you work for longer with less fatigue. And the saw's weight is balanced so you won't feel it even while working for long hours.

Improved Blade Life

The DWM120K has an exceptionally good blade maintenance system. It comes with a precise blade tracking adjustment mechanism that reduces wear and boosts blade life.
Its dual bearing blade guide rollers offer consistent support for the blade. Swapping blades is smooth and easy with the blade changing levers.

LED Light

An LED light offers improved visibility when working in dimly lit spaces. The light also provides a reference for your line of cut on the material, improving precision and your results.
Cons
There is no complaint about the performance or the design of this saw from users. Perhaps, that is why it enjoys overwhelmingly positive reviews on Amazon and other online platforms.
While there is no perfect tool out there, the DWM120K delivers value for money and provides everything you need in a metal or woodworking bandsaw.
** How do you choose a band saw from the hundreds on the market? Here are our top tips!
Wrap Up
The DWM120K is portable, powerful and easy to use. Its versatile applications, ergonomic design, and ease of handling make it a darling of many professionals and DIYers.
If you need a bandsaw that can cut deep and maneuver round and rectangular materials, this tool is a worthy candidate.