Intro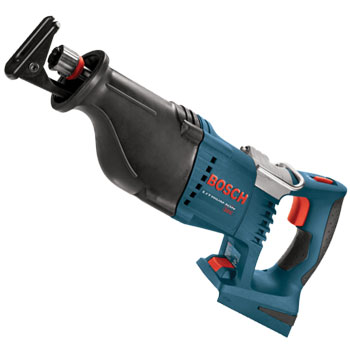 If remodeling is something in the plans or for any demolition projects, a reciprocating saw will cut through the materials with ease. This type of saw works fast on cutting curves and is built to be durable for more intense jobs. The Bosch reciprocating saw has a powerful motor that goes up to 3000 SPM. At 7 pounds, with a 36-volt battery, this cordless reciprocating saw comes with sturdy features to be used for not just wood, but to cut through metal as well as many other materials.
The Bosch brand provides a saw that is powerful but lightweight for different types of users. With its one year warranty, Bosch does provide a reciprocating saw with an equal mix of pros and cons.
Pros
User-Friendly Features

Having a tool that is 7 pounds and cordless means that users can take this saw on many jobs with more ease than a corded, circular saw. Depending on the battery life, being able to comfortably use the reciprocating saw to power through some of the toughest material is possibly the best part of this Bosch saw. To start with, the handle has an ergonomic grip which means the saw is easier to control for an extended period of time. The soft grip on the handle also contributes to an extended use so as long as you have fully charged battery, Bosch reciprocating saw will get the job done.

Smart Additions

With a cordless saw, there are some additions to the tool that can really make it easier on the user. Since many will want the freedom to take the tool on a variety of jobs, Bosch has added some features that are smart. To start with this Bosch reciprocating saw has easy storage. The Bosch model has the rafter hook, so the user won't have to worry about cluttering their workspace when the saw is not in use. Bosch has thought of issues that could deter the user from seamlessly using the saw. Since reciprocating saws are ideal for powering through various materials, issues with changing a battery would slow down the job. Bosch has created a spring-loaded battery insertion which makes it easier to engage and replace. Bosch also included a lockjaw on their reciprocating saw which would enable the user to engage and withdraw the blade with a single hand.

Versatility

Bosch has made what could be the fastest reciprocating saw in its category. For a reciprocating saw, it needs to be able to handle a lot of wear and tear. A reciprocating saw is purchased to tackle several types of materials and be able to perform. The open toe on the Bosch reciprocating saw gives a better line of sight so the user can perform more precise cuts. In continuing with ease of use, Bosch gives the user only two-speed settings of 0-2,400 SPM and 0-3,000 SPM.
Cons
Blade Restrictions

While Bosch has implemented a somewhat easier way to keep the blade in place, it is not necessarily an easy process. When attempting to lock the blade in place, it is not as streamlined as other aspects of the reciprocating saw. It is supposed to be a simple process in changing the toolless blade with one hand to continue working. While this is the claim, the saw would still need to be steadily braced with the blade pointed out and not facing the user, for safety purposes. There are several steps involved with switching this blade, which at least the first few times, will require both hands.

Speed Restrictions

With two speed settings, it does not give the user flexibility. The speed of the tool can make it slightly harder to maneuver for some. Certain precautions will still apply to the Bosch tool as any other reciprocating tool. Exercising caution when cutting with the two-speed settings. Bosch reciprocating saw has a slow start in addition to the limitations of having only two speeds. Having limitations on speed can be overlooked since the tool is lightweight and mobile.

Limited Power

The Bosch reciprocating saw is cordless with 36-volt battery. With its smart features, it is an easier to use tool however the power will always be limited with the battery. When the battery in the Bosch reciprocating saw dies, if there is still more to cut, it would work out better if a second battery was charged and ready to use. Even if there is a back-up battery, there is still limitations on the power the Bosch saw can deliver.
Want to know how to buy a reciprocating saw? Our helpful reciprocating saw buying guide will tell you what to look for when it comes to selecting the best one.
Final Thoughts
Bosch reciprocating saw is a 7 lb. cordless saw with convenient features. The two-speed settings on this battery-operated saw can work well for several types of jobs. Users may find this tool to operate smoothly with its built-in storage space and user-friendly additions. The ergonomic, soft-grip handle allows for a longer use without discomfort. Bosch added a few features that makes this saw good for storage like the rafter hook and the lockjaw for easy blade switch-outs. Still, with smart features, there are drawbacks to the Bosch saw. The lockjaw function can be reassessed to be easier for users, as well as the two-speed settings, are limiting. Overall, the Bosch reciprocating saw would work for the quicker jobs that require mobility.