Intro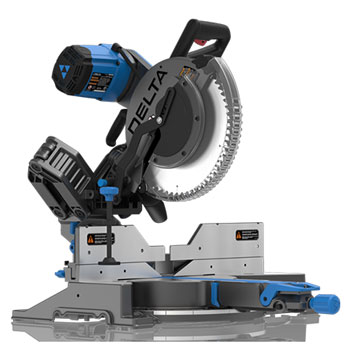 Delta has created a cruzer miter saw with a dual bevel sliding system, giving a solid option to both the professionals as well as those that have a miter saw use a few times a year. With a 12 inch blade, this miter saw is corded with 120 volts and a 15-amp motor with belt drive. The soft start and aluminum made with saw arm design makes it a powerful choice for its user. Weighing at 57 pounds, the 18-inch cross cut capacity and 10 detent positions all work together to bring a solid miter saw with both its benefits and areas of improvements that should be considered before purchasing.
Pros
Dual-Bevel Miter Saw

With this Delta model, the bevel switch was designed easier for the user to reach. With seven positive stops created in this miter saw, it stops for the most popular bevel angles. The smooth bevel action creates great cross-cut capability. This Delta Cruzer Miter Saw has a usable cross-cut of about 12 inches. With the miter saw bringing such a smooth and easy cut to each project, the bevel cuts of 60 degree right and 50 degree left with the positive stops are true reason why users enjoy this power tool over some other popular brands. The dual bevel goes 47 left and 47 right with front bevel release makes it extremely user-friendly. In addition to the bevel having a front release, the override switch is easily accessible as well. The trigger design is overall easy to use and a measure of precision.

Useful Fence

The fence on many miter saws can either be a useful addition or it can get in the way of the saw's purpose. With the Delta Cruzer Miter Saw, the fence proves to be useful and an added benefit to this 12" saw. The flip-down fence design is easily accessed by the user and does not get in the user's way when cutting large projects. The wide, sliding fence can hold crown moldings, for example, up to 7.5 inches nested or up to 6.5 inches vertical, securely. It can increase the stacked crown capacity with an adjustable crown fence look at 45 degrees and up to 7-1/2 inches. Having a reliable fence for this size miter saw works for handling more jobs that require increased attention to detail.

Saw Arm Design

The saw arm design of the Delta Cruzer Miter Saw has what could be considered a "robot" arm that gives accurate and precise cuts; provides smoothness and is extremely accurate. The arm design is not only useful, but it also was designed as a space saver and makes the saw easier to transport. The smooth sliding mechanism that Delta has placed in their arm design is not found in every other model, making this something to consider when doing comparisons before purchasing. This durable addition to the Delta model comes with metal locks, adjustable components, and the bevel position indents.
Cons
Feature Designs

The design of the triggers on this saw has its positives as well as components that could be improved upon. The handle could be considered useless due to its flimsiness compared to the weight of the saw. It is 3 inches long for a saw that weights 57 lbs. In addition to being flimsy, the motor is mounted on top of the saw, adding to the difficulty to carry. Besides the handle, the clamp could have been created to be adjusted better. With the clamp, it can only be adjusted with a screwdriver, which is not as convenient as other brands. In regards to storage, there is too much clearance space in the base. This means cutoff material falls in this area and it is not easy to clear out. Too much clearance space also means that storage is not as easy as the miter saws with zero clearance.

Additional problematic features would be that this compact miter saw has a belt. Eventually, the belt driven blade will need to be replaced. This is an added expense that other miter saws do not have a problem with so users may be deterred from purchasing the Delta model. This Delta Cruzer Miter Saw does not come with a light to guide the user or a laser. This feature is not found in every other miter saw, however, if done correctly, it could be a great benefit to users. The Delta Cruzer Miter Saw cannot cross-cut 18 inches without an added support piece. Users would have to add to the cost in order to make this saw more accommodating. This is a preference so some users may not find it to be a deterrent in purchasing. The last feature of the Delta Cruzer Miter Saw that could use improvement would be the dust collector. The small dust port, measured at 1-5/8" does not collect the dust properly.
Read on to find the list of the most popular sliding compound miter saws ever.
Final Thoughts
The Delta Dual-Bevel Sliding Cruzer Miter Saw is a heavier saw built to handle larger projects and not intended to go from room to room and job to job. With a well-though-out dual bevel system, Delta Cruzer Miter Saw does not make any major torque movements. This heavy-duty miter saw could be considered military grade. Even with its improvement areas, such a solid and sturdy power tool can be used to create a variety of pieces.