Intro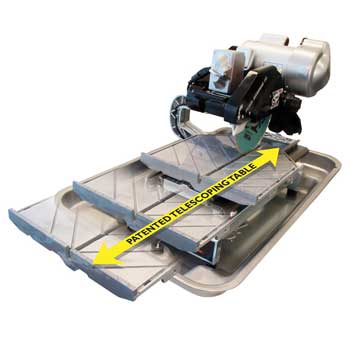 Pearl Abrasive VX10.2XLPRO is an abrasive tile saw designed by a company that has been in the market for decades and specializes in making abrasive products. As for this tile saw, the manufacturer claims that it is professional-grade. The product's measurements are 24 x 22.5 x 19.2 inches, and it weighs 84 pounds. The saw is considered to be portable while the color combination is rather classic with the gray color dominating, although the item has a black finish.
The package includes a 10-inch diamond blade that has the capacity from 8-10 inches and an arbor size of 5/8 inches. The water drip tray provided is made of stainless steel for extended durability and added strength. You will also get telescoping rail guides that assist in achieving optimal precision and alignment when cutting. The patented telescoping table was designed to make operating the saw easier. A universal blade wrench and a water pump are also included while 10-sealed metal roller bearings round up the package.
Pearl Abrasive VX10.2XLPRO 10-Inch Professional Tile Saw is capable of making 24-inch cuts and diagonal rips of 18 inches. The maximum cut depth is set at 3/1-4 inches. The product is equipped with an induction motor that has 2HP and 3450 no-load RPM. The motor is completely enclosed, and there is a fan that cools it down while working. The product also has an automatic protection from thermal overload.
Pearl Abrasive VX10.2XLPRO was made to cut abrasive materials, including but not limited to ceramic, marble, porcelain, and carbon steel. The saw requires electricity to operate, and its cord length is set at 72 inches, which should provide enough space to maneuver. The amperage limit is set at 20A while the voltage required is 115V. The manufacturer includes a one-year warranty for the product.
Pros
Precision Cutting

If you are not an expert, you will appreciate that this saw comes with telescoping rail guides. Regardless of what your cutting, they enable a high level of precision and guarantee that you will get the job done properly. It shouldn't take long to get used to how the saw works, which is an additional plus. These guides also make the product suitable for both DIY enthusiasts, as well as professionals who expect only excellent results.

Leaves No Mess Behind

The unit comes with a water drip tray of exceptional quality. It is made of stainless steel and designed to collect any residue from cutting. That makes the cleaning process a lot easier, and the entire process of working with the saw more pleasing, especially if you use it often.

Compact Size

If you observe it from back to front, Pearl Abrasive VX10.2XLPRO 10-Inch Professional Tile Saw is 24 inches long while its side to side length is set at 22.5 inches. Add to that the fact that it is approximately 19 inches high and you get a compact product that is suitable for moving around.

Durable Construction

When you are purchasing a premium tile saw, you want it to last for years, if not even decades. This unit will not disappoint you when it comes to longevity. The combination of stainless steel and aluminum guarantees excellent durability. Although the product only comes with a one-year warranty, the chances are it will last a lot longer. Naturally, that depends on the frequency of usage, just like with any other product.

Thermal Overload Protection

The motor of the Pearl Abrasive VX10.2XLPRO is strong, but what attracted our attention is one particular feature – the ability of the unit to protect the motor from thermal overload. Although it is overlooked, this feature is critical for novice users who are only finding their way around how tile saw works. They can easily get carried away and not notice that the motor is overheating. In case of detecting anything unpredictable, the protection mechanism will react and automatically stop the motor until the issue is resolved.
Cons
It May Be a Bit Heavier Than Expected

Pearl Abrasive VX10.2XLPRO weighs a total of 84 pounds, which can easily be explained with the fact that the tile saw features stainless steel construction. That being said, this is advertised as a portable product, but some users may consider it a little heavier, especially when compared to its predecessors. It comes down to the personal preference – while the saw is not too difficult to move around, some users see it as trickier to work with than other units made by this company.

No Option to Cut at a 45-Degree Angle

One of the potential downsides of this product is that it doesn't allow users to perform cuts at a 45-degree angle. That is because the motor doesn't have the ability to tilt, so the best option of getting those cuts may be utilizing a miter block. According to the explanation offered, the fact that the motor doesn't tilt may be a good thing since the units that have the tilting feature tend to have a shorter lifespan than their not-tilting counterparts.

Relatively Short Cord Length

The length of the cord on this product is 72 inches. Although that should be enough for most users, some may still be left wanting extra inches to position the saw ideally. You should be okay as long as you consider the power outlet position and cord length in advance.
For more information, read our detailed tile saw buying guide.
Summary
Pearl Abrasive VX10.2XLPRO 10-Inch Professional Tile Saw is a unit suitable for both newbies and experienced users. Strong and durable materials were used during its construction, and the product also comes with a telescoping table and a 10-inch diamond blade adequate for cutting various applications, such as ceramic, porcelain, and marble.
The motor features 2HP to ensure sufficient strength while rail guides enable users to effortlessly achieve excellent precision levels when cutting. The compact size makes the product easy to move around, although it may be a bit heavier than expected.
Overall, if you are looking for a reliable tile saw to work on DIY projects or use for professional purposes, Pearl Abrasive VX10.2XLPRO is worth considering.