Intro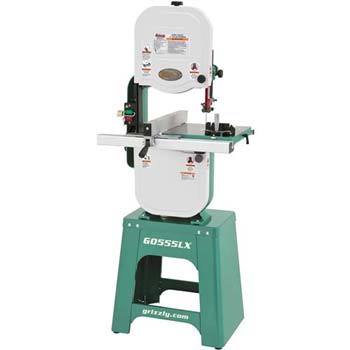 The G0555LX from Grizzly is a must-have for large metal workshops that specialize in precision jobs. This 247-pound behemoth comes with a 1 HP motor that slices through anything from rebars, iron rods, aluminum pipes, stainless steel and every material that requires the action of a bandsaw.
The G0555LX is a sturdy power tool perfect for professionals. It features a solid cast iron construction that provides exceptional stability and a large surface support regardless of the job or material.
This saw has an aluminum fence that features a miter gauge for precise measurements. Its magnifying window offers seamless adjustments and calibrations.
The Grizzly's 1 HP motor is powerful enough for most woodwork and light metal applications. Its cast-iron wheels have computer controls, allowing for improved balance.
If you get the riser kit, this saw provides a whopping 12-14 inches of resaw capacity thanks to its powerful motor and a large depth of cut. There is also a dust port to keep things tidy.
Because of its size, the G0555LX may take you a while to set up and calibrate. But the instruction manual provides clear descriptions and images on how to assemble, calibrate and adjust the bearings and everything else in the box. You may also need a helping hand during the assembly but it works perfectly once you get it right.
The G0555LX is a heavy-duty bandsaw. It's best for large workshops that do specialized jobs but you can also buy the saw if you have a modest-sized home workshop. But make sure you have enough space and the right power installations to run the tool.
Pros
The high-end G0555LX combines superior engineering with excellent performance. While it may be bulky and expensive, it delivers value for money and provides your workshop with immense capabilities to take on any bandsaw-related job. Here are the tool's benefits.
Solid Construction

The G0555LX is a durable tool that will last a lifetime. This bandsaw has a cast-iron frame, a heavy-duty stand and a powder-coated paint to prevent corrosion.
The fence is made of extruded aluminum and the precision-ground cast iron table offers a flat, stable, and reliable work surface for any material you want to cut.
Not only is this tool stronger, but it is also balanced, making your work more precise and refined. If you have the budget and the space to store this bandsaw, it will make an excellent addition to your workshop.

Powerful Motor

At 1 HP, the Grizzly packs enough power to cut through most materials found in the wood and metal workshop. The motor spins the blade at 800-3100 FPM, allowing it to slice through most materials in seconds.
This bandsaw runs on a single-phase 110V/220V power outlet, making it easier to operate compared to three-phase models that may require a refit of your electrical installations. Despite the high-performance of the motor, this saw is pleasantly quiet and delivers smooth, fast cuts that are precise and neat.

Computer Balanced Wheels

The Grizzly may be bulky, but it is easy to move around in the workshop thanks to its computer balanced cast iron wheels. These wheels come with rubber tires that allow the tool glide gracefully over the shop's floor without scratches.

Large Cutting and Resaw Capacity

If you have been using bandsaws with 4-6-inch cutting depth, the Grizzly takes your cutting depth to 13-1/2-inch. This allows you more freedom and flexibility when working with different materials. Also, the saw has a larger resaw capacity of 12-14″ although you have to buy the riser kit separately.

Simple Adjustments

The all ball bearing construction of the Grizzly makes it an efficient and easy to calibrate tool. Its upper and lower ball bearing guides allow for an improved level of precision..

Fence

The sturdy fence gives you more control over the material as the blade does its work. Thanks to the miter gauge and magnifying window attached to this component, this saw offers accurate and clean cuts that give your results a professional quality.
Cons
While the Grizzly is an excellent piece of equipment, you need to note the following.
Weak OEM Blade

The stock blade that comes with the bandsaw is not the best. While it performs well with light work, the blade struggles to get through heavy-duty tasks and the point of welding makes a loud noise as it moves through the material. This does not make any huge difference in work quality though, but you can get a new blade if your projects require more teeth.

Riser not included

One of the best things about this saw is its impressive resaw capacity. However, a riser kit does not come with the saw. So if you want to use the tool for resawing projects, consider buying the riser.
Thankfully, the riser is worth the investment as it allows you to enjoy the full capabilities of this exceptional machine.

Drifty Blade

Some users also complain that the blade drifts in use. While this may be true, it is more likely that the user didn't get the calibration correctly. If you encounter any problem with your G0555LX, contact Grizzly and they would be glad to help.
Don't forget to check out our roundup of the high-quality band saw reviews.
Wrap Up
The Grizzly G0555LX bandsaw is an excellent tool for professionals and serious hobbyists. It weights almost 250 pounds but delivers everything you want in such specialized equipment and more. This saw is sturdy, precise, and comes with a fast and powerful 1 HP motor to help you tackle all your metal and woodworking projects.