Intro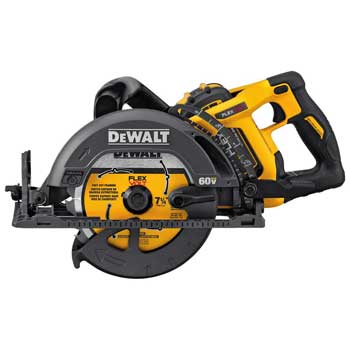 If you work with frames, you will love the durability and exceptional cutting power of this cordless worm style saw from DeWalt. The DCS577X1 FLEXVOLT 60V MAX is a 7-1/4″ saw that delivers the same performance you expect from electric worm saws and more.
This high-performing worm drive saw comes with a brushless motor that delivers up to 5800 rpm, allowing you to make fast and precise cuts in hardwood, flooring, plywood and oriented strand boards. Whether you are a professional or homeowner, this beast delivers like a champion on the construction site, farm, and carpentry shop
The DCS577X1 runs on DeWalt's long-endurance 60V MAX 9.0Ah battery. This FLEXVOLT power pack can last up to 4-5 hours with heavy use and all day with moderate use. It allows you to work anywhere on a jobsite without having to worry about dragging cords or blowing up extensions.
This saw is designed for accuracy and ease of use. It features a high-grade magnesium shoe for accurate and smooth cuts and can make bevel cuts up to 53° with stops at 45° and 22.5° for increased precision.
The saw features an electronic brake that stops the saw when you release the trigger for your safety and to reduce damage to the material. An inbuilt dust blower removes debris on the work surface for smooth, precise cuts and a rafter hook allows you to hang the tool when not in use.
The DCS577X1 is built for heavy-duty projects and combines the convenience of cordless with the unbeatable performance of a corded worm drive saw.
Pros
DeWalt combines its class-leading battery and brushless motor technology to create a powerful contractor-grade cordless worm style saw. It is versatile, fast, and can withstand the harsh jobsite environment. Here are some of its top qualities.
Powerful Brushless Motor

The DCS577X1 derives its exceptional cutting power from a high-performance brushless motor. This dynamo spins the blade at speeds up to 5800 rpm, allowing you to cut a variety of materials with surprising speed and accuracy.
Apart from its fast action, the motor delivers a smooth and quiet operation and maximizes battery efficiency. It experiences lower levels of wear because of fewer moving parts, reducing maintenance costs and boosting its longevity.

Long-Lasting Battery

DeWalt batteries are some of the best in the power tools industry and the 60V MAX 9.0Ah power pack gives this saw unprecedented run-time. Users have praised the exceptional endurance of these batteries with many reporting a solid day's work on one charge.
Not only are these batteries long-lasting, but the high amperage allows the saw to deliver an incredible amount of torque consistently for smooth and fast cuts. These fuel cells bring out the best in the brushless motors, providing extended run time and fewer delays between charges.
The kit comes with a 60V MAX FLEXVOLT 9.0Ah battery and a fast-charger.

Versatility

Contrary to DeWalt's claim, the DCS577X1 is actually a direct drive saw not a worm drive. But the worm-style construction offers increased flexibility.
Because of the left side blade, left-handed users might have trouble maintaining a clear line of sight. But for the right-handed, this saw cuts like a champion regardless of the job.
Whether you are making frames, stairs, or forming concrete, this saw handles well in professional and DIY applications. Its large bevel capacity provides even more flexibility when cutting dimensional lumber and specialist jobs, although visibility may also be lower.

Durable Construction

The DCS577X1 is designed to survive in harsh jobsites. It's made of stainless steel for maximum durability and a premium magnesium shoe gives it exceptional balance while cutting at high speed.
While no tool is immune to falls, this saw is sturdy enough to withstand serious rough handling. However, you want to take good care of the tool to enjoy it for a long time.

Ergonomic Design

Considering the size of the 9.0Ah battery, this tool is lightweight although many hobbyists think it is heavy. However, the saw has a balanced and easy to maneuver design.
The rear-handle design allows you to exert maximum pressure on the workpiece and the rubberized grip is comfortable and reduces fatigue. A dust blower ensures you have a clear line of sight.
The DCS577X1 is compact and features an onboard wrench holder for fast blade swaps. There is also an electric brake that stops the blade when you release the trigger. A raft hook allows you to hang the saw when not in use so you can free your hands for other things.
Cons
The DCS577X1 is not the best saw for left-handed users because of the blade's position. Also, visibility reduces drastically when making bevel cuts but the sturdy magnesium shoe helps to improve accuracy.
Overall, this saw's performance is comparable to 120V corded alternatives and you will get a day's worth of moderate work per charge.
Wrap Up
DeWalt's DCS577X1 saw is a dependable cordless tool for the professional. This fast cutting tool excels at a variety of applications and the long-lasting battery keeps you going for longer.
With this saw, you can enjoy the superior performance of electric tools and the portability and versatility of battery-powered units. The DCS577X1 is worth more than its price and will increase your productivity in and out of the workshop.