Intro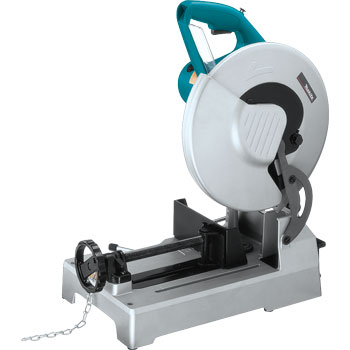 Makita has consistently brought durable and ergonomically made saws to the market. Built to take on the biggest jobs, the Makita LC1230 has metal cutting applications. Weighing 42.5 pounds, this is not the saw that can go on any job.
This Makita saw has a 15-amp motor and comes corded with features that makes using a lot more convenient for the user. At 115 volts, the Makita metal cutting saw has a solid base making it sturdy to handle larger materials. With many features such as vise release, socket wrench, and carbide-tipped blades, these features makes it convenient for the user. The Makita not only has smart features, but there are some safety features to note on this saw as well.
Pros
High-Performance Motor

Makita metal cutting saw has a motor that delivers 1700 RPM. With a cutting capacity range of 4-1/2 inches at 90 degrees and 3-1/2 inches at 45 degrees. The Makita saw gives a quick and easy miter cutting with guide plate adjusting from 0 and 45 degrees. Giving an improved performance, the Makita saw has a motor that definitely gives more power than the battery-powered saws. Convenience is not overlooked in this Makita model either. The shaft lock is accessible for easy blade changes with just one wrench.

Smart Features

Having a blade that can cut through various materials and not dull easily is important on a gas-powered saw. When searching for a good, reliable brand; the blade that normally comes with the saw can be slightly generic. This is not the case with the Makita metal cutting saw. The carbide-tipped blade is engineered to cut clean, accurate and visually burr-free. It can lasts up to 50x longer than abrasive wheels. The Makita metal cutting saw has metal cutting applications to make it one of the top metal cutting saws in its category. This Makita saw is ideal for cutting in pipe, angle iron or conduit. It performs up to 4x for faster cutting than other brand's metal cutting saws.

Innovative

Makita has always brought creative and innovative ideas to the power tool world. The Makita LC1230 has a 12 inch blade and is powered by a 15-amp motor. In addition, there are some innovative elements to this metal cutting saw to give it an edge over its competitors. The vise release on the Makita saw is giving it a boost to cut faster and perform at a higher quality. This is easy to use and adds a benefit to the user. The quick-release vise secures the material with reliable retention. It gives faster-repeated cut-offs and precise cuts without much movement.
Cons
Vise Release

Having a vise release in their metal cutting saw is a good idea. What Makita can improve upon is the vise could be sturdier than how it originally comes. The movement when clamping down and tightening the vise can be slightly tricky for the user. If the clamp worked properly, then the vise is to clamp down tight so the material won't shift causing a crooked cut. Since this is not the case, it is recommended to go slow when cutting. Even if you go slowly, with this Makita vise release not clamping securely, it is not ideal to cut through steel with this saw.

Quality

The chain to secure down the saw can be updated. For a heavy-duty saw that is made to cut through metal, all parts need to be able to withstand wear and tear. This Makita metal cutting saw could improve the chain aspect of the tool to be stronger to cut through heavier materials. It would work better if an additional blade was purchased.

Collection Tray

Some features were meant to eliminate too much work for the user. Having a proper dust collection tray would help with cutting down clean-up time. The Makita metal cutting saw has a tray that does not collect dust as well. The tray fills quickly and then the remaining material dust is flying out all over and not staying in one place. This slows down the user causing more time to clean up after the project. If Makita could improve upon this then their saw would be considered one of the best.
Final Thoughts
The Makita metal cutting saw is a 15-amp motor powered with smart features such as the vise release and carbide-tipped blade. It has a solid base and gives out 115-volts of power with every use. Since it is corded, it can provide consistent power with having to replace a battery or refill with gas. It only takes a few to cut through 2×2 box tubing and it handles with comfort for the user. While it does need a stronger blade to power through all materials, the Makita metal cutting saw is a reliable saw.