Intro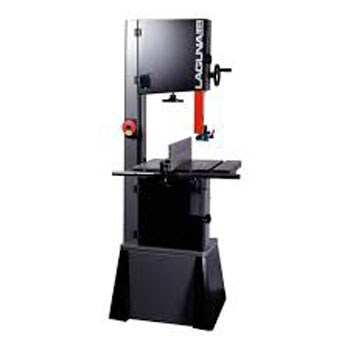 There are so many more projects to accomplish with a great band saw. The key to selecting a reliable and precise band saw is making sure it gives you a strong and steady cut. All band saws are going to be heavy and may even require some assistance when it first is delivered. However, their performance every time on those woodwork projects makes it all worth the effort. The Laguna Tools 14X12 Band saw is no different.
This 267 lbs tool is corded and comes with its own stand. The CSA certified tool is prewired with 115 voltage along with the 6-foot cord and 5-15P Plug. The 14/7 amperage is giving off enough power for hours upon hours of woodworking.
The Laguna Tools 14X12 Band saw has a 12" re-saw capacity along with a 13 5/8" throat capacity. Along with an aluminum rip fence that is 18"x5 ½"x1/2", that allows you to cut through wider wood pieces to create many different items. Laguna Tools have entered a new category of band saws with this 14X12 band saw. It is now among higher powered tools in the 110-volt segment with its 115 voltage. The powerful yet quiet delivery on this band saw makes it an easy purchase that will last.
Pro
There are a few stand out points in this Laguna band saw that cannot be overlooked such as:
Safety components
Durability
Easy to use parts
While this tool is heavy, weighing at 267 lbs., it can be operated by those just beginning in woodwork and the seasoned professionals alike. A band saw is always good for heavy re-sawing of wood as well as for any high-quality work that needs to be complete.
Safety Component

Safety on this Laguna Tools 14X12 Band saw starts with the on and off switch. This direct on and off start switch is illuminated for easier use to you. Being able to access this button and not have it become an issue on heavy equipment is extremely important.

The polyurethane that this is created from allows the saw to run cooler and last a little longer than a conventional band saw. Polyurethane is also located on the tires allowing them to also run cooler.

Operating this Laguna Band saw can become a lot of work when you are not sure of what you are doing. Being able to focus on your complete project and monitor all aspects of this can make or break your piece. The Laguna 14X12 Band saw has double windows which allow you to check tension and tracking while the machine is still running.

Durability

The durable steel frame on this Laguna Tools 14X12 Band saw is the first giveaway that this band saw will stand the test of time. The steel frame is accompanied by cast iron, dynamically balanced wheels. The pyramid spine and black and grey finish create a sleek tool that can aid in different woodworking projects.

The Laguna Tools 14X12 Band saw does come with its very own stand. Mounted on a trunnion and paired with the 18"X5 ½" aluminum rip fence, the band saw will not fall through this sturdy hold.

The stand has rubber pads and really is a heavy-duty tool. Both the fence and the stand are easy to adjust to your preference as well. Since this Laguna Tools 14X12 Band saw comes with a stand, it makes for very little vibration. Laguna also includes a flat poly groove drive belt that assists the band saw in running smoothly yet reliable.

Easy to Use

With the Laguna Tools 14X12 Band saw, the entire piece of equipment can be considered a very smart purchase. With cast iron wheels the machine is better balanced and operates to its peak electronically. To make things go a lot smoother, this band saw comes with an adjustable wheel shaft. Which evidently gives the user some flexibility.

The blade guides on this Laguna are ceramic and magnetic. Making it not only durable but also a component that didn't have to be included but it does make for an easier workspace. You will have ultra-smooth use with the worm gear and pinion and experience minimum flex and still fully extend when flexing – all thanks to Laguna, which trademarked this feature. The precision tension scale allows you to easily create pieces that you would otherwise struggle with a smaller saw.

Key parts are positioned ideally such as the hand wheel. This is mounted under the upper cabinet on this tool. When using the hand wheel is more convenient to grab when it is placed under this upper cabinet so you can continue your work and still easily guide the piece.
Con
There are just a few things about this Laguna Tools 14X12 Band saw that could see some improvement. While there are some smart qualities about this band saw there are other parts that could have been more conveniently placed. For example, the Laguna has a lower door that you may need to open. There is a bolt placed in proximity that makes getting in and out of this small door seem impossible. Time is spent having to remove the bolt just to use the door.
Another questionable position would be the lower guide. When adjusting the knobs this lower guide is positioned awkwardly only making adjusting it more difficult for you.
Other minor issues may be perceived as preference. However, the angle of the fence in the proximity of the table can be corrected using shims. When you must use specific tools to angle parts of the tool for better use, it can get a little frustrating.
Wrap Up
Overall, the Laguna Tools 14X12 Band saw is a solid purchase and will allow you to create some precisely cut pieces. This band saw has features that make creating much easier on the user. Such as its 4" dust port that allows the dust to go into innovative table inserts making for an easier and quicker clean up.
Being able to continue work without stopping to constantly clear dust is a benefit that is appreciated. From the durable steel framework to the precise blade tensioner, which stops quickly and has a quick release, the Laguna Tools has developed a band saw that will provide woodwork for a long time.