Intro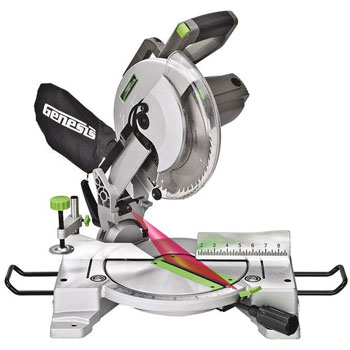 There are projects that a compound miter saw can easily handle and many users find that the Genesis 15 amp 10-Inch Compound Miter saw is a go-to option. With features such as the 60T carbide blade, hold-down clamp, dust bag, two extension wings, and blade wrench; this compound saw seems to handle small jobs quickly and accurately. At just 24 pounds, the Genesis is easy to move around and the user can get to many projects in and around the home.
Pros
Great angle cuts

The 10" compound miter saw has nine positive detent miter stops that lock firmly in place for quick set ups and more accurate cuts. The Genesis is powerful enough to easily cut through 2×6 plywood with ease and can make those more difficult angled cuts. The compound miter saw is a go-to saw for crown molding, shadow boxes, and even picture frames. With the Genesis brand, users are getting a miter saw that can make bevel cuts up to 45 degrees. At a more inexpensive price, being able to perform at this level is a great value.

Laser Cuts

With any saw that includes a laser, there is always mixed reviews. On one hand, the laser aids in guiding the user through the cutting process. On the other, if the laser is sub-par, it only makes the project execution more difficult for the user. The Genesis Compound Miter Saw includes a laser that provides quicker alignment and improved accuracy. The Genesis has created a better way to achieve accuracy by the laser being an aid in anticipating the cuts ahead by being integrated.

Easy Features

Having a compound miter saw, having features that assists in seamless use is important and Genesis did not fail in that department. For starters, the wood extender slides in for easy storage. Many users are also appreciative of the overall easy assembly of the tool. The electrical brake system is always a bonus feature for its users. The compound miter saw has the electrical brake that will stop in mere seconds of releasing the trigger. With the die cast aluminum base, the portability and accuracy of the Genesis Compound Miter Saw works great for the user and is one of the selling features for the saw.
This 15-amp motor has 120 volts and with miter cuts up to 45 degrees left and right, the features of this compound miter saw tends to be more favorable for the smaller jobs due to it being more compact and limited in size. Having a clamp that can hold down the user's work for a safer operation as well as an arbor lock for quicker changes, are not only easy features but smart.
Cons
Not So Perfect Laser

As mentioned, finding a laser that is perfect within a compound miter saw is not an easy task. With the Genesis Compound Miter Saw, there are just a few downsides to the laser feature. This particular laser does not slide in a front to back direction. Users should also keep in mind that the laser does not denote the actual cut. Having the perfect laser is always the goal, users should keep in mind that this is an aid to the overall saw and many professionals may not even use the laser feature.

Additional Issues

At this price point and this size, many users understand that this Genesis power tool may not be for the daily, extensive use for larger, more intensive projects. The angle indicator can be slightly off which users will have to keep in mind. Having to slow down on use to double-check the angles are accurate will be a downside to this Genesis model. As many compound miter saws, users will find the dust catcher does not perform well either. This may not present as a huge issue since the Genesis Compound Miter Saw is more compact and small, the projects that many users tackle are producing less dust to clean up after. Even with it being a smaller compound saw, if a dust bag is included, it should operate properly and catch dust.
There are just a few more issues with the Genesis Compound Miter Saw that could be a determinant of whether the savings is worth the headache. The clamp is not as durable as other brands within this price point. The clamp tends to strip out making this compound miter saw only ideal for smaller pieces of wood. Users should also watch the blade retaining fastener because the screws can loosen or strip from time to time.
To check out in-depth reviews of all the latest models head over to our sliding compound miter saw reviews.
Final Thoughts
Purchasing a smaller power tool for convenience will always have its pros and cons to consider. The Genesis Compound Miter Saw stands out for users due to its price point and size, but it should be purchased with the mindset that it is ideal for those smaller, simpler projects. The Genesis has features that makes it extremely likeable for the DIY such as the extension wings, blade wrench and 60T carbide blade. While some of its features have their shortcomings, such as the dust bag and the clamp not built for heavy use, if the user is in the market to add to their power tools collection with a simple compound miter saw, the Genesis brand would be a simple purchase with its ease of use.